Bay Area School does its part to promote renewable energy and serves as a model for CA schools
Danville, Calif. — February 4, 2009 - The Athenian School will "flip the switch" on a new solar system at its Danville campus on February 11, with the student body, school officials, and Danville Mayor Arnerich as well as representatives from Tioga Energy, REC Solar, Mitsubishi Electric and New Resource Bank. The 220-kilowatt system consists of 1,300 photovoltaic panels arranged in the shape of a large 'A', representing a unique new solar mascot that will provide half the school's power needs.

"Environmental stewardship is one of the pillars upon which the School was founded," said Eleanor Dase, Head of School. "We are excited and pleased to be able to model this value for our students, as well as do our part to use green energy and reduce global warming."
The 30,000 square foot installation of Mitsubishi Electric solar modules was designed and installed by REC Solar. Tioga Energy arranged the financing, including construction capital from New Resource Bank, and will operate Athenian's solar power system under SurePath' Solar Power Purchase Agreement (PPA). Athenian will buy the power generated by the system at a fixed rate over the length of the 20-year agreement, enabling the school to capture significant energy savings from the first day of operation.
"Tioga recognizes that most schools and nonprofit organizations don't have the upfront capital required of renewable energy projects, yet benefit tremendously from the price and security solar power offers. We remove the financial barriers to make renewable energy affordable and accessible," said Paul Detering, CEO of Tioga Energy. "Through a PPA, we provide fixed cost energy pricing, allowing Athenian to forecast energy budgets and hedge against increased electricity costs, so they can meet their sustainability goals and direct their resources towards their students."
"It is wonderful to see great educational institutions like Athenian partner with Tioga Energy to lead the way towards a cleaner energy future," said Peter Lui, founder and Vice Chairman of New Resource Bank. "We are happy to be the innovative community bank helping them build sustainable resources."
"Schools are excellent places to demonstrate renewable energy options to communities. Every day, students will be reminded of how energy efficiency and renewable energy, such as solar power, work to benefit our environment, the economy and the job market. For instance, for the Athenian School project we employed 18 staff in the field, in addition to corporate employees in engineering, project management and quality control," said Angiolo Laviziano, chief executive officer of REC Solar.
"This solar installation is a continuous educational tool for the community. Installing the solar panels in the form of an 'A' is a great way to promote school pride and to show support for education powered by clean energy," said Gina Heng, director of sales and marketing for Mitsubishi Electric's photovoltaic division. "We're proud to be a part of this unique project."
The inauguration ceremony will begin at 2:45 PM on February 11th; all of the 457 Athenian School students will be in attendance as well as faculty, parents and other community officials.
About The Athenian School:
The Athenian School is a distinctive San Francisco Bay Area college preparatory school, providing an outstanding education that is challenging, engaging, personal, interactive and international. With 457 students in grades 6 to 12, Athenian's 75-acre campus lies at the base of Mt. Diablo in Danville, 32 miles east of San Francisco. The student to faculty ratio is an enviable 10:1 and the average class size is 15 students. The Athenian School is fully accredited by the Western Association of Schools and Colleges and the California Association of Independent Schools. www.athenian.org.
About Tioga Energy
Tioga Energy enables commercial, government and non-profit organizations to reduce their energy costs while lowering carbon emissions. Through the SurePathSM solar power purchase agreement (PPA), Tioga Energy owns and operates renewable energy systems that provide organizations a hedge against energy price volatility and accelerate their access to clean energy without any capital outlay. For more information call 877.333.9787 or visit: www.tiogaenergy.com.
About REC Solar, Inc.:
REC Solar is an industry-leading solar power provider specializing in grid-tied residential and commercial installations. With a local presence in all major solar markets in the USA and millions of watts installed, REC Solar is committed to lowering the cost of solar power through efficient processes, innovative products, and outstanding customer service. REC Solar is among the nation's largest solar integrators and currently has over a dozen offices throughout 5 states (CA, CO, HI, OR and NJ). For additional information on REC Solar visit www.recsolar.com or call 1-888-OK-SOLAR (888-657-6527).
About Mitsubishi Electric & Electronics USA's Photovoltaic Division:
Mitsubishi Electric is one of the world's largest manufacturers and providers of solar power technology, including PV cells, modules and inverters. The company's eco-friendly photovoltaic systems are used throughout the world to bring clean, reliable energy to residences, business, power generation plants, schools, factories and areas without access to electricity, as well as other applications such as highway and stadium lighting. For more information visit www.mitsubishielectricsolar.com or call 714.220.2500.
About New Resource Bank
New Resource Bank is a community bank in San Francisco that is setting a new standard in customer service while financing efficient and sustainable resources in its community. The Bank is founded by leading entrepreneurs, along with seasoned banking executives from national and local community banks. For more information, please go to http://www.newresourcebank.com/
Media Contacts:
Judyth Collin, The Athenian School
925.362.7212 or Judyth.Collin@athenian.org
Alanna Gino, Antenna Group for Tioga Energy
415. 977.1918 or alanna@antennagroup.com
Featured Product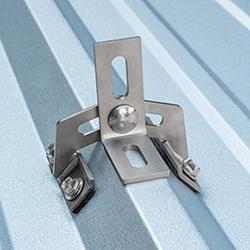 QuickBOLT Low Profile QuickBOLT with Microflashing™ is the industry's affordable, UL Certified Asphalt Shingle mounting system. The Microflashing™ is compressed by the collar on the bolt to create a water-tight seal. With an installation time of less than one minute, the Low Profile QuickBOLT allows installers to complete more jobs.