The 2nd edition of the Concentrated Photovoltaics Summit (Toledo, April 28-30) - which last year attracted over 375 people - is expected to welcome over 450 CPV executives in Toledo. The Summit will be followed by a site visit to ISFOC, the first and only CPV test centre in Puertollano.
Prof Antonio Luque, guru of the PV industry claimed at last year´s summit "Today is the starting gun in the race for CPV"

Prof Luque, who will be delivering the keynote speech at the 2nd Concentrated Photovoltaics Summit, is joined by a remarkable list of speakers with representatives from the main CPV companies including Concentrix, SolFocus, Emcore, Arima Eco and Sol3g among others. Suppliers of cells, optics & trackers will be involved as well & participating of the conference and exhibition, such as Spectrolab, Inspira, Titan Trackers & many others.
The main agenda will aim to deliver strategies to overcome the biggest challenges of the industry, which include cost reduction and efficiency gains with a view to improve competitiveness within the renewable mix. The summit will also deliver never-seen-before test data from the results gathered by the different companies installed at ISFOC.
The Chairman of the 2nd Concentrated Photovoltaics Summit, Ignacio Luque-Heredia, CTO of SolFocus Europe declared "Last year's CPV Summit in Madrid created a bit of history as we witnessed a coming of age of CPV. A year later and real progress has been made with MWs installed worldwide, ISFOC operating, real test data being collated, and certification / standardisation moving forwards."
"Now - as we move from the lab to commercial application - it is vital that we work together to make great strides to significantly reduce costs, increase efficiency and reliability, as we look to become truly competitive and achieve grid parity" added Mr Luque-Heredia
"The 2nd annual CPV summit - taking place this year in Toledo - is where the CPV community gets together and jointly pushes forwards the industry" said Belén Gallego, the director of CPV Today- organisers of the event- " The attendees and I are extremely excited about this meeting as it fortifies the ties and gives CPV players the chance to come together, network, debate and more than anything move in the right direction towards full commercialisation"
About CPV Today
For more information on the 2nd Concentrated Photovoltaic Summit in Toledo, April 28-29, site visit to ISFOC on April the 30th and to check the full list of attendees, speakers and agenda please go to www.cpvtoday.com/eu09
Contact
Belén Gallego
CPV Today
belen@csptoday.com
Phone +44 207 3757555
Featured Product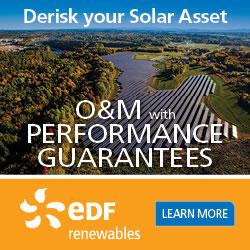 EDF Renewables offers the same innovative solutions that maximize the performance of our own 5.2 GW of installed projects. Because we're not an equipment manufacturer, our recommendations are transparent and data-driven. We cover the entire project lifecycle: from pre-commissioning support, through warranty and post warranty operation, to late stage and decommissioning.