Landfill is the worst environmental option, says UK Waste Strategy - New conference and exhibition EBW UK launched in London
According to the UK Waste Strategy landfilling waste is the worst environmental option. The methane it produces is a potent greenhouse gas, 21 times more potent than carbon dioxide. Consequently, the Landfill Directive calls for a 50 percent reduction of the biodegradable municipal waste that is dumped at increasing costs. Energy recovery from biomass and waste is going to play an important role in this scenario. At the newly launched "Energy from Biomass and Waste UK" (EBW UK) Conference and Exhibition, held on January 26 to 27, 2010 in London, industry professionals will gather to discuss how the government's ambitious goals are put into action.

The Waste Strategy encourages a variety of energy recovery technologies, including anaerobic digestion for biogas production and mechanical-biological treatment which can produce refuse-derived fuels. Energy from waste is expected to account for 25 percent of municipal waste by 2020, compared to 10 percent today. This creates a need for new infrastructure. Estimates vary between 100 and 500 new operational plants that are required to deal with the United Kingdom's residual waste.
"Using waste as a resource for energy and materials recovery makes total sense", explains Dr. Ines Freesen, Managing Director of the EBW UK organiser Freesen & Partner GmbH. "Not only is it beneficial to the environment, it also helps the public and private sector to cut costs dramatically." The steadily increasing landfill tax makes waste disposal a costly exercise in the UK.
Freesen & Partner GmbH, a Germany-based consulting firm and trade show organiser, has announced the launch of the first international EBW UK Conference and Exhibition. Modelled after the "Waste to Energy" (Bremen) and the "Energy from Biomass and Waste" (Pittsburgh, PA) conferences, EBW UK gives a voice to the growing market for bioenergy production and landfill diversion. The sessions will discuss regulatory, technical and business aspects, present "news from the lab" and best-practice reports. The concurrently held trade show provides vendors of state-of-the-art environmental and energy technologies with the opportunity to connect with prospective clients from the authorities, commerce and agricultural sector.
For more information visit: http://www.ebw-uk.com or call +49-2802-9484840.
Media Contact:
Dr. Ines Freesen
Freesen & Partner GmbH
Schwalbennest 7a
46519 Alpen, Germany
Tel.: +49-2802-948484-0
Fax: +49-2802-948484-3
info@ebw-uk.com
Featured Product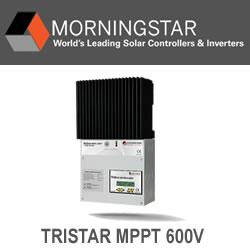 Morningstar's TriStar MPPT 600V charge controller leverages Morningstar's innovative TrakStar™ MPPT technology and our 20+ years of power electronics engineering excellence, to enable the widest input operating voltage range available from a solar array, wind turbine or hydro input. This controller's standard and DB versions are for off-grid applications, and the TR versions were developed to enable retrofitting grid-tied systems with battery backup.