Distributor of Revolutionary Mag-WindTM Vertical Axis Wind Turbines will team up with hit TV series and Hollywood's 'greenest' actor to promote Wind Power technology
Grimsby, ONT Canada - Enviro Energies has signed a long-term exclusive brand license / endorsement agreement with the producers of the hit TV series Living With Ed and its co-star Ed Begley, Jr. Under terms of the agreement, Enviro Energies will use the trademark of the show and the endorsement of Begley to market its line of revolutionary Mag-Wind' magnetically levitating vertical axis wind turbines throughout North America.

Enviro Energies has licensed, engineered, and is entering into full production on their innovative line of vertical axis wind turbines that can be installed nearly anywhere! Unlike conventional propellers, as well as most other vertical axis turbines, the Enviro Energies Mag-Wind' turbines operate in very low winds and are also completely silent, stable and safe in winds of up to 100+ mph. This is due in part to their patented low-rotational magnetically levitating generators. The turbines are economical, efficient, maintenance-free, aesthetically pleasing, bird friendly and manufactured in the USA. They can be installed residentially, commercially, or industrially and have made urban and suburban wind power a reality!
"We are extremely pleased to be working with Ed Begley, Jr. and his television show" noted Ken Johnson, Senior Consultant for Enviro Energies. "Ed is not only the gold standard for green living in the entertainment community, but he is extremely knowledgeable about wind power and technology. He, in conjunction with his TV series, is a perfect match with Enviro Energies to deliver the message of accessible and affordable wind power technology in North America."
"I've been an ardent supporter of wind turbines for many years", noted Begley. "In fact, I've even owned a share of an industrial wind turbine in the California desert since 1985. And yet, while wind farms have long been used to reduce our reliance on fossil fuels and our overworked power grid, a wind turbine solution for our energy demands where we live, work, shop and play has not been commercially viable, realistic or practical…until now. Enviro Energies has re-awakened my excitement about utilizing urban wind power by designing and launching the best technologies in the wind turbine industry."
The marketing relationship will be launched with the creation of a series of print, video and on-line materials featuring Living With Ed branding and Ed Begley, Jr. endorsements. In addition, Begley recently appeared at the Enviro Energies booth at the International Builder Show in Las Vegas, NV where over 1,100 builders placed orders or requested information on the Enviro Energies product line. In June 2009, Begley will appear at the Commercial Construction Show in Phoenix, Arizona with Enviro Energies and one of its commercial installation partners. In the near future, Begley will install a Low Wind Mag-Wind' 1.5kW MVAWT at his home in Studio City, CA to contribute additional power to his already existing solar system. Begley and Enviro Energies also have plans to do numerous other 'high-profile' installs throughout the US in 2009 and will be attending expos and conventions to release their innovative new products nationwide.
For More Information, please contact:
Ken Johnson
Senior Consultant
Enviro Energies
Kjohnson@enviro-energies.com
310-560-0506
Greg Glass
Vice President
BCII
greg@bciitv.com
818-333-3711
Featured Product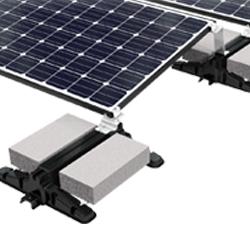 The Power Rail™ Commercial Mounting System is designed with the professional PV solar installer in mind. Both the XD/UD and LD/MD rails feature single tool assembly with the revolutionary patented RAD™ Lock-in-Place bolt for fast and secure module clamping. The high strength marine-grade aluminum rails include an integral wiring channel for securing cables and providing a professional finish.