Qatar MICE Development Institute (QMDI) has acquired a majority stake in All-Energy, the UK's largest renewable energy exhibition and conference, .
Qatar MICE Development Institute (QMDI) has acquired a majority stake in All-Energy, the UK's largest renewable energy exhibition and conference, and plans to invest in the annual event to achieve rapid growth aimed at ensuring it becomes the clear leader in the renewable energy exhibition marketplace within Europe, and eventually globally, and to launch All-Energy events on other continents.

QMDI is a joint venture between the Qatar Foundation and Singex (Singapore). Both are market leaders in their respective countries.
The award-winning All-Energy has been held since 2001 as a partnership between Media Generation Events Ltd (MGE) and Aberdeen Exhibition and Conference Centre (AECC), who will continue their strong relationship as it is very much 'business as usual' for the All-Energy management team and for the show itself. The 2009 show being held 20-21 May is well on target to beat the 2008 record-breaking exhibitor and attendance figures of 380 exhibiting companies from a dozen countries, and 4700 participants from 61 countries. www.all-energy.co.uk
"Aberdeen is the natural home for All-Energy, a position we have cemented by signing a long-term tenancy agreement with AECC," explains Matthew Meredith, Chief Executive Officer of QMDI. "Having seen All-Energy first hand I am impressed by the scope and vibrancy of the show, and the evident suitability of both Aberdeen and AECC as the venue. We are looking forward to this year's 'hub' Aberdeen event, and to launching events on other continents, starting with the launch of All-Energy Australia in Melbourne in October this year. www.all-energy.com.au
"We are delighted that the deal with QMDI has been finalised," says Paul Stott, Managing Director of MGE. "We are a comparatively small company and recognised that the time had come to look for strong investment in the show to develop it to its full potential. We look forward to working closely with QMDI on the Aberdeen show, on the Australian event and on others to be announced in the coming months. We would like to thank all our sponsoring and endorsing organisations, exhibitors, speakers and a host of individuals for their strong support and enthusiasm for All-Energy that has enabled us to grow from its 2001 beginnings to the major event we now have on our hands. It has been an exciting and challenging voyage of discovery and we look forward to more excitement and more challenges in the coming years."
"We are delighted with the QMDI investment in All-Energy", says Brian Horsburgh, Managing Director of AECC, "and we look forward to a long and fruitful relationship, with the long term tenancy agreement in place. It has been satisfying to see All-Energy grow into the UK's largest renewable energy show. I am sure we will see it expand further in future years with the commitment to further investment. Not only does it play a major role in raising the profile of the renewables industry, and of the Scottish expertise in the sector, but the show itself contributes substantial economic impact to the North East region."
Aberdeen Renewable Energy Group Chairman Jeremy Cresswell said: "I am delighted that All-Energy has attracted such high calibre international investment and am confident the show will continue to grow vigorously. Indeed this is vital as All-Energy is a very important part of Aberdeen Renewable Energy Group's vision of making Europe's Energy Capital as globally important for renewables as it currently is for upstream oil and gas."
Further information on all aspects of All-Energy are available from the website at www.all-energy.co.uk, from info@all-energy.co.uk and from +44 (0)1423 524545.
ENDS
NOTES TO EDITORS:
• About Qatar MICE Development Institute (QMDI)
QMDI was formed by Qatar Foundation and Singex Global with an aim of developing Qatar into a leading world-class destination for the meetings, incentives, conferences and exhibitions (MICE) sector. QMDI is driven to deliver quality and excellence through the creation of dynamic events, nurturing industry skills, and supporting the growth of the events sector and supporting infrastructure in Qatar. QMDI also looks to grow Qatar's position within the global MICE industry through developing a strategic portfolio of Middle East and international events. www.qmdi.com.qa
• About Qatar Foundation for Education, Science and Community Development
Founded in 1995 by His Highness Sheikh Hamad Bin Khalifa Al-Thani, Emir of Qatar, and chaired by Her Highness Sheikha Mozah Bint Hasser Al Missned, Qatar Foundation is a private, non-profit organisation committed to the principle that a nation's greatest natural resource is its people. The headquarters of Qatar Foundation are located within its flagship project, Education City, a fourteen million square-meter campus which hosts numerous progressive learning institutions and centres of research, including branch campuses of six of the world's leading universities, plus a cutting-edge research and development centre. Qatar Foundation also works to enhance the quality of life in Qatar by investing in community health and development. For more information please visit www.qf.org.qa
For QMDI press enquiries contact:
Ferry Lee, Corporate Marketing Manager
QMDI (Qatar MICE Development Institute), A Qatar Foundation Joint Venture
Tel: +974 454 8018; Mob +974 517 5367; Fax: +974 454 8047; email: ferry@qmdi.qf.org.qa
• Further information on All-Energy '09
More space has been reserved at All-Energy '09, the UK's largest renewable energy exhibition and conference, than at the same time last year. Being held 20-21 May in association with BWEA and Scottish Renewables, with The Society for Underwater Technology as its learned society patron, and Vattenfall as Principal Sponsor, All-Energy is endorsed by over 30 government departments, professional bodies and trade associations, and is also an officially branded 'Homecoming Scotland' event.
The enthusiasm from the industry translates into some 3,200m2 of space already sold and reserved, which is appreciably more than this time last year. This includes national pavilions from Austria, Canada, Denmark, Flanders, Norway, and the USA and, closer to home, large regional pavilions from Aberdeen City and Shire; Fife, HIE, Orkney and Northern Ireland.
The free-to-attend multi-stream conference has attracted a record number of submissions. It addresses all sources of renewables including onshore and offshore wind; wave and tidal; hydro; hydrogen and fuel cells; bioenergy; microgeneration, and larger-scale onsite renewables; as well as the policy, challenges and opportunities facing the industry.
This year sees the introduction of several new streams and sessions including sustainable transport; heat; public sector - mobilising renewable energy for the public good; a special session on The Crown Estate's activities; and a session devoted to research by the Scottish Universities Consortium ETP. The outline conference programme will be available shortly at www.all-energy.co.uk with fuller information available by the end of February."
For All-Energy press enquiries contact:
Paul Stott, Managing Director
Tel: +44 (0)1423 524525; Mob: +44 (0)7808 179952 ; Fax: +44 (0)1423 524544; email: paul@mediageneration.co.uk
Judith Patten, Project Director
Tel: +44 (0)20 8241 1912; Mob: +44 (0)7970 626656; Fax: +44 (0)20 8940 6211; email: info@all-energy.co.uk
Featured Product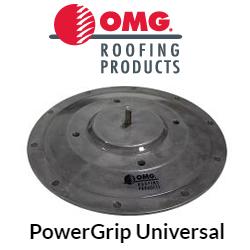 Eliminate Solar Rack Ballast and Reduce Rooftop Material Handling. PowerGrip™ Universal (PGU) is a commercial roof mount system designed to secure solar racks and other equipment to any type of commercial roofing system. PGU provides a secure connection directly to the roof deck or structural members and is designed to reduce or eliminate ballast in solar racking systems, so there's less weight on the roof and less material handling. Made of heavy-duty cast aluminum, PGU units include a base ring which is secured through the roofing cover and into the structural roof deck, and a waterproof top plate.