CSG promotes industry veteran Linda Russo to senior vice president of marketing. Russo has been with CSG since 1993 and has been involved in all phases of marketing communications for the national energy services firm and its clients.
WESTBOROUGH, Mass., Feb. 17, 2009 -- Conservation Services Group (CSG) today announced the promotion of Linda Russo to senior vice president of marketing, according to Stephen L. Cowell, chief executive officer. A long-term CSG veteran, Russo will oversee marketing operations including corporate communications, advertising, public relations, digital communications and market research for the national energy services firm.

Most recently, Russo served CSG as strategic marketing director from 1993 to 2008. In this role, she was responsible for providing a wide range of marketing services to utility clients and state agencies throughout the country. Russo also worked within the energy efficiency industry to build alliances with the Environmental Protection Agency, manufacturers, retailers, contractors, builders and other trade allies to help increase awareness of energy-efficient appliances, lighting, home improvement and residential new construction throughout the country.
Prior to joining CSG, Russo was the creative services coordinator for Eastern Utilities (now National Grid), where she developed multi-media marketing campaigns for residential and commercial energy efficiency programs and customer service. Russo began her career in advertising and marketing at Bradlees Corporation as a broadcast producer and writer. She also worked for other large retailers in a similar capacity.
Russo graduated from Suffolk University in Massachusetts and resides in Tampa, Florida. Russo is a native of Whitman, Mass.
Cowell said, "For 15 years, Linda has been an integral part of our company's success. Under her leadership, the programs we design and deliver for our clients have been some of the most successful energy efficiency marketing campaigns in the country. Her value to us is immeasurable and we congratulate her for the many years of service she has provided to us and to our clients."
Celebrating its 25th year, Conservation Services Group is a non-profit energy services firm based in Westborough, Mass. with 14 offices nationwide. CSG provides energy saving strategies, program design, management services and technologies to consumers and businesses. For more information visit, www.csgrp.com.
Featured Product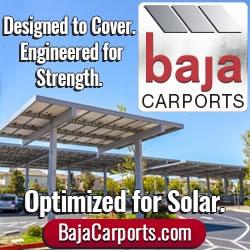 Baja Carports offers an extensive solar support system product line customized to customers' site specifications by in-house engineers, meeting their parking lot coverage, plus optimal PV production needs. Baja's Full Cantilever Tee is often paired with its Semi and Full Cantilever carports to meet live/loads up to 60psf and wind speeds to 160mph. All Baja products are pre-fabricated, bolted connections, pre-galvanized structural steel for fast on-site installation and project aesthetic requirements."