Namasté Solar CEO Blake Jones Honored to Represent Green Industries During President Obama's Signing of the Historic Stimulus Bill in Denver
Boulder, CO: Namasté Solar, the Colorado-based solar company featured by President Obama and Vice President Biden at the signing of the historic stimulus bill in Denver, is back to the business of designing and installing solar systems today - although with some notable differences. After being placed in the national spotlight for a day, the company is experiencing a surge of interest in their company and solar energy in general.

On Tuesday, Namasté Solar CEO Blake Jones had the opportunity to give the President and Vice President a tour of the solar panels at the Denver Museum of Nature and Science, as well as give the introduction to the President before his speech.
The Denver event has sparked considerable interest in Namasté Solar and the work it's doing in Colorado to promote renewable energy. After the live news coverage of the stimulus bill signing, Namasté Solar's website crashed for a short period due to high traffic when almost 1 million visitors attempted to view the home page - their website previously received around 2,000 hits daily. According to Google Trends, Namasté Solar ranked #4 on its Hot Trends list on February 17, 2009. The company has been receiving hundreds of phone calls and thousands of emails at their offices in Boulder and Denver this week.
Describing his experience, Blake Jones said, "It was an unparalleled honor for me and my company, Namaste Solar, to participate in the stimulus bill signing ceremony yesterday at the Denver Museum of Nature and Science. When I met President Obama and Vice President Biden, they both put me immediately at ease when they shook my hand and looked me in the eye. I was struck by how personable, friendly, and genuinely interested they were in ensuring that the United States takes a leadership role in creating a green energy economy. It was a dream come true for me to talk with the President and Vice President about my favorite subject, solar energy, while giving them a tour of the rooftop solar system we had installed at the Museum. It was also a tremendous opportunity to highlight the progress that Colorado has made in renewable energy development and to talk about our state's vast potential to work toward an even brighter future in renewable energy."
"As for my opportunity to speak at the event and introduce the President, words simply can't describe… I'm just so proud to have had the opportunity to represent the thousands of solar and green companies throughout the country, and to highlight how important it is to continue creating green jobs. It is an understatement to say that I and everyone at my company are deeply grateful and honored to have participated in this event."
During his introduction of the President, Jones stressed the importance of creating green jobs nationwide, "With every green job created, our nation takes one step closer to achieving energy independence, strengthening national security, bolstering the economy, protecting the environment, and improving public health."
The Solar Energy Industries Association (SEIA) estimates that as a direct result of the stimulus bill, U.S. solar companies will create 69,000 new jobs in 2009 alone, and almost double that number in the next two years. Namasté Solar plans to increase its workforce by up to 40% over the same time period. "Many of our projects have been on hold as a result of uncertainty and instability in capital markets. The stimulus package contains provisions that will specifically address this issue, thereby allowing projects to move forward right away and companies like Namasté Solar to begin hiring again," said Jones
About Namasté Solar:
Namasté Solar propagates the responsible use of solar energy, pioneers conscientious business practices, and creates holistic wealth for ourselves and our community. It is dedicated to bringing clean, reliable, and affordable renewable energy technologies to homes, businesses, and nonprofit organizations in Colorado. As the leading solar company in Colorado with more in-state installations than any other company, Namasté Solar has installed more than 650 PV systems totaling over 3.5 MW since 2005. Its unique values-based business model includes employee ownership, democratic decision-making, community collaboration, an innovative solar grant program, zero-waste initiatives, educational programming, and holistic profit measurement. Namasté solar has grown from 3 to 55 people in the past three years. NamasteSolar.com
####
Featured Product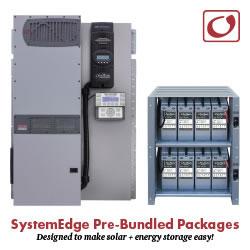 Each pre-bundled package is designed to make solar plus energy storage easy. By combining OutBack's most popular FLEXpower pre-wired systems with matched OutBack energy storage, SystemEdge takes the guesswork out of installing solar plus storage. Every SystemEdge package includes a FLEXpower factory pre-wired system, application-specific EnergyCell batteries and racking, FLEXware ICS Plus combiner and all the necessary connection hardware.