A valuable resource for hoteliers, EcoGreenHotel.com is dedicated to helping hotels address environmental issues and implement environmentally friendly initiatives.
Egg Harbor Township, New Jersey— February 19, 2009 -- National Energy Services Company, Inc. (OTCBB NEGS), today announced that National Energy Services Company is proud to be listed as a recommended "Product" for their Ozone Laundry Systems and as a recommended Environmental/Energy Solutions provider by EcoGreenHotel.com.

John Grillo, President of NEGS stated "We are very proud to be a recommended Product and Service provider to the Hotel Industry and to be recognized for our green efforts by EcoGreenHotels.com". He went on to state "We have worked hard to become a leading company in the Green Hotel initiative. The significance is that we are delivering energy savings and while at the same time improving the bottom line for our hotel industry clients."
Stu Johnson, NEGS Director of Sales and Marketing, added that "We are looking forward to meeting hotel operators who have already demonstrated their desire to operate environmentally friendly properties. We believe we can help them with that goal as well as help them control their costs."
Scott Parisi, President of EcoGreenHotel stated "National Energy Services Company's approach to supporting hospitality sustainability through comprehensive and cost effective energy products and management services makes them a viable resource for hotel owners and operators".
About EcoGreenHotel.com A valuable resource for hoteliers, EcoGreenHotel.com is dedicated to helping hotels address environmental issues and implement environmentally friendly initiatives. It is a marketplace with plentiful amounts of information ranging from green products and services, industry "green" news, basic environmental overview to other tools like checklists, green project ideas, book lists, and resourceful links for a more sustainable hotel. Check it out at www.EcoGreenHotel.com under the Product and Services tab.
About National Energy Services Company, Inc.
National Energy Services Company is engaged in the business of providing state-of-the-art, comprehensive and cost-driven energy products and management aimed at lowering energy consumption and helping its customers buy energy more efficiently. Our services are designed to bring our customer minimal or no out of pocket cost. Our services include the Ozone Laundry System (OLS), Lighting Upgrades, Mechanical Systems (HVAC), Water/Sewer Conservation Methods and Energy Management. These aggregated energy management services are primarily marketed to commercial, industrial, hospitality and long term care facilities. National Energy Services is a member of the "Green" Hotels Association (GHA), EcoGreenHotel.com and the U.S Green Building Council, organizations that provide builders and managers with responsible energy conservation techniques. The Company assists the hospitality, long term care, and commercial and industrial facilities reduce energy costs through customized, cost-effective energy reduction and environmentally friendly products and management services.
Website: www.nescorporation.com
Forward looking Statement: This release may contain projections or other forward-looking statements regarding future events or the future financial performance of National Energy Services Company. These statements are only predictions and reflect the current beliefs and expectations of National Energy Services Company. Actual events or results may differ materially from those contained in the projections or forward-looking statements. Some of the factors that could cause actual results to differ materially from the forward-looking statements contained herein include, without limitation, (i) National Energy Services Company's unproven business model and limited operating history, (ii) National Energy Services Company's history of losses, (iii) the significant fluctuation to which National Energy Services Company's quarterly revenues and operating results are subject, (iv) other factors detailed in documents National Energy Services Company files from time to time with the Securities and Exchange Commission. Forward-looking statements in this release are made pursuant to the safe harbor provisions contained in Private Securities Litigation Reform Act of 1995.
Contact: Kelly Black, President kblack@premiermediaservice.com
Premier Media Service Inc. 480 649-8224
Contact Person: M. Scott Parisi
sparisi@EcoGreenHotel.com
888-229-0213
http://www.ecogreenhotel.com
Featured Product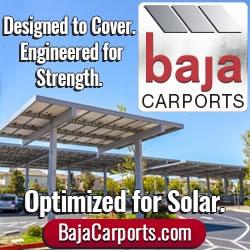 Baja Carports offers an extensive solar support system product line customized to customers' site specifications by in-house engineers, meeting their parking lot coverage, plus optimal PV production needs. Baja's Full Cantilever Tee is often paired with its Semi and Full Cantilever carports to meet live/loads up to 60psf and wind speeds to 160mph. All Baja products are pre-fabricated, bolted connections, pre-galvanized structural steel for fast on-site installation and project aesthetic requirements."