The Foreign and Commonwealth Office, a UK government department, has purchased carbon credits from four low carbon projects in emerging markets to offset air travel emissions.
London, February 23, 2009

Utilizing the services of the REEEP Voluntary Carbon Offset mechanism, the Foreign and Commonwealth Office (FCO) in the UK and the UK Embassy in Mexico have offset their air travel emissions via renewable energy and energy efficiency projects in India and Mexico. This was the second time the FCO has offset air travel emissions using the REEEP offset services. International carbon asset management company First Climate facilitated the purchase of emission reduction credits to offset 70,000 tons of CO2 equivalents.
The British Government has an ongoing commitment to reduce the impact of Ministerial and official air travel by offsetting emissions. REEEP's offset services have enabled the FCO to meet this commitment, which includes emissions arising from the UK's EU Presidency and the 2007 Leadership Conference. In addition to the FCO offset, emissions from the British Embassy in Mexico City were also included.
Certified Emission Reductions (CERs) were purchased from three projects in India and one in Mexico. India and Mexico are important partners for the UK on climate change.
Keith Luck, the FCO Environmental Champion stated "I am pleased that we are able to offset these emissions as part of our wider Greening the FCO initiative to reduce the environmental impact of our global operations. These offsets will provide
finance to renewable energy and energy efficiency projects in rapidly developing countries and support the work we are doing with other countries to cut carbon emissions and to develop renewable energy resources."
Funds from the sale of credits will support two hydropower projects, an 8MW project in the Mexican State of Jalisco and an 18MW project in the Indian State of Karnataka. The transaction will also assist energy efficiency projects at an Indian textile mill in West Bengal and a steel mill in Orissa state.
"CER's were the reason that the project received financing from an Indian bank", stated Ganapathy Subramanian, Financial Advisor to small hydropower project development company, IPC Limited. "Part of the income from the sale of CERs will be used to repay the loan and part of the income will go into another two small hydro projects here in the Netravthi river basin."
For more information about offsets please contact:
Judi Leon
Head of Sustainable Operations (Overseas)
Foreign and Commonwealth Office
Judi.leon@fco.gov.uk
Featured Product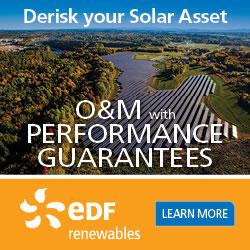 EDF Renewables offers the same innovative solutions that maximize the performance of our own 5.2 GW of installed projects. Because we're not an equipment manufacturer, our recommendations are transparent and data-driven. We cover the entire project lifecycle: from pre-commissioning support, through warranty and post warranty operation, to late stage and decommissioning.