On Tuesday February 24, 2009, President Obama addressed the nation during a joint session of congress. The President discussed a new wave of energy efficiency programs and standards that will create new American jobs.
"We will put Americans to work making our homes and buildings more efficient so that we can save billions of dollars on our energy bills." President Barack Obama 2/24/09

The President plans on investing billions of dollars into weatherization.
What is Weatherization? The average person in the HVACR industry probably can not answer that question and will be left out of the Green Collar economy.
Weatherization is the practice of modifying a building to reduce energy consumption and optimize energy efficiency.
The President is handing our industry a gift. Those of us in the HVACR industry who decide to learn about the programs and adapt will be the winners in the Green Collar economy.
To help persons in the HVACR industry understand the programs, the United States Department of Energy will be presenting the keynote address at the National HVACR Educators and Trainers Conference. The speech will be delivered by Mr. William Craddick, the Deputy Director of the United States Department of Energy's Oak Ridge National Laboratory Building Technology Research and Integration Center. This center focuses on research and development of new building technologies, whole-building and community integration, and improved energy management in buildings and industrial facilities during their operational phase.
Time is running out: The National HVACR Educators and Trainers Conference is March 8th - 10th at the Imperial Palace Hotel in Las Vegas, NV.
Space is limited: With over 300 persons registered, space is limited so register today.
In a down economy, everyone needs to know how to tap into the new initiatives from Washington. Learn how the HVACR industry can lead the way in creating new American jobs.
Register now by calling 1-800-394-5268.
Featured Product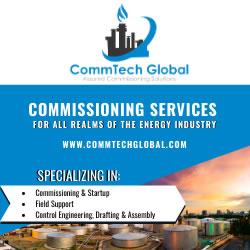 CommTech Global Solutions, LLC, provides professional and reliable commissioning services to customers in all realms of the energy industry. We blend our skills in engineering and technology with innovative business models, offering a complete range of services to assist you for a successful and in compliance operational startup. Consolidation of all our service domains gives our clients a comprehensive set of expertise and far-reaching experience on each project.