As President Obama's recent signing of the stimulus bill puts the spotlight on economic recovery, the NHA will spotlight the economic stimulus potential of hydrogen at the NHA Conference and Hydrogen Expo, March 30 through April 3, 2009.
Washington DC- As President Obama's recent signing of the stimulus bill puts the spotlight on economic recovery, the NHA will spotlight the economic stimulus potential of hydrogen at the NHA Conference and Hydrogen Expo. The City of Columbia, SC recognized hydrogen's ability to grow their economy more than two years ago when they competed with bigger cities to bring the largest hydrogen conference in the U.S. to its convention center. Hydrogen is one of the leading alternative fuels that can reduce our dependence on imported oil, reduce greenhouse gases and grow the economy.

Hydrogen storage research has been active for decades in South Carolina, but the announcement two years ago to bring the NHA event to the state has inspired a new flurry of strong public-private partnerships that have led to hundreds of thousands of dollars in new projects which will be highlighted or unveiled at the March event.
Successful initiatives like the Fuel Cell Innovation District, fuel cell power systems at Fort Jackson, the Federal Transit Administration National Fuel Cell Bus Program, hydrogen powered forklifts operating at the Stanley Tool and Bridgestone/Firestone facilities and hydrogen Segways used by the police department are growing the hydrogen industry and the local economy. These long-term projects will bring sustainable economic growth while short-term growth will come from the more than over $1 million of new business that comes with hosting the NHA Conference and Hydrogen Expo at the Columbia Convention Center, March 30-April 3.
"This year, the NHA Conference and Hydrogen Expo has an opportunity to highlight how public-private partnerships have thrived to create an inspirational center of hydrogen development in South Carolina to rival the activity in California and other development centers around the world, " said Jeff Serfass, President of the National Hydrogen Association. "This formula for economic development can be replicated and we're excited about all the progress we will be able to share this year from the U.S. and all around the globe where hydrogen has positively influenced other industries."
Among the many notable speakers scheduled to speak at the conference is Patrick Moore, former president of Greenpeace Canada and the founder of Greenspirit, a consultancy focusing on environmental policy and communications in natural resources, biodiversity, energy and climate change. Dr. Paul Lucchese, hydrogen and fuel cell project manager for the French Atomic Energy Commission (CEA), will address how France is planning to revolutionize the country's transportation system using biomass, nuclear powered electricity and hydrogen.
The future of the global economy will be an overarching theme throughout this year's conference. David Houle, a respected futurist, strategist, Emmy-winner and renowned author of The Shift Age will speak about the future of renewable energy and how we can predict future trends in global economic growth. Dr. R. K. Malhotra, Executive Director for Indian Oil Company, will be on hand to speak about India's future plans with hydrogen and how it will impact several industries throughout this quickly growing country.
More than 40 dynamic sessions covering a wide range of topics, from producers to hydrogen users, will be available for conference attendees. Two sessions are especially timely. The Workshop for Finance and Hydrogen Professionals will provide an opportunity for market leaders and finance professionals to discuss how to compete and succeed in securing new investments in today's economic landscape. The second special session, conducted in a town hall format, will be an open and honest discussion behind the hydrogen hype and why some critics may actually be right.
Plus, the expo will feature more than 30,000 square feet of the latest products, fuel cells, engines and more. Several hydrogen vehicles will be on hand for participants to drive, as well as a hydrogen forklift and Segway in the Live Demo Area. There will also be demonstrations of a Formula Zero hydrogen race car.
Representatives from every market segment from government to fuel cell, electronics and component manufacturers are expected to attend. To register, and to see a complete listing of keynotes and parallel sessions, visit www.hydrogenconference.org.
# # #
The NHA Annual Hydrogen Conference is the largest hydrogen conference in the US. Now in its 20th year, it is also the longest running annual hydrogen conference in the world, attracting more than 1,200 business professionals and expo visitors every year, who gather to learn about the latest advances, network with colleagues and exchange ideas. The accompanying Hydrogen Expo offers more than 90 exhibits, three industry tours, a Live Demo Area, and a Ride & Drive area that features vehicles and buses which showcase the latest in hydrogen and fuel cell technology. More information may be obtained by visiting www.hydrogenconference.org.
1211 Connecticut Ave NW Suite 600 • Washington, DC 20036 • 202-223-5547 • www.hydrogenassociation.org
Featured Product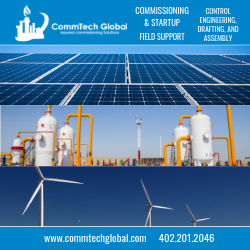 CommTech Global Solutions, LLC, provides professional and reliable commissioning services to customers in all realms of the energy industry. We blend our skills in engineering and technology with innovative business models, offering a complete range of services to assist you for a successful and in compliance operational startup. Consolidation of all our service domains gives our clients a comprehensive set of expertise and far-reaching experience on each project.