Shorter payback periods on small scale wind turbines are just some of the incentives available due to a new legislation allowing feed-in tariffs (FiT).
The Energy Regulator, Commission for Energy Regulation (CER), has cleared the way for the ESB to purchase electricity from households that have their own wind generators.

It was announced that the ESB allocated tariff value of €0.09 cents per kWh can now be claimed for any surplus electricity your renewable energy system produces
Eamon Ryan TD, Minister for Communications, Energy and Natural Resources announced at the RES, Renewable Energy Systems Ltd, open day a further increase of €0.10 cents per kWh, bringing the total FiT rate to €0.19 cents per kWh. This further increase to the tariff value will bring quicker return on investment for microgeneration solutions.
Andrew McMullan, CEO of Proven Energy said "The introduction of the new feed-in tariff is a step forward in opening up the microgeneration market in Ireland. This will boost the industry and create new job opportunities".
RES, Renewable Energy Systems Ltd, leading provider of renewable energy solutions to the Irish market and distributor of Proven Energy products welcomes the news. Committed to the environment and providing high quality products to its customers, RES engaged passionately in lobbying for this change in the market.
Mark Lowen, Managing Director of RES said 'This is a crucial change in the renewable energy market and RES is pleased to be a part of it. This will provide customers with a meaningful opportunity to generate their own electricity and now the additional ability to sell their excess energy back to the grid."
Proven Energy, the worldwide leading provider of robust, reliable wind turbines has three models available to the market: 2.5kW, 6kW & 15k suitable for the domestic, agricultural and commercial market.
Proven 2.5
Generates in excess of 2.5kW of power and can make substantial energy contributions to a standard 3 bedroom house (excluding heating).
Proven 6
Produces 6kW of power and is suited to a wide range of clients including large domestic and agricultural. It is available in both single and three phase configuration
Proven 15
Will produce in excess of 15kW of power and is aimed at both agricultural and commercial applications
Picture: Paul Carberry, Marketing Director RES Ltd, Mark Lowen, Managing Director, RES Ltd, Eamon Ryan TD, Minister for Communications, Energy and Natural Resources
Ends
Notes to Editor
About RES
RES, Renewable Energy Systems Ltd was incorporated in 2006. RES is focused on supplying the Irish market with the very best available renewable energy products from around the globe. We operate a strict policy of dealing with leading edge companies and have complimented this by establishing a network of trained technical engineers across Ireland to ensure excellence and consistency to our customers. Our products are user friendly and will stand the test of time.
RES main office is based in Baltinglass Co Wicklow. www.res.ie
About Proven Energy
Proven Energy is the world's leading supplier of small scale wind turbines. Its high performance turbine design is the result of almost thirty years of inspiration, innovation and development. Proven Energy is based in the west of Scotland, India and the USA.
Proven Energy has 28 years expertise in the renewables sector and will always be delighted to comment on issues relating to small scale wind. A vast database of images of wind turbines in action can be found at http://www.provenenergy.co.uk/image_library_login.shtml
For more information please contact:
Samantha Sinclair
Marketing Executive
Proven Energy
The Torus Building
Rankine Avenue, Scottish Enterprise Technology Park
East Kilbride
Scotland, UK
G75 0QD
Phone: + 44 (0) 1355 597 017
Email: samantha.sinclair@provenenergy.com
Featured Product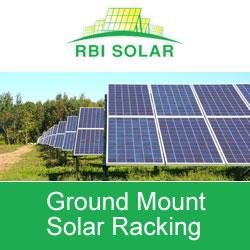 RBI ground mount solar systems are designed and engineered for each customer's site specific conditions to minimize the field installation labor and require no field welding, drilling, or other on-site fabrication. Our meticulous project planning and precise execution combine to provide you with solar racking solutions that are tailored to the unique conditions of your location. RBI provides a wide range of PV mounting systems in various sizes to offer freedom and flexibility to support every type of PV module. RBI Solar ground mount system is a perfect utility scale solar racking solution with two models classified by Intertek to UL subject 2703. ETL Classified systems include proven models GM-I and GM-T which have been used on many large commercial and utility scale solar racking projects across the country.