Focus on Energy helped state residents and businesses install 338 renewable energy systems in the past year.
MADISON, Wis. (March 5, 2009) - In the past year Focus on Energy has helped Wisconsin businesses and homeowners complete 338 renewable energy projects; that's 40 percent more projects than in 2007 and a record for the number of projects completed in one year since the program's inception in 2002. By providing technical assistance and more than $3.5 million in financial incentives toward the installation of these renewable energy systems in 2008, Focus on Energy has helped businesses and homeowners harness energy from the sun, the wind and organic materials to become more energy independent. Together, the completed systems will generate enough energy to heat and power 1,000 average Wisconsin homes.

"The renewable energy industry is booming — and as technology continues to improve and costs come down, a growing number of Wisconsin residents and businesses are using renewable energy systems to reduce their energy costs," said Don Wichert, renewable energy program director. "With a network of experts and a variety of services across Wisconsin, Focus on Energy can help anyone plan, finance and install renewable energy systems."
Renewable energy can become a reality for you
Those who have turned their renewable energy dream into reality have done so with the help of Focus on Energy's many services. For example, Focus educates residents and business owners about renewable energy choices, provides training and financing, promotes technical assistance and supports the installation of renewable energy technologies across the state.
Who's realizing their renewable energy dream
As energy costs continue to be volatile, Wisconsin residents are taking advantage of the opportunity to reduce pollution and their reliance on fossil fuels. The following Wisconsin residents and business, with the help of Focus on Energy, have installed a renewable energy system that has helped them become more energy independent:
In July 2008
Lee Sorensen of Cross Plains, Wis.
, installed a solar electric system and a solar domestic hot water system to his home. The home was built in 2004 and was certified as a Wisconsin ENERGY STAR® Home through Focus on Energy, meaning the home was built using high efficiency equipment and effective insulation and air sealing techniques. As a result, the home is estimated to be 25 percent more energy efficient than homes built to Wisconsin's Uniform Dwelling Code, making it a prime candidate for renewable energy. The solar energy projects were completed with the help of $12,400 in financial incentives from Focus on Energy.
Each year, Mr. Sorensen's solar electric system is expected generate 6,334 kilowatt-hours (kWh) of electricity; and the solar domestic hot water system will save him more than 91 therms. The renewable energy produced by these systems will offset the burning of 3 tons of coal and the release of more than 8 tons of carbon dioxide into the atmosphere each year.
H&H Solar Energy Services of Madison, Wis., installed the 5.5 kilowatt (kW) solar electric system and 64 square foot solar domestic hot water system. The solar hot water system will cut the home's natural gas consumption to heat water by up to 80 percent, and the solar electric system is expected to supply 60 percent of the home's electrical needs.
In addition, because the solar electric system is part of Madison Gas & Electric's (MGE) innovative renewable energy rate program, Mr. Sorensen can sell the solar power he generates to MGE for $0.25 and buy it back from MGE at their regular electric rate. In fact, payments for the solar electricity generated have exceeded the cost of Mr. Sorensen's electric bills since installation by nearly 20 percent — meaning he gets money back from MGE.
Rapid Car Wash in Manitowoc, Wis.
, completed the installation of a 10-panel, 400 square foot solar hot water system in November 2008 with the help of $8,626 in financial incentives from Focus on Energy. The solar hot water system, installed by Green Sky Energetics of Manitowoc, Wis., will save the car wash more than 863 therms and will prevent more than 5 tons of carbon dioxide from entering the atmosphere each year. In addition, the water heated by the system is enough to supply 60 percent of the business's annual hot water needs. And in the winter, when the hot water isn't needed as much for washing cars, it will be used for the business's radiant floor heating system.
Kathy Crittenden and Kelvin Rodolfo of Viroqua, Wis.
, completed the installation of their small wind system in November 2008. Installed by Timmerman's Talents of Platteville, Wis., the 2.5 kW wind turbine is expected to produce 4,081 kWh a year and meet 50 percent of the couple's electrical needs. The project was completed with the help of $6,129 in financial incentives from Focus on Energy. Timmerman's Talents also installed a solar electric and a solar hot water system at the couple's Platteville home in 2007.
To find more information about technical and financial assistance available through Focus on Energy's Renewable Energy Program, visit focusonenergy.com or call (800) 762-7077.
About Focus on Energy
Focus on Energy works with eligible Wisconsin residents and businesses to install cost effective energy efficiency and renewable energy projects. Focus information, resources and financial incentives help to implement projects that otherwise would not be completed, or to complete projects sooner than scheduled. Its efforts help Wisconsin residents and businesses manage rising energy costs, promote in-state economic development, protect our environment and control the state's growing demand for electricity and natural gas. For more information call (800) 762-7077 or visit focusonenergy.com.
# # #
Featured Product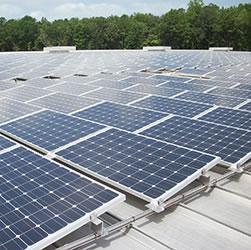 The Power Rail™ Commercial Mounting System is designed with the professional PV solar installer in mind. Both the XD/UD and LD/MD rails feature single tool assembly with the revolutionary patented RAD™ Lock-in-Place bolt for fast and secure module clamping. The high strength marine-grade aluminum rails include an integral wiring channel for securing cables and providing a professional finish.