National Action Plan for Biomass Submitted to Chinese Ministry of Agriculture
Beijing, March 9, 2009

The Chinese Academy of Agricultural Engineering (CAAE) and Environmental and Energy Development Consulting Ltd. (EED) have released a REEEP-funded report "National Action Plan for Rural Biomass Renewable Energy Development in China", which provides detailed measures to enable China to achieve its biomass development target in the medium and long term.
The REEEP supported report and a proposed National Action Plan for Biomass were submitted to the Chinese Ministry of Agriculture (MOA) in October 2008 for government ratification. Implementation of the National Action Plan will promote the development of biomass related industries with the aim to increase the incomes of rural farmers. Using biomass to produce electricity and heat is expected to improve water and air quality in rural areas.
"The report shows that Chinese biomass energy has great potential, with rural household energy demand expected to increase to 300 Mtce in 2020, clean biomass energy should be able to provide more than 30% of rural energy demand. The rural agricultural sector will provide ethanol and biodiesel from high-yield energy crops and support the national strategic goal of producing alternative fuel products to substitute 10 million tons of fossil fuel products by 2020," stated Dr. Liu Xin, Managing Director of EED Ltd.
Measures in the REEEP supported National Action Plan will be replicated at the provincial and regional levels under the instruction of Ministry of Agriculture, thus encouraging provincial governments to produce Provincial Action Plans for rural biomass development according to local conditions. The provincial plans will also establish regional targets for biomass energy development.
The REEEP project worked together with several other important Chinese renewable energy initiatives including the National Large and Medium Scale Biogas Project, the Energy Crop Utilization Development Plan, and the GEF-funded Integrated Renewable Biomass Energy Development Project, in order to provide a comprehensive account of the National Action Plan's impact on sustainable energy utilization.
For more information, please contact:
Dr. Liu Xin
Managing Director
Environmental and Energy Development Consulting Ltd. (EED)
Email: liuxin@eed.com.cn
Featured Product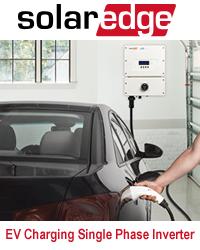 The SolarEdge PV inverter combines sophisticated digital control technology with efficient power conversion architecture to achieve superior solar power harvesting and best-in-class reliability. The fixed-voltage technology ensures the solar inverter is always working at its optimal input voltage over a wider range of string lengths and regardless of environmental conditions. A proprietary data monitoring receiver has been integrated into the inverter and aggregates the power optimizer performance data from each PV module. This data can be transmitted to the web and accessed via the SolarEdge Monitoring Portal for performance analysis, fault detection and troubleshooting of PV systems.