Boulder, Colo. (March 10, 2009) - Entegrity Wind Systems, Inc., a leading manufacturer of commercial-scale wind turbines, announces the installation of a new EW50 100-foot monopole wind turbine at The U.S. Department of Energy's National Renewable Energy Laboratory (NREL).
The EW50 is one of four small wind turbines selected for independent testing at NREL's National Wind Technology Center (NWTC). The EW50 is the most tested commercial-scale wind turbine on the market.

"Entegrity Wind is honored that our EW50 turbine was selected by NREL for independent testing," said Andrew Trapanese, Director of Operations for Entegrity Wind. "The EW50 has a sophisticated control system, SCADA monitoring system and simple, robust configuration."
NREL's small wind turbine research provides turbine testing, turbine development, and prototype refinement leading to more commercially available small wind turbines. NREL's Independent Testing project tests commercially-available small wind turbine systems to industry and international standards in order to help provide consumers with more certified small wind turbine systems.
Entegrity Wind Systems manufactures the EW50, a 50-kilowatt wind turbine generator designed to supplement electric power generation for large buildings, farms, communities, schools, water treatment facilities, rural electric cooperatives and remote locations. The EW50 reduces operational costs, and is an ideal capital investment that enables owners to secure low-cost renewable energy for the future. Please visit the company's website at www.entegritywind.com for additional information, photography and product specifications.
###
Featured Product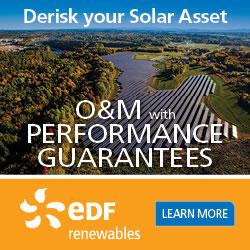 EDF Renewables offers the same innovative solutions that maximize the performance of our own 5.2 GW of installed projects. Because we're not an equipment manufacturer, our recommendations are transparent and data-driven. We cover the entire project lifecycle: from pre-commissioning support, through warranty and post warranty operation, to late stage and decommissioning.