Governments around the globe have committed to expend public funds to shore up poor decisions in investment markets - governments must ensure investments in public monies counteract global warming and reduce greenhouse gas emissions.
As uncertainty clings to the world's financial markets, economic and business analysts less familiar with the climate change science may find it challenging that science - with a high level of certainty - can tell us of the havoc global warming will have on our planet and by deduction on global economies, and the urgency with which we need to respond for both the world's environment and our own well-being.

There is one certainty in fiscal markets - that at some point we will be certain that the bear will hibernate and growth will return. To be sure, the ups and downs in the market from day to day, week to week, and month to month cannot be forecast. But almost all economic analysts will agree the longer trends over years and decades are more regular and that growth will return and markets will recover.
Similarly, in the short-term science cannot forecast how quickly climate changes will occur in the next months and years, and temperature and other weather changes in any given place will behave much like the stock market, especially as climate belts shift and the world's climate systems adjust to the pressures that the global warming caused by a build up of greenhouse gas emissions, analogous to the way fiscal markets are readjusting to fiscal pressures now.
Every qualified scientific body in the world, from the Australian Academy of Science and the Royal Society as well as the American Association for the Advancement of Science and the Chinese Academy of Science, accepts unequivocally that global warming is a reality - it is being measured - and agrees that warming is caused by man-made greenhouse gas emissions.
In the true nature of science, science will accept this should not go unchallenged. Science by its practice is only tentatively correct, and holds unless scientific evidence can disprove the prevailing theory. This leads to a frequent source of confusion, confusion that is utilised by those in denial of, or biased against (or both), of the fact of global warming, and the argument employed effectively follows a line that because science cannot know everything, therefore science must know nothing, and therefore the world need do nothing.
Comments from Copenhagen in the last few days shows there is no dispute within the expert community as to the reality or causes of man-made global warming. In science, just because all the experts agree doesn't make them right - it just makes them extremely unlikely to be wrong.
Science informs the community - it is the community's role to decide if the consequences of climate change are acceptable based on the scientific advice. Many scientists are working to inform the community and strongly encouraging our Governments to respond accordingly.
WA SEA acknowledges the combined efforts of scientists from a range of disciplines with the support of the Federation of Australian Science and Technology Societies (FASTS) to discuss with Federal politicians all manner of science matters including the issue of Climate Change, at the 2009 Science meets Parliament in Canberra, 17 - 18 March 2009.
- The only long term commodity is innovation -
With every great crisis there is also great opportunity. Rebuilding long-neglected infrastructure and investing in research, new technologies and sustainable energy are part of what defines economic opportunity in the 21st century.
The challenge today is to embed green economic policy into national economies.
Meanwhile, a new UN report, The Global Green New Deal, part of the UNEP Green Economy initiative, has called for one third of the world's $2.5 trillion worth of planned stimulus packages to be invested in greening the world economy
UNEP figures show that in recent years 2.3 million people have found new jobs in the renewable energy sector alone. There is great potential for job growth in the sector, with combined employment in wind and solar power expected to rise to 8.4 million by 2030.
Investments in improved energy efficiency in buildings could generate an additional 3.5 million green jobs in Europe and the United States alone.
But with the global squeeze on credit, politicians and policymakers need to work out how to ease the effects of a shortage of credit on capital-intensive renewable energy projects.
Governments around the globe have committed to expend public funds to shore up poor decisions in investment markets - governments must ensure investments in public monies are tied to actions that reduce greenhouse gas emissions, and businesses must consider the investment of their own funds for the same purpose.
Comment piece - Dr Ray Wills, Chief Executive of WA Sustainable Energy Association Inc. (WA SEA)
WA Sustainable Energy Association Inc. (WA SEA) Media Release - 17 March 2009
Media Contact:
Dr Ray Wills 0430 365 607
Editors notes:
1. News stories from Copenhagen - http://news.google.com.au/news?pz=1&ned=au&ncl=1315510647
2. FASTS website - http://www.fasts.org/
3. The Global Green New Deal media release on website http://www.unep.org/Documents.Multilingual/Default.asp?DocumentID=548&ArticleID=5957&l=en
4. The Western Australian Sustainable Energy Association Inc. (WA SEA) is a chamber of businesses variously promoting, developing and/or adopting sustainable energy technologies and services that minimise the use of energy through sustainable energy practices and maximise the use of energy from sustainable sources. WA SEA is supported by a growing membership of 220 industry members from a diversity of businesses. www.wasea.com.au.
5. Dr Ray Wills has had a wide-ranging career at different times as researcher, planner, adviser, manager and academic and has substantial expertise and experience across diverse fields including resources and energy, sustainability, and climate change science. Ray is recognised by business, government and community leaders in WA as an authoritative commentator on sustainability and policy and functional responses to mitigate and adapt to global warming. Ray is CEO of the WA Sustainable Energy Association Inc. (WASEA), the peak body for the sustainable energy industry in Western Australia, the Principal of Future Smart Strategies, an Adjunct Senior Research Fellow with the School of Earth and Geographical Sciences at the University of Western Australia, and a Fellow of the Australian Institute of Energy.
Featured Product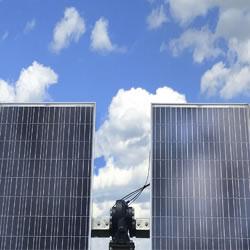 Solar FlexRack's latest solar tracker technology bundles an advanced tracker design with a full team of seasoned engineering and installation experts at your service. The next-generation solar tracker delivers a package of features that both enable increased energy yields for commercial and utility-scale solar installations, and significantly reduce project risks. That translates to smart installation cost-savings across your project budget.