Executive chairperson Clare Misquitta and event organizers confirmed that Scott Parisi, president of EcoGreenHotel and John Grillo, president of National Energy Services Co.
ARDSLEY-ON-HUDSON, N.Y., March 24, 2009 - Organizers of the 1st Annual Global Renewable Energy Networking Summit have announced that several of the country's top leaders in the green hospitality industry have accepted invitations to speak and participate in discussion panels at the upcoming three-day event.

Executive chairperson Clare Misquitta and event organizers confirmed that Scott Parisi, president of EcoGreenHotel and John Grillo, president of National Energy Services Co., will co-deliver a keynote address at the summit, which is being convened April 15 - 17 at the Bear Creek Mountain Resort and Conference Center in Macungie, PA.
"We are delighted that Scott and John have accepted our invitation to speak at the Summit," Misquitta said. "Their presentation will offer a rare opportunity for hospitality professionals to learn about their trend-setting strategies for implementing meaningful green initiatives in lodging facilities across the spectrum - from mom-and-pop motels to major luxury chains."
Parisi is an eco hotel consultant who conducts audits of hotel buildings and operations, and creates custom plans for properties to develop and implement environmental management systems. He hosts on-site workshops and staff training and also guides facilities through the LEED certification process. His company, EcoGreenHotel, is a resource designed for green hospitality professionals to learn about the latest industry news, products and services.
Grillo's company, National Energy Services Co., developed the Ozone Laundry Program - currently in use in select Hilton Hotels - that consistently reduces laundry costs by more than 50 percent. He is a leader in the field of the analysis, design and construction of energy conservation projects and is an EPA-certified lighting surveyor.
At a summit discussion panel entitled Green Hotels: The Future, Misquitta, Parisi and Grillo will be joined by Kevin Mahoney of Innovative Hotel Management, Chris Lewis of OTO Development and Lorrie Miller of the Hampton Inn in Easton, PA for a panel discussion designed to bring hotel owners and hospitality industry specialists up to speed on current trends in green hotel management and cost efficiencies, EcoCrown hospitality certifications and environmental regulations relevant to eco hotels.
Also confirmed to participate in the high level summit is Scott Minos of the U.S. Department of Energy along with a host of other leaders in alternative fuels and transportation, green building, real estate, business, grants and tax incentives, health care, government relations, technology, recreation and renewable power.
The summit's mission is to bring experts and novices together to talk about what it takes to develop -and sustain - environmentally-conscious policies and procedures.
"Many businesses want to go green but they are reluctant because they don't know what it will take, or what the result will actually be," Misquitta said. "That's what this global summit is all about - bringing people from a range of industries together to network and learn about the latest in renewable energy, resources and opportunities."
In addition to a trade show and a full slate of sessions, panel discussions and networking opportunities, the summit will recognize organizations and individuals that have demonstrated ingenuity, creativity and perseverance in the pursuit of renewable energy.
The 1st Annual Global Renewable Energy Networking Summit is sponsored by PennEnergy, the U.S. Department of Energy, Camelback Mountain Resort, EcoGreenHotel, Iberdrola Renewables, GreenRealEstateEducation.com and Brightside Management Services, Inc.
Registration for the summit is open. Early registration is strongly suggested as some receptions and other special events are already sold out and reservations are limited for others. To register, visit www.greensummitxpo.com, call 914-693-4635 or email Register@greensummitxpo.com.
About Brightside Management Services Inc.:
Brightside Management Services Incorporated is an American publishing and event management corporation that works in coalition with other organizations dedicated to promoting clean energy, energy efficiency, a healthy environment, and a strong economy.
PRINCIPAL CONTACTS:
Clare Misquitta
914-693-4645
editor@brightsideglobaltrade.com
www.brightsideglobaltrade.com
Scott Parisi, CHA
888-229-0213 Ext. 801
sparisi@EcoGreenHotel.com
www.EcoGreenHotel.com


John Grillo
800-758-9288 Ext. 12
jgrillo@nescorporation.com
www.nescorporation.com
###

Featured Product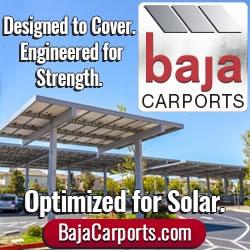 Baja Carports offers an extensive solar support system product line customized to customers' site specifications by in-house engineers, meeting their parking lot coverage, plus optimal PV production needs. Baja's Full Cantilever Tee is often paired with its Semi and Full Cantilever carports to meet live/loads up to 60psf and wind speeds to 160mph. All Baja products are pre-fabricated, bolted connections, pre-galvanized structural steel for fast on-site installation and project aesthetic requirements."