Full Spectrum Solutions Innovative Street Lighting Technology for a Solar and Wind Powered Future
JACKSON, MI - The new standard for off-the-grid street lighting is the ground-breaking Photo Voltaic and Wind Powered Hybrid Street Light from Full Spectrum Solutions (FSS). The innovative design meets IES Class 1 standard with a patented combination system utilizing solar panels, wind turbine and induction lighting.

Works in Every Climate and Weather Condition: EverLast® PVW is a compact, free-standing solar and wind powered street light featuring a 400-watt wind turbine and two 50-watt solar panels used to charge two batteries with 100 amp-hours of storage. This sustainable lighting solution operates in all climate conditions by utilizing Mother Nature's most powerful energy sources: Sun and Wind. The unbreakable, thin, PV panels work in cloudy or high-heat climates. Even in cloudy conditions, the PVW still produces 39.8 Volts DC, outperforming other solar powered light sources. The wind turbine, composed of synthetic MC nylon and carbon fiber, can operate at wind speeds as low as 2-3 mph with an electric shut down at 60 mph.
Sets New Standard for Cost Savings: Exceptionally energy-efficient and completely off the grid, EverLast® PVW allows businesses and municipalities to reduce overhead by decreasing energy and maintenance costs associated with lighting systems. Operating by use of magnetic induction technology, the EverLast® PVW boasts incredible 100,000 hour rated bulb life. The low wattage feature, similar to 200w HPS, allows for a physically smaller supplemental wind turbine and PV products making maintenance virtually obsolete. Remote and independent system installation is easy, and the free-standing design eliminates excavation costs to run power lines.
Versatility is in the Features: The PVW offers the most competitive prices with quality manufacturing and an abundance of unique features. Sensor controlled EverLast® induction lamps make this green technology possible using electromagnetic fields generated outside the lamp. Operating only at night, the PVW is as bright as an electric-powered street light, but with an unprecedented life expectancy. Controls are available for step-dimming lighting options to save on battery and fixture life based on low occupancy. Unit can be sold with or without pole, turbine or PV panel.
"We have unveiled a new technology that addresses the most pressing needs for businesses, municipalities, parking structures and large-scale alternative energy demands. The future in 'green' lighting solutions is happening now, with the EverLast® PVW," said Mike Nevins, Founder of Full Spectrum Solutions.
Unparalleled quality, technology and energy efficiency has proven FSS is an environmentally-conscious company, bolstered further by partnerships with some of the industry's most reputable environmental organizations such as the Sustainable Building Industry Council, US Green Building Council, California Lighting Technology Center (CLTC), Energy Star', Illuminating Engineering Society (IES), the University of Michigan (ISO Lab) and the PIER program.
Featured Product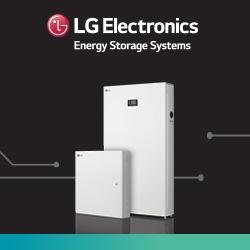 LG Solar is transforming today's solar landscape, offering precision-manufactured and high-efficiency solar panels for homeowners who demand high performance, reliability and consistently strong energy yield from a brand they can trust. LG modules feature outstanding durability, appealing aesthetics and high-efficiency technology, backed by a limited 25-year product, performance and labor (up to $450) warranty. Homeowners who purchase LG Solar modules know they're protected by a diversified global brand.