HELIOS TECHNOLOGY: THE SECOND CELL LINE IS UP AND RUNNING, GIVING A TOTAL CAPACITY OF 60 MWp - START-UP OF THE SECOND MODULE PRODUCTION UNIT
Helios Technology S.p.A. has reached the 60 MWp target. This is the overall capacity of the cell production line which recently came up to speed in the works of the company from Carmignano di Brenta (Padua-Italy) that has been operating in the world photovoltaic market for almost thirty years.

Helios, the leading Italian industry in the production of photovoltaic cells and modules since 1981 and part of the Kerself Group since 2006, has also started up its new module production line which will reach a capacity of 50 MWp during the year.
The cell production capacity reached 60 MWp per year when the second 30 MWp line - part of the one already installed last year - came up to speed. Both operate in a continuous cycle and are able to produce high-efficiency mono and polycrystalline photovoltaic cells: <16.5% polycrystalline and <17.5% monocrystalline. The mono and polycrystalline wafers which constitute the raw materials are transformed by means of a chemical/physical process into cells capable of transforming incident luminous energy (photons) into electrical power. All the stages of the process are controlled by means of in-line measuring instruments and sample measurements off line. The quality of every single cell is guaranteed by a final test during which the electrical performance and optical qualities are measured. Production is carried out in a clean room where the temperature (25şC), humidity (50%) and purity of the air are controlled on the basis of standard parameters.
Helios Technology has started up the new module production line with a capacity of 25 MWp and will reach a total production capacity of 50 MWp during the year (Q2-2009). The new production unit is able to make modules composed of 60 mono and polycrystalline cells with maximum powers up to 235 Wp.
Helios Technology's production activities are carried out with the maximum respect for the environment. The company has patented an integrated zero-discharge wastewater treatment system (cell manufacturing process) with low environmental impact. Any system for producing photovoltaic cells from crystalline silicon consumes large quantities of water and generates some waste which has a high content of hazardous, toxic and harmful components.
The solution identified by Helios Technology involves carrying out specific treatments for the individual discharge flows and selectively recovering the process water while preventing any possibility of detrimental interaction with the environment. Recovery not only regards the production machines but also all the auxiliary systems required for the operation of the photovoltaic cell production line (scrubbers, demineralization lines, washing circuits, etc.): the result is a truly integrated zero-discharge wastewater treatment system capable of recovering more than 95% of the water used by the production lines. This prevents discharges into the environment and the possibility of accidents and other mishaps.
The dangers deriving from the treatment itself are confined to the inside of the works. The sole element exiting the system is solid waste composed of small quantities of inert sludge that can be shovelled and disposed of.
With consistent investments in innovation, Helios Technology, along with the entire Kerself Group, aims to further reinforce its leadership as the main Italian producer of photovoltaic cells and modules.
Contacts:
Helios Technology S.p.A. - Via Postumia 9/B - 35010 Carmignano di Brenta (PD), Italy
Tel. +39 049 9430288 - info@heliostechnology.com - www.heliostechnology.com
Press Office: Quid - Laura Ceccon - Via Imperiali 77, Vicenza, Italy
Tel. +39 0444/512733 - Mob. +39 347/3775409 - quid@quidonline.it
Featured Product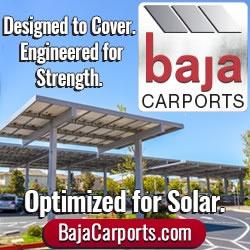 Baja Carports specializes in design-build Solar Support Systems™ for mainframe carports & shade canopies. Our patented product line is designed in-house by Baja engineers. Product structures are pre-fabricated from pre-galvanized high-tensile, light gauge steel, and installed by Baja crews. Carports, RV/boat storage, EV stations, & ground mounts are customized to meet customers criteria. Baja's objective for each Solar Support System™ is to leverage optimal electrical production while maximizing coverage. Baja produces cost-effective carports for commercial businesses.