Following the commercial success of its façade mounted transpired collector, Matrix Energy introduces the Delta, a modular roof mounted solar fresh air heating system.
The Delta is the ideal solution where our conventional wall mounted solar air heating system is not practical due to poor orientation, insufficient wall area, local bylaws, or other obstacles. The integrated solar collector and air duct make installations easy in a number of configurations.

Features
The MatrixAir' Delta incorporates a dual heating process using both transpired and back-pass solar collector technology that is optimized for solar gain and ease of installation.
Another feature is the combination of an air collection space and insulated air plenum that is integrated behind the collector itself creating a fully modular collector and plenum unit that may be joined in series and parallel as required for increased total air flow and temperature rise.
Research has demonstrated that a profiled absorber surface may be subject to heat losses that are exacerbated with increasing profile depth at low flow rates or in windy conditions. MatrixAir' Delta uses a flat absorber plate in order to expose the full, uniform absorber area to direct sunlight at all incident angles regardless of the time of day.
Yet another feature is the use of stirring strips within the collector itself. In the area close to the back of the absorber plate air velocity is very low and can form a comparably warm but stagnant boundary layer that must be made turbulent in order to be captured. The Delta features internal stirring strips between the absorber and the back plate in order to create air turbulence thereby increasing collector efficiency and temperature rise.
The low aspect and design of the collector reduces wind loading while allowing tight spacing of the modules. The user specified Bottom, End or Mid-connection of the rows of Delta collectors to the duct transporting the heated air to the HVAC enables the Delta system to easily accommodate most roof layouts using mechanical, ballasted and/or guy-wires.
Dimensions: 305.5 W x 84.2 H x 61 W (cm)
Weight: 78.3 kg
CFM per module: 200
CFM per square foot of roof area: 4 - 7
*Energy output per collector: 4 GJ/yr
Featured Product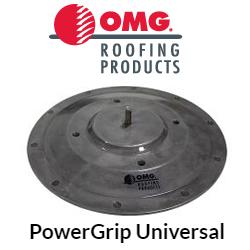 PowerGrip Plus Roof Mount System, a watertight structural attachment system used to secure ballasted solar racks and other equipment to roofs covered with thermoplastic (TPO and PVC) membranes. PowerGrip Plus is designed with wind performance in mind and offers ultimate tensile strength of 2,000 lbf. and ultimate shear strength of 1,075 lbf. Properly installed PowerGrip Plus units reduce rack movement and remaining watertight. PowerGrip Plus units are easy to install, saving both time and labor when compared to alternative options. A wide membrane skirt promotes easy welding in place, and the 15/8 diameter and 1/2 inch tall mount provides an optimal perch for securing brackets or struts. The exposed 1 inch tall and 3/8 inch diameter bolt and mounting stand are made from corrosion-resistant stainless steel and aluminum alloy for superior long-term performance.