Company Works with Entegrity Wind Systems to Offset its Electricity Costs
LIBERTYVILLE, Ill. (April 21, 2009) - Aldridge Electric, Inc., one of the nation's leading electrical contractors, announces the installation of a 120-foot wind turbine at its company headquarters in Libertyville. The company worked with Entegrity Wind Systems, a leading manufacturer of commercial-scale wind turbines, to install the EW50, a 50-kilowatt wind turbine generator designed to help Aldridge Electric offset their retail rate electricity. The EW50 wind turbine is expected to generate 40,000kWh/year, which is enough energy to power four homes for a year, or enough energy to power all 125 computers and 42 printers used by Aldridge Electric at its headquarters each year. The installation of the turbine is one of many strides Aldridge Electric is taking to reduce its carbon footprint.

The energy produced by the turbine will also offset thousands of pounds of emissions including: 45,000 pounds of carbon dioxide (CO2), 55 pounds of nitrogen oxides (NOx) and 145 pounds of sulfur dioxide (SO2). CO2 emits greenhouse gas that is suspected of causing global warming, NOx causes smog and acid rain, and SO2 is the main cause of acid rain.
"Aldridge Electric is doing its part to be sustainable by investing in renewable energy to help reduce our carbon footprint," said Ken Aldridge, CEO of Aldridge Electric. "We've enjoyed working Entegrity Wind and are thrilled to have a wind turbine spinning at our headquarters to help offset our energy costs."
Aldridge Electric will be hosting a ribbon cutting ceremony at its headquarters on Friday, May 1, 2009 at 3:30 p.m. to celebrate the installation and spinning of the turbine. The event is open to the public and attendees can learn how the EW50 wind turbine works, and how it will help Aldridge Electric save on energy costs and reduce its carbon footprint.
"Since Aldridge Electric is a large company, with high energy needs, they are a perfect candidate for one of Entegrity's EW50 wind turbines," said William O'Donnell, Managing Director of Business Development for Entegrity Wind. "The EW50 is an ideal capital investment that will enable Aldridge Electric to compensate for its future retail rate electricity costs."
About Aldridge Electric:
With over 55 year of experience and annual revenues in excess of $230 million, Aldridge Electric is a national leader in electrical construction. Aldridge is recognized in the wind industry for providing complete electrical systems to utility grade wind farm projects that include design/build substation construction, tower wiring, underground, and overhead distribution. For more information about Aldridge Electric and to see video footage of the turbine installation at Aldridge Electric's headquarters, visit them at www.aldridge-electric.com.
About Entegrity Wind:
Entegrity Wind Systems Inc. is a leading distributed wind energy provider and manufacturer of the EW50 wind turbine, with installations worldwide. The EW50 is the most tested commercial-scale wind turbine on the market. The design includes an NREL-patented blade design, robust drive train and a sophisticated monitoring and control system. The EW50 outperforms its predecessors, while maintaining the same, simple, durable configuration. Entegrity Wind Systems is a privately held corporation with offices in Boulder, Colo. and Evanston, Ill., and manufacturing in Charlottetown, Prince Edward Island, Canada. Please visit the company's website at www.entegritywind.com for additional information, photography and product specifications.
Featured Product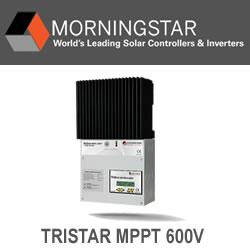 Morningstar's TriStar MPPT 600V charge controller leverages Morningstar's innovative TrakStar™ MPPT technology and our 20+ years of power electronics engineering excellence, to enable the widest input operating voltage range available from a solar array, wind turbine or hydro input. This controller's standard and DB versions are for off-grid applications, and the TR versions were developed to enable retrofitting grid-tied systems with battery backup.