According to a new survey conducted by Roper on behalf of Sharp Electronics Corporation, Americans' preferences for eco-friendly products have not waned, in spite of facing tighter budgets and less discretionary income.
AMERICANS BELIEVE IN GREEN CONSUMER ELECTRONICS

Survey reveals energy-saving features rank above brand and design when shopping for
new consumer electronics
MAHWAH, N.J., April 16, 2009 - Americans' preferences for eco-friendly products have not waned, in spite of facing tighter budgets and less discretionary income. In fact, consumers are three times more likely to pay more upfront for a product that will save them money on electricity bills in the long run, according to a new survey conducted by GfK Roper on behalf of Sharp Electronics Corporation. The survey, which was conducted in March 2009, measured the perceptions of 1,002 adults regarding consumer purchasing decisions and how green features weigh into their decisions.
When consumers shop for a new consumer electronics product, such as a flat-screen TV, energy-saving features are at the forefront of their decision process, even edging out traditional decision factors such as brand and design. The survey also found that consumers are actually looking for green features during the purchase decision. Results show that nearly half of Americans say that green features play a role in their purchasing decision, and more than one-third of Americans say they definitely look to make sure a consumer electronics product has energy-saving features.
"We are seeing that consumer purchasing habits are starting to reflect society's focus on the environment. At Sharp, we're committed to providing consumers with products that have a reduced impact on the environment, by consuming less energy and using recyclable materials," said Bob Scaglione, senior vice president and group manager, Product and Marketing Group, Sharp Electronics Corporation. "Sharp AQUOS LCD televisions are among the most energy efficient products in the business, offering energy-saving features to help reduce consumers' electricity bills and save money in the long run. In fact our newest series of AQUOS LCD TVs exceed the EPA's Energy Star certification requirement by at least 15 percent."
The survey also found that in addition to energy savings, Americans are looking for other eco-conscious features in consumer electronics, with most consumers showing a large preference for an end-of-life recycling program. When consumers were asked to rate, on a scale of 1-10, the importance of several environment-focused aspects of a consumer electronics product, an end-of-life recycling program received the highest average rating, with 7.4 out of 10. Many consumer electronics manufacturers now have audio-video recycling programs in place, including Sharp's nationwide electronics program which provides consumers with no-cost, convenient recycling of Sharp televisions and other consumer audio and video products at any of 280 sites nationwide. The program is set to expand over the next three years to encompass hundreds more sites. A complete list of locations where Sharp products can be recycled is available on the MRM website (http://www.MRMrecycling.com.)
Survey Results
• 82 percent say green features play a part in their purchase decision-making
o 47 percent say it plays a part even if it is not the first thing they look for
o 35 percent say they are definitely looking for it
• 72 percent say they are much more inclined to choose an energy-saving product if cost is not an issue
• On an importance scale of 1-10 - with 10 being most important, energy-saving features rate an average score of 7.4 in the consumer's decision factor process
o On an importance scale of 1-10, price scored an average of 8.7, design scored an average of 6.8 and brand scored an average of 6.5
• Americans are three times more likely to pay more up front for a product that saves on their electricity bills in the long run, than they are to purchase the less expensive product now
• Energy saving isn't the only consideration for consumers to judge a product's environmental merit
o On an importance scale of 1-10, recycling programs scored an average of 7.4, eco-friendly packaging scored an average of 6.6 and manufacturing in an eco-friendly facility scored an average of 6.8
Sharp's Energy-Saving AQUOS LCD TVs
Sharp's continued development of more efficient AQUOS LCD TVs has resulted in successive generations of models with reduced power consumption in addition to spectacular picture quality. Current Sharp LCD TV models employ the latest in energy-saving design for operation with up to 20 percent less energy consumption than prior models because of a dedicated Power Saving mode. Recent editorial reviews of the current AQUOS LCD TV line highlighted energy efficiency -- CNET, called the current Sharp AQUOS "one of the most-efficient TVs of its size on the market" and PC Magazine gave the current AQUOS series its "GreenTech Approved" status for "excellent energy efficiency."
The new AQUOS E Series LCD TVs introduced earlier this year exceed the EPA's Energy Star certification requirement by at least 15 percent. These models feature Optical Picture Control (OPC), which automatically adjusts luminance to room brightness and lighting conditions, as well as Brightness Preservation picture processing, which also make these models very energy efficient.
In addition the company is continually working to improve product technologies, designs and programs aimed at environmental conservation, from the materials used in the manufacture and packaging of the products, to their transportation, use and safe disposal at the end of their product life.
For more information on Sharp's full line of Liquid Crystal Televisions, contact Sharp Electronics Corporation, Sharp Plaza, Mahwah, N.J. 07495-1163, or call 800-BE-SHARP. For online product information, visit Sharp's Web site at sharpusa.com.
# # #
Sharp Electronics Corporation is the U.S. subsidiary of Japan's Sharp Corporation, a worldwide developer of one-of-a-kind home entertainment products, appliances, networked multifunctional office solutions, solar energy solutions and mobile communication and information tools. Leading brands include AQUOS® Liquid Crystal Televisions, 1-Bit' digital audio products, SharpVision® projection products, Notevision® multimedia projectors, Insight® Microwave Drawer® appliances, SuperSteam' ovens, Plasmacluster® air purifiers and the OnEnergy' solar system. For more information visit Sharp Electronics Corporation at www.sharpusa.com
AQUOS is a registered trademark of Sharp Corporation
The study was conducted by Roper Public Affairs, a division of GfK Custom Research North America , on behalf of Sharp Electronics Corporation. Results are based on OmniTel' telephone interviews conducted from March 20 - March 23, 2009 among a nationally representative sample of 1,002 US adults using a random digit dialing (RDD) probability sample of all telephone households in the continental United States. The sample has been weighted by age, sex, education, race, and geographic region. The margin of sampling error for the sample is +/- 3 percentage points.
CONTACT:
Melissa Non
Crenshaw Communications
Phone: 646-484-4503
Email: melissa@crenshawcomm.com
Featured Product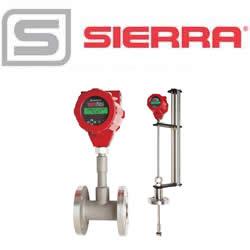 Sierra was the first to introduce a combination volumetric vortex and multivariable mass flow meter in 1997. Today, Sierra's completely redesigned InnovaMass® iSeries™ 240i/241i builds on two decades of success measuring five process variables for gas, liquid and steam with one connection. Now, with the latest hyper-fast microprocessors, robust software applications, field diagnostic and adjustment capability, and a new state-of-the-art flow calibration facility, Sierra's vortex iSeries delivers precision, performance, and application flexibility never before possible.