Since 1937 CITEL has specialized in the manufacturing of reliable Surge Protection Devices (SPD).
Since
1937 CITEL, Inc. has been specializing in the manufacturing of reliable Surge Protection Devices (SPD). CITEL has since expanded its surge protector lines to protect Grid-Tie Solar Power Systems. CITEL's DS50PV is surge rated at 40kA 8/20us, and engineered to protect against indirect lightning, AC utility grid surges, and internally generated switching transients. CITEL model DS60PV is a Heavy Duty DC surge protector, rated to withstand a direct lightning strike (10/350us waveform) as defined by ANSI/IEEE C62.41-2002 and IEC 61643-11. It is typically installed at the DC input to the inverter of a solar power system. These din rail mount devices can be integrated into a PV combiner box or standalone enclosure. CITEL is also pleased to announce model DS50PV as the first UL recognized DC Surge Protector with replaceable modules.
Featured Product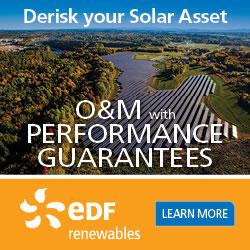 EDF Renewables offers the same innovative solutions that maximize the performance of our own 5.2 GW of installed projects. Because we're not an equipment manufacturer, our recommendations are transparent and data-driven. We cover the entire project lifecycle: from pre-commissioning support, through warranty and post warranty operation, to late stage and decommissioning.