Industry-leading wind resource data and FirstLook® interface drive global wind energy adoption
SEATTLE (May 6, 2009) - 3TIER, the global leader in renewable energy assessment and forecasting information, was recognized today for its commercial achievement and contribution to the wind industry by the American Wind Energy Association's 2009 Awards. The honor went to 3TIER for the development of FirstLook, a free Web-based wind and solar energy prospecting tool. FirstLook enables developers, operators, financiers and others interested in developing renewable energy to more quickly identify, quantify and prioritize optimal locations for renewable energy projects.

"It is an honor to have FirstLook recognized by the industry's premier wind association," said Kenneth Westrick, CEO and founder of 3TIER. "This intuitive and interactive tool was developed as part of REmapping the World', 3TIER's ambitious and sophisticated renewable energy resource mapping initiative which was launched in March 2008 to address the biggest barrier to global renewable energy adoption - the lack of information.
"The optimal siting and development of renewable energy production is critical as global demand for energy rises and traditional fuel sources diminish," said Westrick. "If we want developing nations to 'leapfrog' over fossil fuels, then government and industry leaders need accurate information about where the best renewable energy resources exist."
FirstLook offers registered users scientifically derived data on the value of wind resources anywhere on the globe, and solar resources anywhere in the Western Hemisphere. To navigate the wind and solar resource maps and find out more about FirstLook visit: http://firstlook.3tier.com.
"This year's award for commercial achievement is a real first, honoring 3TIER's leadership in wind forecasting and resource assessment technologies," said Denise Bode, CEO of the American Wind Energy Association (AWEA). "New leading-edge technologies like FirstLook help developers determine how wind energy can be tapped to power communities in the U.S. and around the world. We're pleased to note 3TIER's leadership in this key area of the industry."
"Whether harnessing the power of wind or the sun, the diversity of FirstLook's 30,000+ users illustrates the vastness of the renewable energy ecosystem and the tremendous value that accurate, affordable information plays in driving renewable energy adoption," said Christian Sarason, FirstLook product manager. "FirstLook shortens the process needed to make sound decisions about where to invest in renewable power."
After FirstLook users identify promising sites, they can augment FirstLook's basic prospecting data by purchasing FirstLook Assessment Reports, which provide more detailed estimates of renewable energy resources at specific locations, including critical information about the spatial and temporal variability of the resource. The reports, which bridge the gap between basic prospecting and the decision to deploy observational resources, are currently available for North America, Europe, much of Asia and the Pacific Rim.
FirstLook data can also be licensed to third parties and integrated into their own operations and customer experiences through the FirstLook API (application programming interface), which was launched earlier this week.
Once a developer has prospected and prioritized potential wind or solar power development sites with 3TIER's FirstLook products, the company's FullView® Assessment products provide the in-depth, high-resolution information needed for project design and financial due diligence. As soon as a project comes on-line, 3TIER's PowerSight® Forecasting products provide short and long-term operational power forecasting to optimize integration.
3TIER uses its knowledge about weather, climate and their impacts on weather-driven renewable energy resources to help clients make better decisions about their investments -before, during and after projects are built.
###
ABOUT 3TIER
Founded in 1999, Seattle-based 3TIER is one of the largest independent providers of wind, solar and hydro energy assessment and power forecasting worldwide. People around the world turn to 3TIER when they want the best scientific information to make decisions about renewable energy projects — from the prospecting stage to operations. For more information, visit 3tier.com.
CONTACT: Evan Scandling
(206) 239-0164
escandling@apcoworldwide.com
Featured Product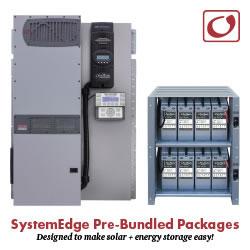 Each pre-bundled package is designed to make solar plus energy storage easy. By combining OutBack's most popular FLEXpower pre-wired systems with matched OutBack energy storage, SystemEdge takes the guesswork out of installing solar plus storage. Every SystemEdge package includes a FLEXpower factory pre-wired system, application-specific EnergyCell batteries and racking, FLEXware ICS Plus combiner and all the necessary connection hardware.