2,960 carport-mounted solar modules at bank headquarters to produce sufficient electricity to power 20-30 area homes
PHOENIX, Ariz., May 6, 2009—National Bank of Arizona (NBA), SolarCity® and First Solar (Nasdaq: FSLR) today announced plans to build a 222 kilowatt (DC) solar installation in Phoenix, which will be the city's second largest commercial solar installation to date. The project, comprising two carport-mounted solar systems, will be the first commercial solar installation in Phoenix to utilize Tempe-based First Solar's advanced thin film modules. SolarCity's Phoenix office expects to complete the installation later this summer.

"National Bank of Arizona's solar systems will leverage Arizona technology, installed by Arizona workers to turn Arizona sunlight into electricity for an Arizona business," said Phoenix Mayor Phil Gordon. "This project is a great step toward a greener Phoenix and demonstrates our city's potential as a leader in solar power generation."
The solar systems will consist of 2,960 First Solar modules, and sit atop the carports in the parking lot at National Bank of Arizona's headquarters on 24th St. in the Biltmore area of Phoenix. The systems will be expected to produce more than 350,000 kilowatt-hours of solar electricity annually, enough to power approximately 20-30 Phoenix-area homes.
"We felt that adopting solar power was one of the smartest things we could do as a company," said Keith Maio, president of National Bank of Arizona. "It's an investment in sustainability that reflects our commitment to Arizona. It also helps our bottom line. The solar systems will provide clean electricity equivalent to that needed to power 20 to 30 homes for the next 30 years."
The project was made possible, in part, thanks to an incentive from the Salt River Project (SRP) EarthWise Solar Energy program.
"We are pleased that SRP's EarthWise Solar incentive program could help to make this project happen," said Lori Singleton, SRP manager of Sustainable Initiatives and Technologies. "National Bank is to be commended for their leadership in using Arizona's sun to generate clean energy for this facility."
First Solar's advanced, thin film modules are well suited for the project, as they perform well in Arizona's high heat. The First Solar systems should allow NBA to offset the emission of more than 11 million pounds of greenhouse gases over its lifetime, the equivalent of planting more than 6,400 trees, or taking more than 1,400 cars off the road for a year.
"We've worked very hard, with partners like SolarCity, to make solar power more affordable," said Lorraine Paskett, First Solar's vice president of policy and market development. "It's very exciting and rewarding to see a fellow Arizona business adopt our technology."
SolarCity will handle design, permitting and installation, and will provide National Bank of Arizona with an Internet kiosk for its headquarters lobby, connected to SolarCity's SolarGuard' monitoring system. The kiosk will allow bank employees and customers to view live data showing how much electricity the system generates, how much pollution it prevents and how much money it saves.
"NBA's decision is a reflection of the changing economics of solar," said Lyndon Rive, CEO of SolarCity. "We expect NBA's solar installation to serve as a blueprint for other area companies seeking to take advantage of Arizona's tremendous solar potential."
National Bank's Maio will join Mayor Gordon, SolarCity's Rive and First Solar's Paskett to unveil a rendering of the project and answer questions from guests at a small groundbreaking ceremony at NBA headquarters today. NBA customers, journalists and citizens interested in learning more about First Solar panels for their home or business are invited to attend.
About National Bank of Arizona
Founded in Tucson, Ariz., in 1984, National Bank of Arizona is a community bank serving professionals and meeting the needs of small and mid-sized Arizona businesses. Arizona's fourth-largest bank with more than $4.8 billion in assets, National Bank has over 75 offices throughout the state. For more information, visit www.nbarizona.com.
About First Solar
First Solar, Inc. (Nasdaq: FSLR) is changing the way the world is powered by creating truly sustainable solar energy solutions. First Solar manufactures solar modules with an advanced semiconductor technology and provides comprehensive PV system solutions. By constantly decreasing manufacturing costs, First Solar is creating an affordable and environmentally responsible alternative to fossil-fuel generation. First Solar modules are most effective when demand for traditional forms of energy is at its peak. First Solar set the benchmark for environmentally responsible product life cycle management by introducing the industry's first prefunded, comprehensive collection and recycling program for solar modules. From raw material sourcing through end-of-life collection and recycling, First Solar is focused on creating cost-effective renewable energy solutions that protect and enhance the environment. For more information about First Solar, please visit www.firstsolar.com, or www.firstsolar.com/media to download photos.
About SolarCity
SolarCity—a national leader in solar power system design, financing, installation, monitoring and related services—was founded with the mission to help millions of homeowners and businesses adopt solar power, protect themselves from rising electricity costs and protect their environment from polluting power sources. The company's first-of-its-kind SolarLease' offering can make it possible for homeowners to switch to clean, solar power for less money than they currently pay for electricity.
SolarCity currently serves more than 300 communities in California, Arizona and Oregon. Additional information about the company is available on the Web at www.solarcity.com.
About SRP Earthwise Solar Energy
The EarthWise Solar Energy program is designed to help reduce the cost of installing a new solar electric or solar water heating system for residential and business customers who invest in the clean, zero-emissions energy source. As of June 1, the incentive of $2.25 per watt is available for business customers who install solar electric systems larger than 10 kilowatts with a cap of 200 kilowatts. Information: www.srpnet.com/solarbiz or Chico Hunter at SRP at chico.hunter@srpnet.com.
Featured Product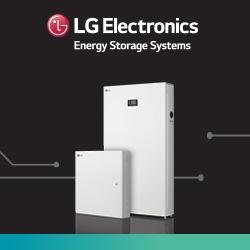 LG Solar is transforming today's solar landscape, offering precision-manufactured and high-efficiency solar panels for homeowners who demand high performance, reliability and consistently strong energy yield from a brand they can trust. LG modules feature outstanding durability, appealing aesthetics and high-efficiency technology, backed by a limited 25-year product, performance and labor (up to $450) warranty. Homeowners who purchase LG Solar modules know they're protected by a diversified global brand.