Aquamarine Power, one of the world's leading marine energy companies, today gave their full support to Scotland's first Marine Bill, introduced to the Scottish Parliament last Thursday 30 April.
Aquamarine Power ("Aquamarine" or "the Company"), one of the world's leading marine energy companies, today gave their full support to Scotland's first Marine Bill, introduced to the Scottish Parliament last Thursday 30 April. The Bill promises to deliver a new future for Scotland's seas, balancing protection of its marine environment with support for the sustainable economic development of its marine industries.

In response to the Scottish Government's consultation on the Bill ('Sustainable Seas for All' launched in July 2008), Aquamarine recommended a change in the management and legislative framework for managing Scotland's seas. The Company was concerned that a fragmented and inconsistent approach would put Scotland's opportunity to be a world-leading producer of marine renewable energy at risk.
Scotland's first Marine Bill now promises a simpler regulatory system for marine planning, licensing and consents, to be developed and delivered by Marine Scotland, a newly established integrated marine management organisation.
Scottish seas account for a quarter of Europe's tidal resource and 10% of its wave resource, putting Scotland at a unique advantage in the marine energy industry. The industry has the potential to provide Scotland with a secure energy supply, to create high-paying jobs, to help reduce climate change, and to create a vital new export market.
Martin McAdam, Chief Executive of Aquamarine commented: "Scotland has the potential to be a powerhouse of marine energy. We have a vast resource; we have vital engineering and manufacturing skills; as a nation, we have the necessary drive and determination to lead this brand new industry.
"At this early stage in its development, the marine energy industry needs consistent support to help it reach its full potential. It's not just funding and investment that is required; it's solutions that save our most precious commodity: time. I'm delighted that the Scottish Government has recognised this and has established Marine Scotland.
"Marine Scotland will be a one stop shop for Aquamarine Power and fellow developers to get our wave and tidal power devices from the drawing board and into the water for testing as quickly and efficiently as possible."
This summer will see Aquamarine Power launch its first full-scale wave energy device, Oyster®, at the European Marine Energy Centre (EMEC) in Orkney for sea-trials.
Martin McAdam commented: "The establishment of Marine Scotland and the new planning and licensing regimes promise to relieve developers like ourselves of the huge administrative burden of securing sites to install and test our devices. This can only be a good thing for the marine energy industry at this critical time."
Martin McAdam added: The marine energy industry has the potential to do in five years, what has taken 25 years in the wind industry. But only if we act now. The Scottish Government estimates it will take two years to prepare and publish the National Marine Plan. This deadline must not be allowed to slip. I'm delighted that regional planning priority has been granted to the Pentland Firth and other areas with significant marine resource. I ask that the Scottish Government does not overlook the Outer Hebrides as an area of vital importance to the wave energy industry.
In response to the Scottish Government's consultation on the Bill, Aquamarine stressed the importance of a marine science strategy and a centralised data gathering process.
Martin McAdam today commented: "The Scottish Government must develop a focused approach to gathering scientific data about our seas and a streamlined mechanism for analysing this data. This knowledge will be key to aligning technological innovation with the sustainable capacity of our seas.
"This week, I will write directly to the First Minister to recommend that the Scottish Government commissions a study of the success story of the renewable energy industry in European countries such as Germany and Denmark. I believe that by learning from our fellow European nations, Scotland could match, if not surpass, their success in this crucial industry."
Ends
For further information, contact:
Buchanan Communications
Diane Stewart 0131 226 6150
dianes@buchanan.uk.com
Carrie Clement 0131 226 4427
carriec@buchanan.uk.com
Or visit www.aquamarinepower.com
Notes to Editors:
Aquamarine Power Ltd
• Aquamarine Power will be exhibiting at the All Energy Show in Aberdeen on the 20th and 21st of May 2009.
• Aquamarine Power is the world leading wave energy technology developer. Aquamarine Power's site development team has identified the best marine energy sites in the UK, Ireland, Europe and beyond and will take the most promising site from concept to consent.
• Aquamarine Power has secured a test berth at the European Marine Energy Centre (EMEC) in Orkney and Oyster® will be deployed at full scale in the summer of 2009.
• Aquamarine Power was founded in 2005 by leading marine energy developer, Allan Thomson, and Professor Trevor Whittaker, head of the award-winning wave power research group at Queen's University Belfast.
• Aquamarine Power's senior management team includes CEO, Martin McAdam, who founded Airtricity's US operations, recently sold for €1.2 billion, and COO, Matthias Haag, former General Manager at Shell WindEnergy.
• Oyster® has been designed to capture the energy found in amplified surge forces in near-shore waves. The system consists of a simple oscillating wave surge converter, or pump, fitted with double acting water pistons, deployed near-shore in depths of between 8 and 16 metres. Each passing wave activates the pump which delivers high pressure water via a sub-sea pipeline to the shore. Onshore, the high-pressure water is converted to electrical power using conventional hydro-electric generators.
• In October 2007 Aquamarine Power joined forces with Scottish and Southern Energy's subsidiary, Renewable Technology Ventures Ltd (RTVL), securing a £6.3m investment from SSE and a further £1.5m from Sigma Capital Group plc.
• Aquamarine Power has received significant funding and support from Scottish Enterprise, Highlands and Islands Enterprise, the Technology Strategy Board, the Royal Academy of Engineering, the Engineering and Physical Sciences Research Council (EPSRC) and the Scottish Government.
• Aquamarine Power recently featured in leading environmental business website Greenbang's UK Clean Tech Start-Up Index of 23 top UK new businesses in the clean technology sector. More details at www.greenbang.com.
• Aquamarine Power was named 'Emerging Technology Promoter of the Year' at the Global Renewable Energy Awards 2008. More details at http://www.euromoneyenergy.com/default.asp?Page=11&eventid=ECK50.
Featured Product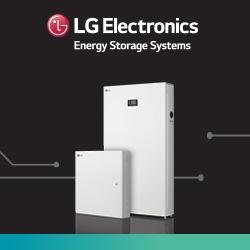 The NeON R module features "Back Contact" cell technology delivering an entirely black panel that is aesthetically pleasing and energy efficient. The cell's seamless, surface blends perfectly into nearly all rooftop designs while the module's electrodes are positioned on the rear of the cell. Using LG's N-type cell structure, the panels produce 365W of energy, up to 7.3kWp, compared to 5.8kWp of the p-type cell. The module's new design minimizes LID, thereby delivering a longer lifespan and increased energy output.