Silicon Valley Power has been honored for its renewable energy program, Santa Clara Green Power. The program in 2008 prevented the release of 62,801,279 pounds (28,486 metric tons) of carbon dioxide emissions.
Contacts:

Larry Owens, Silicon Valley Power
Tel: 408.615.5690; Cell: 408.621.5873
Carol McCarthy, City of Santa Clara
Tel.: 408.615.2213
For Immediate Release
Silicon Valley Power Wins Pollution Prevention Award for Its Santa Clara Green Power Program
SANTA CLARA, Calif. - May 13, 2009 - Acterra announced today that Silicon Valley Power (SVP), the City of Santa Clara's municipal electric utility, has won the Suzanne Wilson Award for Pollution Prevention/Resource Conservation Special Project for its renewable energy program, Santa Clara Green Power.
The award, one of Acterra's 2009 Business Environmental Awards, honors programs which reduce the consumption of resources and minimize the generation of toxic and/or persistent pollutants. SVP and Santa Clara Green Power's exemplary achievements in promoting renewable energy and helping customers reduce their carbon footprint earned it the necessary distinction from within an exceptionally competitive field.
"The judges were particularly impressed by the high enrollment rate; low-cost premium and tiered volume pricing; quality assurance provided by independent, third-party verification; strong program support from city officials; and demonstrated commitment to educating the community, local businesses, and other utilities interested in developing renewable energy programs," said Christine Kohl-Zaugg, Business Environmental Awards Judging Team Captain.
Cumulatively in 2008, the 4,370 participants enrolled in Santa Clara Green Power prevented the release of 62,801,279 pounds (28,486 metric tons) of carbon dioxide emissions into the Earth's atmosphere. This is equivalent to planting 6,474 acres of pine or fir forest, or removing 5,217 cars from the road for a year.
"Silicon Valley Power is honored to receive this prestigious award from Acterra," said John Roukema, Director of SVP. "We believe it highlights how Santa Clara Green Power is an easy and affordable way for Santa Clara residents and businesses to support renewable energy and reduce their carbon footprint."
About Silicon Valley Power
Silicon Valley Power (SVP) is the trademark adopted for use by the century-old Electric Department of the City of Santa Clara, California. SVP provides power to more than 50,000 customers, including Applied Materials, Intel, National Semiconductor and Yahoo!, at rates 25 to 45 percent below neighboring communities. SVP also offers customers a 100 percent renewable energy option through its Santa Clara Green Power program and is an active participant in the wholesale energy markets in the Western United States. Visit www.siliconvalleypower.com for more information.
About Santa Clara Green Power
Santa Clara Green Power is a voluntary renewable energy program offered by Silicon Valley Power to all of its residential, commercial and industrial customers as a way to support energy generated from 100 percent clean wind and solar power resources at a low additional cost of 1.5 cents per kilowatt-hour. Santa Clara utility customers can enroll in Santa Clara Green Power by signing up through the secure website at www.siliconvalleypower.com; sending an email that includes the customer's name, address, account and phone number to green@siliconvalleypower.com; or by calling (408) 244-SAVE (7283).
About Acterra
Acterra is a non-profit organization with a 38-year history of environmental leadership and programming in and around Silicon Valley. Acterra's events, resources and programs involve and educate individuals and communities about a broad range of environmental issues. For more information, visit www.acterra.org.
Featured Product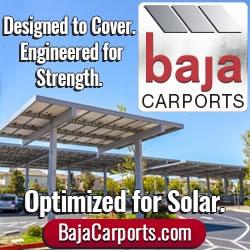 Baja Carports offers an extensive solar support system product line customized to customers' site specifications by in-house engineers, meeting their parking lot coverage, plus optimal PV production needs. Baja's Full Cantilever Tee is often paired with its Semi and Full Cantilever carports to meet live/loads up to 60psf and wind speeds to 160mph. All Baja products are pre-fabricated, bolted connections, pre-galvanized structural steel for fast on-site installation and project aesthetic requirements."