Message of "Grid Parity" delivered at Alternative Energy and Building Efficiency Event
Palm City, Fla., U.S.A. —Sol Inc. (Solar Outdoor Lighting), the world leader in Solar LED outdoor lighting announced today that CEO Rick Schuett will be unveiling his "Grid Parity Now" message during the Alternate Energy and Building Efficiency Conference in Boston, MA.

Mr. Schuett's message to event attendees is that solar outdoor lighting has achieved grid parity today. "Grid parity" exists when renewable energy products are deployed at or below the same cost as conventionally generated energy products. The theme of the presentation, "Grid Parity Now" clearly indicates that solar powered lighting is economically preferable over conventionally powered lighting in new installations. Schuett's address will take place today at 2:15 pm - Session A5, at the Hynes Convention Center in Boson, MA.
Rick Schuett's presentation will also highlight why solar-powered outdoor lighting is one of, if not THE best, investments available for renewable infrastructure projects across public and private enterprises as well as prove that solar-powered outdoor lighting is LOWER in cost than conventional or grid-tied exterior lighting.
Sol, Inc. will be exhibiting at the Alternate Energy and Building Efficiency Conference, May 19 through 20 at the Hynes Convention Center in Boston, booth #300. For more information on the Alternate Energy and Building Efficiency Conference visit: www.AlternativeEnergyShows.com
About Sol, Inc.
Sol is the world leader in solar outdoor lighting solutions with over 38,000 systems installed in more than 60 countries on six continents. Since 1990, Sol has introduced innovative, reliable and cost-effective solar lighting systems that provide unsurpassed levels of illumination and reliability. Sol develops, manufactures and markets commercial/industrial-grade solar powered and energy efficient lighting systems for a wide range of lighting applications including area and security, street and roadways, sign and billboards and transit and shelter lighting. Sol is ISO 9001:2000 certified and committed to superior design, manufacturing, and customer satisfaction.
Featured Product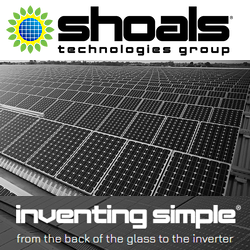 Inventing Simple® isn't just a slogan to us, it's a way of life. Using simple plug-and-play ideology, we revolutionized solar installations in 2003 with our Interconnect Systemâ"¢. Our harnessing system is now the gold standard EPC's use around the world. By using simple ideas, we are making solar energy a more affordable and clean power source for future generations.