Carmanah Technologies Corporation (TSX: CMH) announced its first quarter financial results for the three-month period ending March 2009.
VICTORIA, BRITISH COLUMBIA, CANADA Carmanah Technologies Corporation (TSX: CMH) announced its first quarter financial results for the three-month period ending March 2009. Sales for Q1 2009 were $10.4 million, down approximately $4.7 million from the same period last year, due mainly to exiting/divesting several tactical business units during this period. Despite challenging global economic conditions, strategic sales for Q1 2009 ended at approximately the same levels as in the same period of 2008, showcasing the resilient nature of Carmanah's strategic markets, and the ongoing demand for its core renewable-energy technology products.

Highlights for the Quarter
Sales: $10.4 million, down from $15.1 million for the same period in 2008
Gross margin: 36.1%, up from 33.6% in 2008
Operating costs: $5.3 million, up from $5.0 in 2008
Net (loss)/income: $(0.3) million, down from $0.1 million in 2008
Adjusted EBITDA: Adjusted EBITDA of $0.3 million, down from $0.7 million in 2008
Cash flow from operations: $1.3 million, up from $0.1 million in 2008
Cash balance: $9.2 million as at March 31, 2009, up from $7.9 million in 2008
Nil debt: Continued debt-free operation
Summary of Results
While reflecting the challenges facing the global economy, the first quarter of 2009 highlights a reassuring continuity across Carmanah's primary markets, and reaffirms the company's strategic direction, according to Ted Lattimore, Carmanah CEO. "During this quarter, we've made great strides towards our goals, divesting of our road-signs obligations to better focus on our strategic business opportunities, signing a strategic partnership with Shine Micro, and introducing an exciting new benchmark in general illumination - the powerful EverGEN' 1500 street-and-parking-lot light," said Lattimore. "Our transition to outsourced manufacturing is already delivering greater flexibility and efficiency, our worldwide distributor network is growing, and our strategic markets are as strong as ever. Even during a recession, security and safety remain paramount - industries require reliable and affordable lights and power, and as a trusted supplier with a long history in delivering solar LED technology, we're well positioned to continue filling this need."
According to Roland Sartorius, Carmanah CFO, the company's conservative financial approach and consistent focus on a strong balance sheet continues to guide the company through the uncertainty in today's macroeconomic environment. "As a result of strong working capital management and positive cash flow from operations, our cash balance has grown to over $9 million in the bank, with no debt," said Sartorius. "Q1 2009 represents our fifth straight quarter of positive Adjusted EBITDA and cash flow results, which to me, seems to be a pretty strong indicator that we're heading in the right direction."
Sales
Sales for the first quarter of 2009 were $10.4 million, down approximately $4.7 million from 2008. This decline is primarily due to lower tactical sales during this period, caused by the closure and sale of Carmanah's lower margin distribution business/product lines.
Despite challenging global economic conditions, Carmanah's strategic sales during Q1 2009 were at approximately the same levels during this period than during Q1 2008, underscoring the resilient nature of Carmanah's strategic markets, and the ongoing demand for renewal energy technologies.
Summary of EBITDA and Net Income
Adjusted EBITDA for Q1 2009 was $0.3 million.
Net loss for Q1 2009 was $(0.3) million.
Non-GAAP Measures
The company uses certain non-GAAP measures to assist in assessing its financial performance. Non-GAAP measures do not have any standardized meaning prescribed by GAAP and are therefore unlikely to be comparable to similar measures presented by other companies. One such non-GAAP measure used for assessing financial performance is net income (loss) before interest, income taxes, amortization, and restructuring charge ("Adjusted EBITDA").
Progress During the Quarter (including subsequent events) 
During this quarter, Carmanah made continued progress in refining and accelerating the company's focus on its strategic direction:
Carmanah divested of its road-signs inventory and related obligations, signing a definitive agreement with a distributor to dispose its inventories and other assets of its illuminated road-signs business. A gain of $0.8 million was recognized on this sale. (February 10, 2009)
Carmanah partnered with Shine Micro to combine solar-powered marine lanterns with AIS technology, providing the means to add an automatic identification system (AIS) capability to its line of stand-alone solar-powered LED (light emitting diode) marine lanterns. (Widely used by ships and vessel traffic services (VTS) to identify and locate vessels, AIS technology enables ships to automatically exchange a range of navigational data including position, course, speed and proximity to other nearby ships, VTS stations, and AIS-equipped navigational buoys.) (February 11, 2009)
Carmanah Introduced solar LED lighting for streets and parking lots with the launch of its most powerful solar-powered LED area light to date: the EverGEN' 1500 lighting system. Providing up to 6,800 lumens of delivered light output, the powerful EverGEN 1500 combines the performance of an AC-powered area light with the versatility of an off-grid solar-powered lighting system, offering unparalleled performance for a solar-powered LED light of its size (March 4, 2009)
Other highlights during this quarter included:
Carmanah introduced a compact solar-charging kit for RVs and boats: the Go Power!' GP-RV-95 solar-charging kit. The GP-RV-95 kit delivers 95 watts (5.5 amps) of electricity from a compact solar module, making it ideal for RVs, boats and other mobile applications. (March 2, 2009)
Carmanah announced the Toronto Parking Authority is installing a Carmanah solar-powered grid-tie system valued at approximately $248,000 to help power the TPA facility, reduce the facility's reliance on the Toronto Hydro distribution system, and help to control energy expenses (March 12, 2009).
Complete set of Financial Statements and Management Discussion & Analysis
A complete set of Q1 2009 Financial Statements and Management's Discussion & Analysis are available on Carmanah's corporate website. To view full financials, visit: www.carmanah.com/Company/Investors/Financial_Reports.aspx.
###
About Carmanah Technologies Corporation
As one of the most trusted names in solar technology, Carmanah has earned a reputation for delivering strong and effective products for industrial applications worldwide. Industry proven to perform reliably in some of the world's harshest environments, Carmanah solar LED lights and solar power systems provide a durable, dependable and cost effective energy alternative. Carmanah is a publicly traded company, with common shares listed on the Toronto Stock Exchange under the symbol "CMH". For more information, visit carmanah.com.
Media Relations
David Davies
Tel: +1.250.382.4332
ddavies@carmanah.com
Featured Product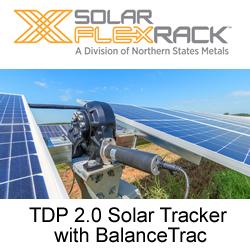 Solar FlexRack's latest solar tracker technology bundles an advanced tracker design with a full team of seasoned engineering and installation experts at your service. The next-generation solar tracker delivers a package of features that both enable increased energy yields for commercial and utility-scale solar installations, and significantly reduce project risks. That translates to smart installation cost-savings across your project budget.