City of Tucson to Dedicate Solar Installation at El Pueblo Activity Center. SPG Solar, Inc., recently completed the first of seven solar projects for the City Tucson.
TUCSON, Ariz. -May 26, 2009 - SPG Solar, Inc., recently completed the first of seven solar projects for the City Tucson. On Friday, May 29, 10 a.m., the City of Tucson will hold a dedication ceremony at the El Pueblo Activity Center, 101 West Irvington, Tucson Ariz., site of the first completed project. The seven new projects for the City of Tucson will combine to deliver nearly 1 megawatt of clean, renewable energy to the city.

Speakers will include several city and federal officials as well as representatives from Tucson Electric Power and SPG Solar, Inc. The U.S. Department of Energy's National Renewable Energy Laboratory will also participate. This year Tucson, one of 25 DOE Solar America Cities, celebrates 10 years of installing solar power systems on city facilities.
The roof-mounted 100 kW system uses racks produced by Schletter, Inc, a Tucson solar company. Kyocera Solar, also an Arizona based company, supplied the 465 solar panels that will produce over 150,000 kWh per year, enough to power about 15 Tucson homes and reduce greenhouse gases by about 108 metric tons per year. This is equivalent to removing 20 passenger vehicles from Tucson's highways each year. Electricity generated by solar does not consume or pollute water or air during operation.
Thomas Rooney, chief executive officer of SPG Solar, Inc. praised the City of Tucson for its persistence and vigilance in providing renewable energy sources for its city facilities. The installations are being built by SPG Solar, based in Novato, Calif., with development and construction teams deployed from SPG Solar's Tucson regional office.
"SPG Solar is honored to be a partner with the City of Tucson in helping it reach its renewable energy goals," says Rooney.
SPG Solar worked with the City of Tucson to develop, engineer, and plan the construction of each site to optimize system performance and thus increase the financial and environmental benefits of the project.
"The City of Tucson is impressed with the professionalism and technical knowledge of SPG Solar," says Doug Crockett, City Energy Manager. "They delivered different solutions to each opportunity, and the design and construction teams completed the El Pueblo Activity Center solar project ahead of schedule."
The project is the first of seven solar projects now being built by the City of Tucson and financed by issuing $7.6 million Clean Renewable Energy Bonds (CREBs). The other projects will be completed between now and November. The installations are being done by SPG Solar of Novato, Calif. Repayment of the bonds will come in part from TEP solar rebates.
The completion of the system sparked interest and brought opportunity in the Arizona solar market, leading SPG Solar to establish a permanent operating facility in Tucson, Ariz., in March, creating 40 new local jobs. SPG Solar's expansion into Arizona follows the trend of continued growth of the company since being founded in Northern California in 2001.
Featured Product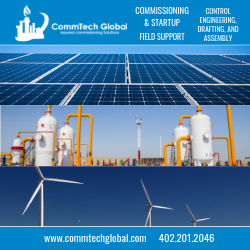 CommTech Global Solutions, LLC, provides professional and reliable commissioning services to customers in all realms of the energy industry. We blend our skills in engineering and technology with innovative business models, offering a complete range of services to assist you for a successful and in compliance operational startup. Consolidation of all our service domains gives our clients a comprehensive set of expertise and far-reaching experience on each project.