The Ashton-Franklin Center School District in Ashton, Ill., is implementing $1 million in facility enhancements to improve operations and efficiency at one of its schools. TAC by Schneider Electric will complete the work as a performance contract and guarantees the district will save $10 K annually
The Ashton-Franklin Center (AFC) Community Unit School District No. 275 based in Ashton, Ill., is implementing more than $1 million in facility enhancements designed to improve operations, comfort and efficiency in the AFC Elementary School building. TAC by Schneider Electric, the building management and energy services business of Schneider Electric, will complete the work as a performance contract with the district. The AFC School District is financing the project primarily with the state's Health Life Safety Bonds program, which allows the district to bond for projects that address major needs inside its facilities. TAC guarantees that the AFC schools will reduce utility costs by $10,000 annually when the project is completed in August 2009.

Serving approximately 600 students in the communities of Ashton and Franklin Grove in Northern Illinois, the AFC School District has three facilities. The elementary school containing grades K-4 has a number of problems, including roof leaks, drafty windows, poorly functioning energy management system (EMS), and escalating utility costs that TAC will address through the performance contract.
"The roof at the elementary school leaks so badly that during strong rains we have seen standing water in several areas of the older section of the building," said John Zick, superintendent of the AFC School District. "In addition, single pane windows let in cold air during the winter and the old pneumatic controls system was not functioning properly. All these issues led to comfort complaints by students and staff and high energy costs for the district. Using the Health Life Safety Bonds to complete the performance contract will resolve these problems and modernize our school."
Performance contracting offers many long-term benefits for school districts, such as improved facility efficiency, occupant comfort, financial management and environmental protection. Typically, new, more efficient equipment and upgraded facility automation systems maximize energy efficiency and generate utility savings. TAC guarantees the amount of savings performance contracting projects will achieve and agrees to pay the difference if that amount is not realized.
"TAC has worked as a full partner with the AFC schools on this project to develop scope, budgets and financing options through state Health Life Safety program," said Shon Anderson, vice president of sales, TAC Energy Solutions. "Once completed, the AFC School District will enjoy impressive energy savings based on TAC's expertise in delivering cost-saving projects that help our customers achieve more with their energy while using fewer of our natural resources."
TAC will address AFC school's facilities from roofing leaks to comfort complaints through this performance contact. In addition to a new roof, energy conservation measures will include updates to the heating, ventilation and air conditioning (HVAC) systems, installing double pane windows, and replacing the existing EMS with a new DDC system. Furthermore, TAC will coordinate multiple subcontractors to meet the project's tight timeline that calls for substantial completion of all work before school begins at the end of August.
About TAC by Schneider Electric
TAC by Schneider Electric, the building management, security systems and energy services business of Schneider Electric, delivers business value to customers, enabling them to do more with less energy. With over 80 years of experience in buildings and infrastructure, TAC employs more than 8,000 people worldwide, with partners in 80 countries. www.tac.com.
About Schneider Electric
As a global specialist in energy management with operations in more than 100 countries, Schneider Electric offers integrated solutions across multiple market segments, including leadership positions in energy and infrastructure, industrial processes, building automation, and data centers/networks, as well as a broad presence in residential applications. Focused on making energy safe, reliable, efficient, productive and green, the company's 114,000 employees achieved sales of more than $25 billion euros in 2008, through an active commitment to help individuals and organizations "Make the most of their energy." www.schneider-electric.com.
Featured Product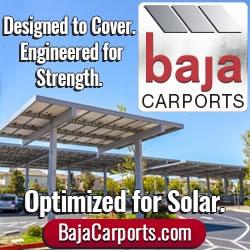 Baja Carports offers an extensive solar support system product line customized to customers' site specifications by in-house engineers, meeting their parking lot coverage, plus optimal PV production needs. Baja's Full Cantilever Tee is often paired with its Semi and Full Cantilever carports to meet live/loads up to 60psf and wind speeds to 160mph. All Baja products are pre-fabricated, bolted connections, pre-galvanized structural steel for fast on-site installation and project aesthetic requirements."