The Western Australian Government announced today it will roll back its election commitment to implement a gross Feed-in-Tariff (FiT).
A decision today by the Barnett Government to back-flip on its election commitment to implement a gross Feed-in-Tariff (FiT) in Western Australia has short-changed both householders and the renewable energy sector, according to the Western Australian Sustainable Energy Association Inc. (WA SEA).

The commitment to establish a gross Feed-in-Tariff for domestic generation of electricity from renewable sources, made in the lead up to the September 2008 State election, and then restated and outlined in the 2009 Western Australian Budget, has now been reversed two weeks later by an announcement by the Energy Minister, Peter Collier.
'The Barnett Government has reneged on a promise that would have provided Western Australians with the best state-based incentive in Australia to support renewable energy generation for households,' says Dr Ray Wills, WA SEA Chief Executive.
'The May 2009 Budget papers stated Government's "commitment to implement a feed-in tariff scheme for homeowners … pay owners of renewable energy systems at above the market rate for the electricity they generate".'
'Rather than taking a position of leadership, the Western Australian Government has decided to sheepishly follow the mediocre approach of other Australian governments - the net Feed-in-Tariff - dressing it up as a move for 'national consistency'.'
'Furthermore, the Government's decision to expend the funds retrospectively from 6 September 2008 until today is effectively throwing the $13.5 million commitment away. Spending the money in this way will not result in a single new installation, nor create any new enterprise or jobs, and so will be a wasted opportunity and a waste of taxpayers' money.'
'In addition, this will also have a perverse outcome in that homeowners for the next 13 months may have an incentive to delay the installation of renewable energy on their homes.'
'The whole announcement is disappointing on so many levels and reflects continuing poor consultation with industry by the Barnett Government on this and a number of other issues. Engagement with industry prior to a decision like this would have provided a better result for all - for Government, for business, and most importantly for the community.'
'Today's policy roll-back also disappoints by reducing options for business, eliminating the possibility of a gross Feed-in-Tariff for small business and commercial premises, shrinking it instead to a simple net scheme as it has for domestic customers.'
'Further, the delay of the introduction of the net FiT alternative model until 1st July 2010 adds a new element of uncertainty to the market at a time when industry growth could be helping Western Australia through the current economic turmoil.'
'In the absence of detail of a revised scheme, all this announcement provides is a reduction in support for renewable energy in Western Australia,' says Dr Wills.
'At a time when nations around the world are moving aggressively on developing renewable energy resources, the Western Australian Government has killed what had been its most significant promise to both homeowners and to the development of the renewable energy industry in the State with Australia's best renewable energy resources.'
WA Sustainable Energy Association Inc. (WA SEA) Media Release - 2 June 2009
Media Contact:
Dr Ray Wills 0430 365 607
Editors notes:
1. Media release from Western Australian Minister for Energy, http://www.mediastatements.wa.gov.au/Pages/Results.aspx?ItemID=131978
2. The Western Australian Sustainable Energy Association Inc. (WA SEA) is a chamber of businesses boasting a growing membership of 250 industry members from a diversity of businesses, and now the largest state-based industry body of its kind in Australia. www.wasea.com.au.
Featured Product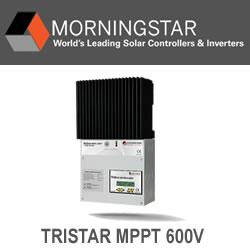 Morningstar's TriStar MPPT 600V charge controller leverages Morningstar's innovative TrakStar™ MPPT technology and our 20+ years of power electronics engineering excellence, to enable the widest input operating voltage range available from a solar array, wind turbine or hydro input. This controller's standard and DB versions are for off-grid applications, and the TR versions were developed to enable retrofitting grid-tied systems with battery backup.