David Egles, one of Canada's leading authorities on the solar industry, applauds the Green Energy Act passed now in Ontario.
June 12, 2009 - David Egles, one of Canada's leading authorities on the solar industry, applauds the Green Energy Act passed now in Ontario. "This could be the beginning of solar electricity going mainstream," says Egles, founder and President of Canada's foremost provider of home solar systems, Home Energy Solutions (www.heshomeenergy.com).

"Solar electricity has the potential to provide significant amounts of clean energy to power Ontario homes, simply by using existing roofs," says Egles. "The Green Energy Act will promote the growth of the solar industry, resulting in lower costs and cheaper energy in the long run."
Through the Green Energy Act's solar feed-in tariffs, homeowners installing up to 10-kilowatt solar systems are eligible to receive $0.80 for each kilowatt of excess energy their systems deliver for the next 20 years. A complete 10-kilowatt system costs approximately $100,000; on a south-facing roof, it would generate approximately $9,600 each year in income.
"An investment in solar has a strong financial yield while being a green, ethical investment," says Egles. "Over two decades, homeowners can recoup twice their initial cost - and then continue to reap all the benefits of an environment-friendly energy system."
About Home Energy Solutions & David Egles:
Home Energy Solutions is Canada's premier provider of renewable solar energy systems for homes. Founder and President David Egles has become Canada's solar guru. With over 20 years experience at the helm of the country's most prominent photovoltaic companies, Egles is an expert in all areas of the industry. He is past President of the Board of Directors for the Canadian Solar Industries Association (CanSIA).
Solar Training Event, Toronto, June 29 & 30:
Home Energy Solutions is bringing together solar experts from around North America to explain how solar businesses can benefit from Ontario's feed-in tariff program and to train electricians and other home-service professionals in the growing solar industry. To Register call 1-866-258-0110 or email sales@hespv.com. For more information on Home Energy Solutions and on the Solar Training Event, visit www.solarforhomes.ca
Featured Product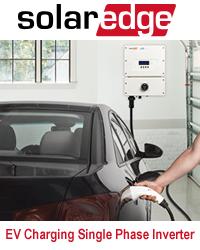 The SolarEdge PV inverter combines sophisticated digital control technology with efficient power conversion architecture to achieve superior solar power harvesting and best-in-class reliability. The fixed-voltage technology ensures the solar inverter is always working at its optimal input voltage over a wider range of string lengths and regardless of environmental conditions. A proprietary data monitoring receiver has been integrated into the inverter and aggregates the power optimizer performance data from each PV module. This data can be transmitted to the web and accessed via the SolarEdge Monitoring Portal for performance analysis, fault detection and troubleshooting of PV systems.