Blue Line Innovations Inc., makers of the PowerCost Monitor', has announced general availability of a new model of their wireless and portable device that shows homeowners what their home is spending on electricity in real time.
Electricity Monitor Puts Power to Conserve into Homeowners' Hands

Blue Line Innovations Inc. Announces New Model of Popular PowerCost Monitor'
June 16, 2009: Blue Line Innovations Inc., makers of the PowerCost Monitor', has announced general availability of a new model of their wireless and portable device that shows homeowners what their home is spending on electricity in real time.
Customers can save from 6 to 18 percent on their electricity bills as a result of using the PowerCost Monitor'.
The PowerCost Monitor' (BLI 28000) retails at $109 US plus applicable taxes. It is available on line (www.bluelineinnovations.com) and from:
• Smart Home
• Northern Tool + Equipment
• Weems Creek Solutions
• Terra Pass
• Energy Federation Incorporated (EFI)
• www.powercostmonitor.com
• Additional retailer location information and customer support available toll free:
1-866-607-2583.
Originally brought to market in 2006, there are in excess of 100,000 PowerCost Monitors in North American homes.
New Features
The newest PowerCost Monitor' (BLI 28000) includes important added features:
• Now gives homeowners an estimate of 30 day energy consumption for their house in dollars and cents or in kilowatts based on current consumption. (Homeowners instantly see the money they'll save and the impact of their actions on energy consumption.)
• Makes it easier for homeowners to determine what each appliance in their home costs to operate and the impact of how and when they use that appliance
• A sleep function preserves battery life. Pressing any button on the monitor brings it back to ready mode.
Peter Porteous, CEO of Blue Line Innovations commented on today's announcement: "The time is right for the PowerCost Monitor'. Research and customer experience confirms the power of real time energy information. Whether the motivation is saving hard dollars on the monthly electricity bill or taking a small but important step for the planet - the PowerCost Monitor' can make a significant difference today.
Real time information is the key - understanding how and where you are using electricity, wandering around the home with the PowerCost Monitor' experimenting and getting immediate feedback on the impact of those changes. This new model adds functionality that makes the PowerCost Monitor' even more compelling and useful", he said.
Interest in Real Time Energy Feedback Grows
Emphasis on conservation is prompting growing interest in real time energy feedback devices.
Danny Tuff, Blue Line's Co Founder and Director of the company welcomed Google's recent announcement about the development of their Google PowerMeter technology as a signal of the power of information to affect change in energy consumption. "From concept to product offering, we've been at this for seven years. To have Google recognize the importance of this area and to commit their significant expertise and investment validates what so many of us have been saying for a long time. Importantly, everyone can use the PowerCost Monitor' today to reduce their electricity use."
How the PowerCost Monitor' Works
Blue Line's PowerCost Monitor' is a stand alone product that provides the homeowner with immediate feedback on their electrical consumption as that consumption occurs.
The PowerCost Monitor' is comprised of two units. One unit, a sensor, attaches easily to the electricity meter simply by tightening one screw. The sensor accommodates approximately 90% of all meter types - old and new.
Once turned on, the sensor automatically collects data from the meter. It then sends that data to a small LCD monitor inside the home. There are no wires associated with either the sensor or the display unit and the data passes from the sensor to the display unit wirelessly.
The display unit shows the homeowner how much money is being spent on
electricity from minute to minute and keeps a running total in dollars and cents.
The PowerCost Monitor' also provides a 30 day go forward estimate both in dollars and kilowatt hours based on the current consumption at that moment and has an appliance feature to allow the family member to understand the cost associated with specific appliances or behavior changes.
Awards
In 2007, the PowerCost Monitor was awarded "Outstanding Energy Efficient Technology Deployment of the Year" by the US based Association for Energy Service Professionals (AESP). The Monitor was also a finalist in the Stars for Energy Efficiency - a program of The Alliance to Save Energy.
About Blue Line Innovations
Blue Line Innovations Inc. developed and markets the PowerCost Monitor', a wireless, portable, real-time energy reporting device for the home. Easy to install, the PowerCost Monitor', features a sensor that attaches passively to the electricity meter and a wireless LCD display. Independent research has confirmed that homes using the PowerCost Monitor' can save between 6% and 18% on their monthly electricity bill. Note: the PowerCost Monitor' is compatible with most but not all electricity meters - for a more detailed review or to find an authorized retailer, visit www.bluelineinnovations.com.
Shaun Markey
613-728-9951
shaunmarkey@rogers.com
Featured Product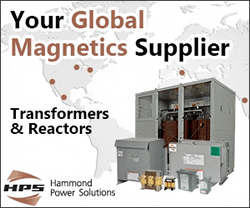 HPS is the largest manufacturer of dry-type transformers in North America. We engineer and manufacture a wide range of standard and custom transformers that are exported globally in electrical equipment and systems. We support solid industries such as oil and gas, mining, steel, waste and water treatment, and wind power generation. HPS leads the industry in these markets through its technical design strength, breadth of product, and manufacturing capabilities, making HPS a stronger company both fundamentally and financially.