National Demonstration Program for Lumen IQ(TM) streetlight optimization technology
Streetlight Intelligence Inc. ("SLQ") is

pleased to announce the initiation of a "National Demonstration Program" for
its Lumen IQ(TM) streetlight optimization technology. The program entails the
deployment of turnkey "demonstration installations" at approximately 60
locations across Canada for a period of up to 90 days each.
The National Demonstration Program will be funded through the support of
Natural Resources Canada ("NRCan"), who will be contributing up to $185,000,
participating local governments and SLQ.
The purpose of the National Demonstration Program is to provide Canadian
municipalities with an opportunity to experience how Lumen IQ(TM) technology
can significantly reduce the energy required to operate street lights. With an
estimated 6.5 million street lights in Canada today, SLQ believes there exists
a real opportunity to save significant energy and corresponding expenditures -
simply through more efficient operation of the country's existing street light
infrastructure.
The Lumen IQ(TM) adaptive lighting control system can be used for more
effective street light energy management, improved lamp performance as well as
system-wide communications for centralized asset management. The demonstration
installations will be in municipalities that are representative of all
geographic areas of Canada, including large and small centers with diverse
energy costs and a wide range of energy usage and operational contingencies.
As a condition of their participation, municipalities will be required to
dedicate the appropriate personnel for installation and ongoing management
during the evaluation period, as well as provide performance data and
qualitative responses to a series of technical and social questions relating
to the technology.
The National Demonstration Program will provide reliable, objective and
conclusive data on the energy-savings capability of Lumen IQ(TM) technology
and that data will be shared with all interested municipalities for reference
as they look to adopt and finance practical solutions for reducing their
energy consumption, and to explore public private partnership (P3) financing
for large scale implementations.
"More energy efficient streetlight technology will benefit the
environment and reduce the energy bills of local governments," said the
Honourable Lisa Raitt, Minister of Natural Resources. "This new project will
gather important data that will help communities across Canada make better
energy efficiency decisions."
"We are very pleased with this recent support from NRCan to move the
National Demonstration Program forward," states Vince Krynski, Chief Executive
Officer of SLQ. "In many communities, street lighting accounts for up to
one-third of their overall electricity consumption. Our technology can cut
this bill nearly in half. With this program underway, we will be able to
educate local and provincial governments that a substantial energy and
environmental savings solution is available today and that it is proven to be
both reliable and cost effective."
About Natural Resources Canada
Natural Resources Canada (NRCan) seeks to enhance the responsible
development and use of Canada's natural resources and the competitiveness of
Canada's natural resources products. It is an established leader in science
and technology in the fields of energy, forests, and minerals and metals and
uses its expertise in earth sciences to build and maintain an up-to-date
knowledge base of our landmass.
NRCan develops policies and programs that enhance the contribution of the
natural resources sector to the economy and improve the quality of life for
all Canadians.
NRCan conducts innovative science in facilities across Canada to generate
ideas and transfer technologies, and also represents Canada at the
international level to meet the country's global commitments related to the
sustainable development of natural resources.
About Streetlight Intelligence Inc.
Streetlight Intelligence Inc. develops advanced street light optimization
systems - and was recently recognized as the "New Technology of the Year" at
the British Columbia Hydro 2009 Power Smart Excellence Awards. Trademarked as
Lumen IQ(TM), SLQ's technologies provide improved lamp performance, adaptive
lighting control, and system-wide communications for centralized street light
management. SLQ's systems enable street light operators to significantly
reduce their community's energy consumption, maintenance costs and
environmental impact.
SLQ is a public company listed on the TSX Venture Exchange under the
symbol "SLQ". For further information: www.StreetlightIQ.com
Video: Describing Streetlight Technology
http://www.streetlightiq.com/About/CompanyUpdates/CompanyUpdateDetail/tabid/167/Default.aspx
Featured Product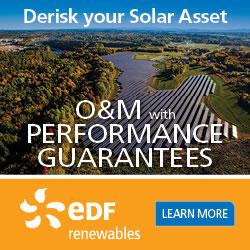 EDF Renewables offers the same innovative solutions that maximize the performance of our own 5.2 GW of installed projects. Because we're not an equipment manufacturer, our recommendations are transparent and data-driven. We cover the entire project lifecycle: from pre-commissioning support, through warranty and post warranty operation, to late stage and decommissioning.