Additional Funds Will Allow For Accelerated Growth and Continued Expansion
NOVATO, Calif. -June 30, 2009 - SPG Holdings, LLC, announces the closing of a $13 million equity financing through the Global Environment Fund and Robeco. SPG Holdings, LLC includes SPG Solar, Inc., a leader in design and installation of photovoltaic power systems and Thompson Technologies Industries, Inc., which designs, manufactures and sells innovative and best-of-breed solar photovoltaic (PV) products.

SPG Holdings is utilizing the funds to support growth both nationally and internationally. The funding will continue to allow SPG Holdings to secure the appropriate level of materials and resources to support its development plans for business.
"The solar industry appears to be on the verge of its largest growth cycle," says Thomas Rooney, chief executive officer of SPG Solar. "We want to capture that growth and expand SPG Holdings along with it. When we look back 10 years from now, we'll likely see growth that will have eclipsed the advances of the last eight years. With a pro-solar administration in Washington and new markets emerging worldwide, the expansion opportunity for solar energy is favorable."
"This is a great opportunity for SPG Holdings," says Dan Thompson, founder and chairman of SPG Solar, Inc. "Both SPG Solar and Thompson Technologies now have the ability to do multiple large scale projects."
SPG Holdings has seen substantial growth over the last several years. This funding will take the company to the next level in terms of project size and company expansion.
The near term plans include expansion throughout the United States and the infusion of capital provides greater ability to respond to the growing opportunities.
###
About SPG Holdings, LLC
SPG Holdings, LLC is comprised of SPG Solar, Inc., and Thompson Technologies Industries, Inc. SPG Solar, Inc. is a proven leader in the financing, design and installation of photovoltaic power systems. With over 1,300 grid-connected PV systems in service throughout the Western United States and a senior staff with decades of experience in electrical engineering, construction and project development, SPG Solar provides its customers with the very best in solar technology and professional design-build services. TTI is a worldwide leader in the design and manufacturing of innovative solar photovoltaic (PV) products. Founded by experienced building contractors and solar installers, TTI develops and builds its products for ease of use, elegance in design, and quality and longevity in performance.
About Global Environment Fund
Established in 1990, the Global Environment Fund (GEF) invests in businesses around the world that provide cost-effective solutions to environmental and energy challenges. The firm manages private equity dedicated to clean technology, emerging markets, and sustainable forestry, with approximately $1 billion in aggregate capital under management. GEF's investors include prominent fund-of-funds, endowments, foundations, family offices, and pension funds.
About Robeco
Robeco, established in Rotterdam in 1929, offers investment products and services to institutional and private investors worldwide. It has around EUR 111 billion in assets under management (at 31 December 2008). The product range encompasses equity and fixed-income investments, money-market funds, responsible investing and alternative investments, including private equity, hedge funds and structured products. The various strategies are managed from Rotterdam (head office), Boston, Hong Kong, New York, Paris and Zurich. To service institutional and business clients, Robeco has offices in Bahrain, Belgium, China, France, Germany, Japan, Luxembourg, Singapore, Spain, Switzerland and the United States. Robeco is part of Rabobank Group, one of the few privately owned banks in the world with the highest credit ratings from Moody's and Standard & Poor's. Furthermore, within the banking sector, Rabobank is one of the global leaders in terms of corporate social responsibility and sustainability.
Featured Product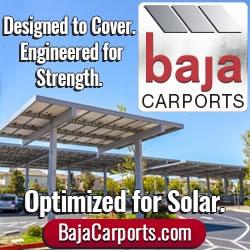 Baja Carports offers an extensive solar support system product line customized to customers' site specifications by in-house engineers, meeting their parking lot coverage, plus optimal PV production needs. Baja's Full Cantilever Tee is often paired with its Semi and Full Cantilever carports to meet live/loads up to 60psf and wind speeds to 160mph. All Baja products are pre-fabricated, bolted connections, pre-galvanized structural steel for fast on-site installation and project aesthetic requirements."