The United States today joined 130 other countries as members of the International Renewable Energy Agency (IRENA) in an Assembly meeting held here in the seaside resort of Sharm el Sheikh, Egypt at the southern tip of the Sinai Peninsula.
July 1, 2009 - Sharm El Sheikh, Egypt - The United States today joined 130 other countries as members of the International Renewable Energy Agency (IRENA) in an Assembly meeting held here in the seaside resort of Sharm el Sheikh, Egypt at the southern tip of the Sinai Peninsula.
Ambassador Reno Harnish, Acting Assistant Secretary of State for Oceans, Environment and Science, signed for the U.S. government. He said: "The United States is extremely pleased to join IRENA. President Obama is committed to renewable energy to mitigate climate change, ensure energy security, create green jobs and lead a green recovery. Joining IRENA allows us to cooperate with 130 other nations to speed market adoption of renewable energy around the world."
U.S. Secretary of State Hilary Clinton immediately issued a statement in Washington supporting IRENA an pledging the support of the Obama Administration.
The U.S. was also represented by the American Council On Renewable Energy (ACORE) as official non-government Observer to the meeting in Sharm El Sheikh. "We have advocated for IRENA and U.S. participation for many years, and are very pleased to see all of this coming together," said ACORE President Michael Eckhart. "IRENA offers an opportunity for the U.S. to re-engage the global community on renewable energy, to learn from international experience, and to provide new leadership."
The first major agenda topic of the Assembly meeting was selection of a headquarters site from among three bids from Masdar City, Abu Dhabi; Bonn, Germany; and Vienna, Austria.
There was a heavy sense of drama in the air as the old guard of renewable energy were unhappy--if not outraged--at the idea of IRENA being headquartered in an oil rich country, also feeling that Germany had earned the right to host the new agency it had sponsored and given birth to. The pragmatists and new players who came to Sharm El Sheikh represented their respective countries in the UN mode of intergovernmental agencies, judging questions in their own self interest. One could see the battle of "for renewable energy" versus "for my country" taking place in the previous evening's reception and throughout the day of the Assembly.
The U.S. had made it known that it favored Abu Dhabi as this fit into larger geopolitical goals and initiatives. Conversely, ACORE was lobbying hard for Bonn on the principle that Bonn is considered the "home" of renewable energy since the Bonn Renewables 2004 conference, and again for the founding meeting of IRENA in January 2009, and because Germany had earned the right to host IRENA since it had sponsored IRENA's development and birth.
Wolfgang Palz, retired long-time head of renewable energy for the European Commission said: "I have seen such meetings for over 35 years and I have never seen anything like this. It is amazing to see this playing out in front of us instead of in the background before the meeting."
There was a confrontation over the rules, as the Preparatory Commission came into the meeting directing that the Official Observers would be ordered out of the meeting during the voting. The Arab League was reported to have submitted a verbal objection, and ACORE submitted a written objection to the Chair. The Chair ruled to change the schedule, allowing the speeches and other process to continue for the afternoon, pushing voting back to a special session in the evening. Observers were then allowed to stay for the afternoon's proceedings.
When the time came for consideration of the selection of the headquarters site, each of the proposing cities gave presentations on their bids including videos and testimonials by important people.
Vienna focused on being an international city with many existing international institutions there.
Abu Dhabi gave a powerful presentation about their plans for Masdar City and the IRENA headquarters, offering a package worth $136 million over the first six years. This included a magnificent $22 million IRENA headquarters building that will be "energy positive" due to a massive solar PV roof - rent free for life - plus $3 million/year for facility operations, plus $50 million fund for renewable energy projects in the developing countries, plus scholarships and a host of other features.
Bonn gave an uplifting presentation on its livable city, its heritage as the home of renewable energy for many years, and its offer of a new building in the government center along the Rhine River, plus $2 million/year is support over and above it membership dues which will be about $8 million in 2010. Then in closing Environment Minister Gabriel concluded by saying that he saw each bid differently - that Bonn offered "sex appeal," Abu Dhabi offered power and money, and Vienna offered intelligence. And in his view, maybe IRENA would benefit from all three, stunning the delegates as they perceived his comments as an offer of a compromise outcome.
The Assembly then went to break, where conversations were at a fever pitch about what was going to happen. Would there be a three-way headquarters? Would Abu Dhabi push to a vote? Would it be a dual headquarters between Bonn and Abu Dhabi? There was talk about the implications of Copenhagen having dropped out of the running two weeks before and how this might have affected things. There was also the beginning of talk about a compromise solution for the election of Director General, yet to come later in the day.
Following the break, the Chair announced that a vote would not be taken, that a compromise deal had been reached whereby Abu Dhabi would be selected as the headquarters city, while Bonn would be given the site of an IRENA Center for Science and Technology, and Vienna would be given the site of an IRENA Office of Institutional Liaison.
The Chair announced: "There being no objection, the resolution is passed by consensus." But then the Representative of South Korea intervened, saying that he was authorized by his government to vote for a headquarters city but not to agree to a consensus compromise, which thus negated the consensus solution. The Assembly was held in suspense for over an hour and a half while the Chairman and Korean delegates conferred, after which the Chair announced that the consensus would be split into two parts - the approval of Abu Dhabi as the IRENA headquarters, and a separate approval of the operations in Bonn and Vienna, and this satisfied the needs of all members. The Chairman called again for a consensus solution in two parts, and hearing no objection, ruled that the solution was approved.
Delegates talked for hours about the implications of the solution. Would the renewable energy community support Abu Dhabi as their headquarters? Would the allowance of two other Centers in Bonn and Vienna open the door to more regional and special-purpose centers? ACORE, for example, was promoting the idea of regional headquarters and regional Directors General, not just one, and this approach seemed to gain support throughout the meeting. There was talk of regional headquarters in Beijing, New Delhi, Cape Town, Rio de Janeiro, and San Francisco. Several Delegates spoke on the record asking for consideration of centers in the Caribbean and Samoa.
The second order of business then came up - the election of an Interim Director General. There were four candidates: Arthouros Zervos, President of the European Renewable Energy Council and a long-time leader of renewable energy affairs in Europe and around the world; Hans Jurgen Koch, a deputy minister of foreign affairs of Denmark, and again with many years of leadership in European and world renewable energy affairs in official positions in government and international institutions; Hélène Pelosse, currently deputy head of Staff in the Private Office of the French Minister for Ecology, Energy, Sustainable Development, and Town and Country Planning in charge of international affairs; and an engineering professor from Spain.
There were as many "favorites" as there were delegates in the room, and much ongoing lobbying and talk about deals having been cut six months ago, and six days ago, and six hours ago. It was rumored that Abu Dhabi had communicated with 90 countries that they preferred the Spanish candidate. Europe was torn between Dr. Zervos and Dr. Koch, both of whom are widely respected. France was popular for many reasons and had call on many relationships with developing countries. Each candidate had assets and liabilities.
Each candidate gave speeches to the Assembly on their qualifications for Interim Director General and their vision for IRENA. The Chair then called for the voting process to begin and asked the Observers to leave the room. ACORE objected quietly to the Chair, saying that removing the observers was an institutional outrage, and not in keeping with any norms of an international body.
The voting proceeded through three rounds which required five hours, from 18:30 until nearly 23:30 PM. The Assembly gala dinner, scheduled for 20:30 hours at a nearby hotel, had to wait.
Dr. Zervos and Dr. Koch were eliminated in the first two rounds, leaving a third round of voting between France and Spain. Word of the voting results spread throughout the hall - it was 63 for France and 60 for Spain. Under these circumstances, with no candidate receiving a majority vote, the leaders would go up for a one-person vote seeking a 2/3rds majority and, if achieved, they would win. If no majority was achieved, the entire voting process would be deemed a failure and there would be a call for new nominations. Thus the selection process for Interim Director General was facing a cliff-hanging ending.
But there was also talk in the Assembly that the two candidates had agreed that, if neither achieved 2/3rds then the leader would go up to election by acclamation.
Then without disclosing the vote count, the Chair called the meeting to order - it was 11:15 PM at this time -- and announced that the French candidate had received the most votes, and called for election of Hélène Pelosse by acclamation. There was applause, and the Chair announced that, without objection, Ms.Pelosse was elected Interim Director General of IRENA. There was again applause, and the business of the day was done.
During the afternoon and evening there had been another initiative taking place; to have Hermann Scheer, who originally conceived of IRENA, elected Chairman of IRENA. A four-page letter signed by over 25 recognized leaders in renewable energy was circulated and debated. The most likely scenario was Dr. Scheer to be elected Chairman, acting as an Ambassador for the Membership and assisting the Director General. There was also a rumor that Dr. Scheer would be elected Chairman and the four candidates for Director General would agree to become Vice Director Generals - for the interim period only. There were apparently various agreements on these possibilities, but in the end none of the compromise solutions worked out for the Interim Director General election and, unlike the headquarters selection, the vote went forward on a win-lose basis, but the voting process was compromised and there was no opportunity to introduce the election of Hermann Scheer as Chairman.
Dr. Scheer said: "IRENA has the potential to become more important than the Kyoto Protocol because IRENA can be the driving force behind the solutions to global sustainability. It will not regulate the world to an outcome - it will help the world reach the desired outcome."
ACORE President Michael Eckhart concluded: "It has been a remarkable day, when IRENA held its first assembly of the member states, the U.S. joined, a headquarters and other centers were selected, and an Interim Director General was elected. The outcomes are thrilling to some, and concerning to others. But that is the reason for IRENA - to bring the world together on the task of implementing renewable energy, to give it a go, and come back another time as an organization to improve on it next time. In any case, IRENA is underway, making all of us more optimistic than before."
About ACORE
ACORE, a 501(c)(3) membership nonprofit organization headquartered in Washington, D.C., is dedicated to bringing renewable energy into the mainstream of the US economy and lifestyle through research and communications programs and membership committees. ACORE's membership works in all sectors of the renewable energy industries including wind power, solar energy, geothermal energy, hydropower, ocean energy, biomass, biofuels, and waste energy. ACORE provides a common platform for the wide range of interests in the renewable energy community including end users, technology companies, manufacturers, utilities, professional service firms, financial institutions, colleges and universities, associations, nonprofit organizations and government agencies. ACORE serves as a forum through which these parties work together on common interests. ACORE co-organizes the REFF-Wall Street and REFF-West Finance Conferences, the RETECH All-Renewable Energy Conference & Exhibition, the Phase II National Policy Forum in Washington, DC, and hosts both domestic and global policy events furthering the mission of renewable energy. Additional information is available at http://www.acore.org.
Featured Product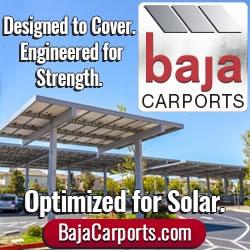 Baja Carports offers an extensive solar support system product line customized to customers' site specifications by in-house engineers, meeting their parking lot coverage, plus optimal PV production needs. Baja's Full Cantilever Tee is often paired with its Semi and Full Cantilever carports to meet live/loads up to 60psf and wind speeds to 160mph. All Baja products are pre-fabricated, bolted connections, pre-galvanized structural steel for fast on-site installation and project aesthetic requirements."