Volvo Car UK has today challenged the Mayor of London, Boris Johnson, to review the basis of charging for the London Congestion Charging zone.
Volvo Car UK believes that the principle of hybrid cars being exempt from the Congestion Charge is now outdated and unfair. Drivers of hybrid cars enter the zone free of charge on a daily basis while drivers of low emission cars powered by conventional internal combustion engines with the same, or even lower, levels of emissions are charged £8.00 per day. This 'tax' could add a financial burden of over £2,000 per year to those drivers who have selected a traditionally-powered low emission car.

The apparent disparity was highlighted to Boris Johnson by Stuart Kerr, Regional President for Europe from Volvo Car Corporation when he collected the What Car? Green Car of the Year award from The Mayor recently. This was followed up by a letter to The Mayor's office on 22 June (see Editor's Notes).
What Car? has also joined Stuart Kerr in the call for a review. What Car? editor, Steve Fowler, said "We'd welcome a review of the regulations that govern which cars are exempt from Congestion Charging. At the moment, there's confusion among car buyers and the car industry. Some cars that use conventional engine technology yet have very low CO2 figures aren't exempt, but hybrids with higher CO2 figures are! And with an increasing number of low CO2 vehicles, including diesel hybrids, plug-in hybrids, range extenders and electric vehicles, now is the ideal time to re-open the debate and we'd be delighted to be part of it."
Hybrid-powered cars have CO2 outputs ranging from 89g/km to 219g/km, yet all are exempt from the London Congestion Charge. Volvo's What Car? Green Car of the Year-winning S40 1.6D DRIVe with start / stop technology emits just 104g/km yet drivers are charged £8.00 to enter the capital. Similarly, Volvo's DRIVe C30 Sportscoupe and V50 Sportswagon models also emit 104g/km but none of them are exempt from the charge.
At the end of 2008, there were 13 non-hybrid cars from other manufacturers emitting less than 105g/km of CO2 on the market. Using the Society of Motor Manufacturer and Traders sales figures, this would equate to over 9,500 owners of low-emission cars that should, given a level playing field, be exempt from the London Congestion Charge. The number of conventionally-powered low emission cars will increase substantially throughout 2009, as will the number of affected owners.
Those affected are being encouraged to register their support at www.volvocars.com/uk/emissionsequality . They can also follow the cause on http://twitter.com/eequality or befriend the campaign at http://www.facebook.com/pages/Emissions-Equality/119945287541
Featured Product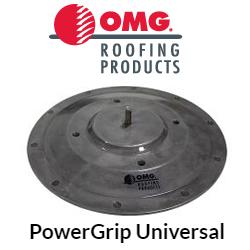 PowerGrip Plus Roof Mount System, a watertight structural attachment system used to secure ballasted solar racks and other equipment to roofs covered with thermoplastic (TPO and PVC) membranes. PowerGrip Plus is designed with wind performance in mind and offers ultimate tensile strength of 2,000 lbf. and ultimate shear strength of 1,075 lbf. Properly installed PowerGrip Plus units reduce rack movement and remaining watertight. PowerGrip Plus units are easy to install, saving both time and labor when compared to alternative options. A wide membrane skirt promotes easy welding in place, and the 15/8 diameter and 1/2 inch tall mount provides an optimal perch for securing brackets or struts. The exposed 1 inch tall and 3/8 inch diameter bolt and mounting stand are made from corrosion-resistant stainless steel and aluminum alloy for superior long-term performance.