Rehm Thermal Systems recently announced the launch of an advanced new series of firing systems for solar cell metallization.
The RFS and RFS-D Fast Firing Systems offer a range of advanced process features and thermal control that enable PV manufacturers to move their processes to an entirely new level of efficiency and yield.

Just launched following exhaustive testing by the renowned Fraunhofer Institute ISE, the new Rehm RFS Fast Firing Furnace extends the company's decades of high performance thermal engineering and manufacturing experience further into the world of PV manufacturing. A complete lineup of thermal solutions for metallization now includes the RFS Firing System and RFS-D combination Drying and Firing System in addition to the model RDS series dryers. All feature industry leading low energy consumption and a compact footprint that optimizes factory space while minimizing expense.
The new Rehm Fast Fire Systems feature a host of innovative design features that enable new levels of metallization process performance, including
• Very high throughput rates (e.g. transport speeds up to 6m/minute and multiple lanes) maximize productivity - vital to satisfy an escalating world demand.
• Flexible transport systems that enable single, dual and triple lane handling of wafers
• An Integrated residue management system that maintains an exceptionally clean process chamber and extends maintenance intervals.
• Superlative profile control and process monitoring including reference products for baseline profiling.
• Rehm Visu2 software including traceability tools, remote diagnostics and an extensive product library.
• Unique gas management improves thermal transfer efficiency without using supplemental heaters. This reduces energy consumption and increases system insulation; all contributing to improved COO.
• Separate heating and cooling zone transports, which improve the cooling gradient and shorten the necessary cooling zone length
Marc Dalderup, Rehm CCO explains further. "Though the Rehm brand name might not be widely recognized among PV cell manufacturers, we have over 200 curing and drying systems in production in factories worldwide right now. Rehm's twenty year history of advanced thermal engineering and our best-in-class process philosophy has now been applied to these new firing furnaces. Our technology and experienced global support network offer significant opportunities for PV manufacturers to move to the next level of yield and efficiency."
(Ends)
About Rehm Thermal Systems
Rehm Thermal Systems (www.rehm-group.com) is an international supplier to the photovoltaic and electronics industries, specializing in curing, drying and firing technologies as well as convection and condensation soldering.
Rehm operates vertically integrated manufacturing facilities in Germany, China, and Russia, and technical support facilities throughout Europe, Asia and North America.
Rehm Contact
Marc J. Dalderup
Rehm Thermal Systems GmbH
Leinenstrasse 7
89143
Blauberen, Germany
Tel: +49 7344-9606-0
E-mail : m.dalderup@rehm-group.com
www.rehm-group.com
Protean Marketing Contact
Debbie Gomez
Unit 1, Cutbush Court
Danehill, Lower Earley
Reading,
RG6 4UW, UK
Tel: +44 1189 759880
Email: debbie.gomez@protean.co.uk
www.proteanmarketing.com
Featured Product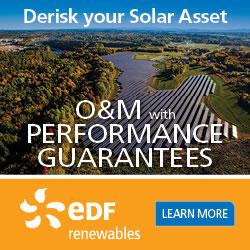 EDF Renewables offers the same innovative solutions that maximize the performance of our own 5.2 GW of installed projects. Because we're not an equipment manufacturer, our recommendations are transparent and data-driven. We cover the entire project lifecycle: from pre-commissioning support, through warranty and post warranty operation, to late stage and decommissioning.