The REHAU ECOAIR' system improves indoor air quality by bringing necessary fresh air into today's tighter building envelopes. Narrowing the gap between outdoor temperatures and comfortable indoor temperatures, it significantly reduces the amount of additional energy required for heating or cooling.
REHAU announced its recent partnership with Agion Technologies, the worldwide leader in natural silver-based antimicrobial solutions, to incorporate Agion's antimicrobial technology into the new REHAU ECOAIR' ground-air heat exchange system.

The REHAU ECOAIR system takes advantage of consistently moderate ground temperatures to pre-condition incoming fresh air, thus improving indoor air ventilation while also reducing heating and cooling costs. It is comprised of an air inlet, filtering and condensation management components, and rigid PVC pipe and fittings which are protected by Agion.
The system's smooth-walled PVC pipe features a unique inner layer developed by Agion that capitalizes on the naturally occurring properties of silver to inhibit microbial growth. Agion's silver antimicrobial has been tested and verified by SGS Institut Fresenius in Taunusstein, Germany to ASTM Standard E2180, and is also registered with the EPA for use as an antimicrobial in HVAC applications.
"Our partnership with REHAU has resulted in the launch of a state-of-the-art HVAC system that combines energy-efficient operation with natural antimicrobial protection," said Paul Ford, CEO of Agion Technologies. "With green building initiatives at the forefront of the industry, Agion has become the preferred antimicrobial of HVAC manufacturers."
"As a result of condensation during the cooling season, the typically moist environment in a ground-air heat exchange system's pipe can be conducive to microbial growth," said Scott Emery, business unit manager, civil engineering and infrastructure at REHAU. "Thus, in addition to allowing for condensate drainage and inlet-air filtration, we have partnered with Agion to incorporate a unique formula that includes silver particles, which are a natural inhibitor to such growth, into the inner layer of the REHAU ECOAIR pipe. Our work with Agion has fostered a unique solution in ground-air heat exchange that delivers controlled ventilation while providing notable HVAC system energy savings."
The REHAU ECOAIR system improves indoor air quality by bringing necessary fresh air into today's tighter, more energy-efficient residential and commercial building envelopes. By narrowing the gap between outdoor temperatures and comfortable indoor temperatures, a ground-air heat exchange system significantly reduces the amount of additional energy required to heat or cool a building. It is in fact possible for a ground-air heat exchange system to assist in raising intake air temperature by up to 16°F (9°C) during colder months, and reducing it by up to 29°F (16°C) in the summer.
For additional information on the REHAU ECOAIR system, visit www.na.rehau.com/ecoair.
About REHAU
REHAU delivers "Unlimited Polymer Solutions," and is the premium worldwide brand for polymer-based innovations and systems in construction, automotive and industry. The company generates continuous growth through its expertise and innovative capabilities in materials development, systems design and surface technology. Approximately 15,000 employees at more than 170 locations around the world ensure success of the independent, privately held company. For additional information visit www.rehau.com.
About Agion Technologies, Inc.
Agion Technologies, located in Wakefield, Massachusetts, is a leader in providing customized, natural, antimicrobial solutions based on silver that continuously inhibits the growth of bacteria, mold and fungus. Agion's antimicrobial technology is used in consumer, industrial and healthcare industries and has been incorporated into a variety of products including cell phones, shoes, keyboards, water filters, medical catheters, and ice machines. Agion's customers include many leading brands such as Motorola, PPG, Carrier, DuPont, Adidas, Scotsman, Stanley Bostitch and Oster. For more information about Agion Technologies, visit www.agion-tech.com.
-# # #-
Featured Product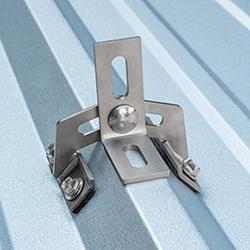 QuickBOLT Low Profile QuickBOLT with Microflashing™ is the industry's affordable, UL Certified Asphalt Shingle mounting system. The Microflashing™ is compressed by the collar on the bolt to create a water-tight seal. With an installation time of less than one minute, the Low Profile QuickBOLT allows installers to complete more jobs.