Renewable Energy Stocks and Green Stocks Directory Preview of Publicly Traded Solar Stocks
Renewable Energy Stocks and Green Stocks Directory Preview of Publicly Traded Solar Stocks

POINT ROBERTS, WA and DELTA, BC -July 13, 2009 - www.RenewableEnergyStocks.com, a leading global investor and industry portal for the renewable energy sector within Investorideas.com, previews the current global directory of renewable energy stocks for investors following the sector, with a list of publicly traded solar stocks.
For investors following the sector, Investor Ideas has created a global directory of publicly traded green and renewable energy stocks in wind, solar, biofuel and other green sectors. Investor Ideas stock directories are one of several tools for independent investors to complete due diligence and research.
Renewableenergysstocks.com was one of the first online investor resources providing in-depth information on renewable energy and the public companies in the sector.
Renewable Energy Stock Directory:
http://www.investorideas.com/Companies/RenewableEnergy/Stock_List.asp
The directory features stocks listed on the TSX, OTC, NASDAQ, NYSE, AMEX, ASX, AIM markets and other leading exchanges reflecting the global participation and growth in renewable energy and green stocks.
The RenewableEnergyStocks.com portal currently features a directory with info and links on Alternative Energy Funds, Biogas and Ethanol Stocks, Energy Efficiency Stocks, Flywheel Stocks, Fuel Cell Stocks, Geothermal Stocks, Hydrogen Production, Micro Turbine Stocks, Solar Stocks, Green Transportation, Wind Stocks and Green Infrastructure Stocks.
The www.RenewableEnergyStocks.com and Investorideas.com current Renewable Energy featured showcase stocks include wind/solar company GWS Technologies, Inc. (OTCBB: GWSC), natural gas alternative, Magnegas Corporation (OTCBB: MNGA) and thin film solar company XsunX, Inc. (XSNX.OB).
To learn about becoming a featured renewable energy or green stock, contact us below.
Solar Stocks Directory (Preview)
Photovoltaic & Solar Stocks:
3S Swiss Solar Systems AG (XETRA: S3V.DE; OTCPK: TSIJF) is the world's technological market leader for manual and semi-automatic production facilities for the manufacture of solar modules. In co-operation with partners, 3S Swiss Solar Systems also integrates its production facilities into full automatic, turnkey production lines. As a company dedicated to the solar industry, 3S Swiss Solar Systems plans and develops innovative, building-integrated solar systems. These are licensed to customers who apply production facilities from 3S Swiss Solar Systems or produced in the company's own manufacturing facilities. The know-how, which is accumulated from the conception and production of solar modules flows directly into the further development of the production facilities.
Abengoa (MCE: ABG.MC) Abengoa (Spain) is a technology company that applies innovative solutions for sustainable development in the infrastructures, environment and energy sectors. It is a listed company with treasury stock of 2.574,77 million euro (14/12/2006) and is present in more than seventy countries where it operates with its five Business Units: Solar, Bioenergy, Environmental Services, Information Technologies, and Industrial Engineering and Construction.
Accelerate Power Systems Inc. (TSX:APS.V) AccelRate's objective is to become the licensor-of-choice to industry leaders in additional target markets, including portable, power tools, transportation, and mililitary applications. In addition, AccelRate will investigate further market opportunities for use of its unique, patented product. Additional opportunities exist to incorporate AccelRate technology. For example, other applications that could benefit by using AccelRate technology include solar and/or wind power systems, emergency systems, remote control toys, and others.
Acciona SA (MCE:ANA.MC) Spanish construction co with a new green building and environmental focus. 24MW solar panel plant in Moura Portugal, building 91MW solar power plant in Portugal. Subsidiary Solargenix was the system integrator and provider of the parabolic troughs for the 64MW Nevada 1 solar thermal plant (100,000 ft2 of parabolic mirrors 15' tall in 6 rows 1200' long) at Boulder City Nevada for Arizona Public Service Corp. In Spain the co sets up 'Solar Gardens' - 400 trackers with 279 owners of the individual trackers makes an interesting business model for building solar tracker parks
Acro Energy Technologies Corporation (TSX:ART.V) is focused on the consolidation and growth of renewable energy companies, primarily in the United States residential solar installation market. Acro Energy Technologies continues to evaluate suitable acquisition candidates across North America.
Advanced Energy Industries, Inc. (NasdaqGS:AEIS) Advanced Energy® develops innovative power and control technologies that enable high-growth, plasma thin-film manufacturing processes worldwide, including semiconductors, flat panel displays, data storage products, solar cells, architectural glass, and other advanced product applications. Advanced Energy® also develops grid connect inverters for the solar energy market
Air Water International Corp. (OTCPK:AWTI) and its subsidiaries engage in the development and marketing of solar energy systems and systems for the extraction of drinking water from the air. It offers portable photovoltaic cells in leather and plastic cases for consumer electronic products; photovoltaic consumer energy panel products; and solar power systems to government and industrial users worldwide.
AIXTRON AG (OTCPK:AXTMF) AIXTRON's semiconductor product portfolio offers Atomic Layer Deposition (ALD), Atomic Vapor Deposition (AVD) and Chemical Vapor Deposition (CVD) systems with cutting-edge technology for Logic, DRAM, eDRAM, Flash, MIM and Thin Film Head applications.
Akeena Solar, Inc. (NASDAQCM:AKNS) Founded in 2001, Akeena Solar's philosophy is simple: We believe producing clean electricity directly from the sun is the right thing to do for our environment and economy. Akeena Solar has grown to become one of the largest installers of residential and small commercial solar power systems in the United States, serving customers directly in California, New Jersey, New York, Connecticut and Pennsylvania.
Aleo Solar (XETRA:AS1.DE; OTCPK:AEORF) Aleo solar AG, (Germany) with its sales and distribution facilities in Oldenburg (Lower Saxony) and manufacturing facility in Prenzlau (Brandenburg), was founded in September 2001 and manufactures solar modules based on silicon cells. The manufacturing facility in Prenzlau has an annual capacity of 90 megawatts and is thus one of the largest solar module production sites. In 2005, the company achieved a turnover of 106.9 million euros with around 230 employees. Since July 2006, aleo solar AG (DE000A0JM634) has been listed on the Prime Standard segment of the Frankfurt Stock Exchange. By acquiring shares in the Brandenburg-based technology company Johanna Solar Technology GmbH, aleo solar AG has gained access to the promising future of thin-film technology.
Featured Renewable Energy Stocks
GWS Technologies, Inc. (OTCBB: GWSC), an alternative energy company developing renewable energy solutions. GWS stands for GreenWindSolar. Our products and solutions are part of the new "microgeneration" movement that is transforming the way everyday people provide for their energy needs. Through a growing line of solar and wind-powered products ranging from handheld devices that can recharge an iPod to wind turbines for point-of-use alternative energy generation, GWS is leading the way in the emerging microgeneration marketplace. The company was founded in 2005 and is headquartered in Scottsdale, Arizona.
Magnegas Corporation (OTCBB:MNGA) is the producer of MagneGas(TM), a natural gas alternative and metal cutting fuel made from liquid waste such as sewage, sludge, manure and certain industrial and oil based liquid wastes. The Company's patented Plasma Arc Flow(TM) process gasifies liquid waste, creating a clean burning fuel that is essentially interchangeable with natural gas, but with lower green house gas emissions. MagneGas(TM) can be used for metal cutting, cooking, heating or powering bi fuel automobiles.
XsunX, Inc. (XSNX.OB) is a thin-film photovoltaic ("TFPV") company that is executing a phased plan to build and operate 100+ mega-watts (MW) of thin film solar module manufacturing capacity. The Company is working to implement the installation of its base production infrastructure in Oregon, USA and develop initial production capacities necessary to service sales agreements as soon as possible.
Green Investor Content:
Green IPO Watch: http://www.investorideas.com/IPO/green.asp
Solar Energy Perspectives with J. Peter Lynch: http://www.investorideas.com/RSS/feeds/PL.xml
Renewable Energy and GreenTech Business and Stock News RSS Feed: http://www.investorideas.com/RSS/feeds/RES.xml
About Our Green Investor Portals:
www.RenewableEnergyStocks.com® is one of several green investor portals within Investorideas.com and provides investors with stock news, exclusive articles and financial columnists, audio interviews, investor conferences, Blogs, and a directory of stocks within the renewable energy sector.
Visit the Investorideas.com Green Investor Portals: www.RenewableEnergyStocks.com ®, www.FuelCellCarNews.com ®, www.EnvironmentStocks.com, www.Water-Stocks.com and www.GreentechInvestor.com all within the Investorideas.com hub.
About InvestorIdeas.com:
Investorideas.com creates a meeting place for investing ideas to take form and come to life in an entrepreneurial environment, servicing the needs of small investors and start- up companies to large conglomerates! We cover multiple industry sectors but specialize in environmental and water.
Investorideas.com Membership- Green Stocks Directory
With markets and investor sentiment changing daily- it is more important than ever to stay on top of key trends! Gain Exclusive Insight on Leading Sectors, Global Trends, and Insider Trading Ideas, News, Articles and Investor Ideas Members only Restricted Content including the complete renewable energy stocks directory, water stocks directory, biotech and more.
http://www.investorideas.com/membership/
Disclaimer: Our sites do not make recommendations. Nothing on our sites should be construed as an offer or solicitation to buy or sell products or securities. We attempt to research thoroughly, but we offer no guarantees as to the accuracy of information presented. All Information relating to featured companies is sourced from public documents and/ or the company and is not the opinion of our web sites. Disclosure: Investorideas is compensated by featured companies XSNX, MNGA and GWSC, news submissions and online advertising.
Disclosure - www.InvestorIdeas.com/About/Disclaimer.asp, http://www.investorideas.com/About/News/Clientspecifics.asp
For more information contact:
Dawn Van Zant 800.665.0411
Email: dvanzant@investorideas.com or Cali at cvanzant@investorideas.com
Source: RenewableEnergyStocks.com Investorideas.com
Featured Product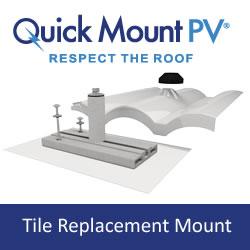 The Tile Replacement Mount provides a fast and easy way to install solar on tile roofs while protecting against water intrusion. Simply remove the tile and replace it with the Tile Replacement Mount. Works with all standard curved and flat tile roofs, and all standard rail-based racking systems. Flashed at both the deck and top levels, the mount is fully engineered to meet code requirements and industry best practices. The Tile Replacement Mount features Quick Mount PV's patented Elevated Water Seal technology for optimal waterproofing. Get a free sample and see for yourself!