Wave energy developer Aquamarine Power welcomes the £60m package for marine renewable energy development announced yesterday [July 15] by the Department of Energy and Climate Change (DECC) under The UK Low Carbon Transition Plan.
Wave energy developer Aquamarine Power welcomes the £60m package for marine renewable energy development announced yesterday [July 15] by the Department of Energy and Climate Change (DECC) under The UK Low Carbon Transition Plan.

The package includes £9.5m for the Wave Hub in Cornwall; £10m for the New and Renewable Energy Centre (NaREC) in Northumberland; £10m South West Regional Support for deployment and R&D and £8m to the European Marine Energy Centre (EMEC) in Orkney.
Critically, it includes a £22m Marine Renewables Proving Fund to support developers testing & developing pre-commercial prototypes.
Martin McAdam, Chief Executive Officer of Aquamarine Power, commented:
"There is a world-wide race to develop marine renewable technology and - with the correct government support - the UK has the potential to capitalise on this and create a substantial manufacturing and export industry.
"The £22m Marine Renewables Proving Fund will provide vital assistance for developers such as Aquamarine Power to take their devices from full-scale demonstrators to commercial reality.
"However the industry still requires substantial R&D funding and infrastructure investment in ports, manufacturing and the electricity transmission network.
"The prize for success will be considerable - Germany and Denmark have built multi-billion pound industries by taking the lead in wind technology. With the right support the UK could make a similar success of wave and tidal technology.
"Scotland has Europe's best wave resources and is the natural home for this exciting new industry".
Ends
For further information, contact:
Buchanan Communications
Diane Stewart 0131 226 6150
dianes@buchanan.uk.com
Carrie Clement 0131 226 4427
carriec@buchanan.uk.com
Or visit www.aquamarinepower.com
Notes to Editors:
Marine resources
• Scotland's seas account for 25% of Europe's tidal resource and 10% of Europe's wave resource. (Scottish Government, 2008)
• An estimated 21.5GW of wave and tidal energy could be generated from Scottish waters - enough to meet around half of Scotland's energy demands. (Scottish Government, 2001)
• Wave energy alone could provide an export market worth £4.5 billion per annum by 2050. (Carbon Trust, 2006)
• The marine energy industry could provide as many as 7000 direct jobs, by as early as 2020. (Scottish Government, 2004)
Aquamarine Power
• Aquamarine Power is a leading wave energy company, founded in 2005 and based in Edinburgh.
• The company's leading technology is Oyster®, a hydro-electric wave energy converter.
• Oyster® is designed to capture the energy found in nearshore waves and covert it into clean usable electricity.
• The Oyster system consists of a hinged flap connected to the seabed at around 10m depth. Each passing wave moves the flap which drives a hydraulic piston to deliver high pressure water to an onshore turbine which generates electricity.
• The benefit of Oyster is its simplicity. There are minimal moving parts and all electrical components are onshore, making it robust enough to withstand the rigours of Scotland's seas.
• Aquamarine has signed an agreement with Airtricity for the development of up to 1,000MW of marine energy sites by 2020 using Oyster® technology.
• Installation of a full-scale demonstrator Oyster® is currently underway at the European Marine Energy Centre's (EMEC) wave test site on Orkney. Grid-connection and Oyster sea-trials are planned for Autumn 2009.
• Aquamarine Power's specialist technical advisors include wave energy pioneers Professor Trevor Whittaker, head of the award-winning wave power research group at Queen's University, Belfast, and Professor Stephen Salter, creator of the 'Salter Duck'.
• Its senior management team includes Martin McAdam, who founded renewable energy provider Airtricity's US operations, sold to E.On for $1.2bn in 2007, and Matthias Haag, former General Manager at Shell WindEnergy.
• Aquamarine Power's board members include company founder and leading wave energy developer Allan Thomson.
• Aquamarine Power has won numerous national and international awards for innovation in the renewable energy sector including 'Emerging Technology Promoter of the Year', (Global Renewable Energy Awards 2008) and 'Innovator Award 2009' (British Renewable Energy Awards 2009).
• In 2007 Aquamarine Power joined forces with Scottish & Southern Energy subsidiary, Renewable Technology Ventures (RTVL), securing a £6.3m investment from SSE and a further £1.5m from Sigma Capital Group plc.
• Aquamarine Power has received significant funding and support from Scottish Enterprise, Highlands and Islands Enterprise, the Technology Strategy Board, the Royal Academy of Engineering, the Engineering and Physical Sciences Research Council (EPSRC) and the Scottish Government.
The clean technology industry
• Export of clean technology accounts for €7.1 billion annually in Denmark; predicted to increase to around €27 billion by 2020. In Germany, export of wind technology alone is worth over €5.1 billion. In terms of employment, Denmark's wind industry has created over 20,000 jobs. In Germany, wind industry employment stands at five times that number (100,000), while the whole renewables industry has created direct employment for over 230,000 people.
Featured Product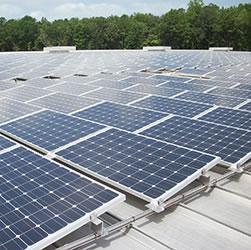 The Power Rail™ Commercial Mounting System is designed with the professional PV solar installer in mind. Both the XD/UD and LD/MD rails feature single tool assembly with the revolutionary patented RAD™ Lock-in-Place bolt for fast and secure module clamping. The high strength marine-grade aluminum rails include an integral wiring channel for securing cables and providing a professional finish.