Designed to accommodate specific needs of residential and commercial installations
HUNTINGTON BEACH and SAN FRANCISCO, Calif., JULY 15, 2009 - Sharp Solar Energy Solutions Group, the U.S. solar arm of Sharp Corporation, a leading global provider of solar electric solutions, bolsters its NU line of solar modules with the introduction of the new NU-U230F3 and the NU-U235F1 modules. Delivering powerful performance and enhanced aesthetics, the new NU modules are an optimal choice to meet the needs of both residential and commercial solar installations.

"Sharp consistently innovates our product portfolio, taking into consideration valuable customer feedback on features that best suit their needs. Our customers requested a sleek black panel, and we delivered. We're able to deliver a solar electricity solution that is ideal for virtually any application — residential, commercial, and utility scale," said Ron Kenedi, vice president of Sharp Solar Energy Solutions Group. "These latest module introductions illustrate Sharp's commitment to delivering high-quality, reliable solar products that address the various demands of the energy market and our end users."
The sleek design of the new NU-U230F3 features a black backsheet and black frame that offers modern aesthetics for a visually appealing installation. One of the most powerful residential modules that Sharp manufactures today, the NU-U230F3 delivers excellent performance with a uniform black appearance that complements a home's roof.
The 235-watt NU-U235F1 is ideal for the high performance demands of commercial solar power systems. The model's design increases light absorption with its white backsheet which allows for reflectance of additional sunlight into the cell for superior performance and power output.
Offering high-quality, competitively priced and superbly reliable solar products is at the core of Sharp's efforts to accelerate the global deployment of clean, renewable emissions-free solar power. By offering the widest variety of solar electricity products, Sharp is striving to make solar power an increasingly mainstream energy solution - one that is accessible, efficient and cost-effective. Customers can be confident in the caliber of Sharp solar products, backed by a 25-year warranty on power output that is rooted in nearly half a century of solar energy research and development.
Both the NU-U230F3 and NU-U235F1 modules will available in July.
Sharp entered the U.S. solar market in 2002 and is a market leader; it has operated solar module operations at its manufacturing facility in Memphis, TN since 2003. Sharp's suite of residential products includes the breakthrough OnEnergyTM solar system, an all-in-one solution that offers enhanced aesthetics, and building-integrated solar modules for a discrete, nearly invisible installation.
About Sharp
Sharp Solar Energy Solutions Group, based in Huntington Beach, California, is a division of Sharp Electronics Corporation, the U.S. subsidiary of Sharp Corporation, Osaka, Japan. Sharp is a world market leader in solar cell production, and offers both standard and integrated roof modules for home and business applications. Further information on Sharp's commitment to solar energy, its product line and the ways in which Sharp makes it easy to go solar is available online at www.solar.sharpusa.com.
Sharp Electronics Corporation is the U.S. subsidiary of Japan's Sharp Corporation, a worldwide developer of one-of-a-kind home entertainment products, appliances, networked multifunctional office solutions, solar energy solutions and mobile communication and information tools. Leading brands include AQUOS® Liquid Crystal Televisions, 1-Bit' digital audio products, SharpVision® projection products, Insight® Microwave Drawer® appliances, Plasmacluster® air purifiers, and Notevision® multimedia projectors. For more information visit Sharp Electronics Corporation at www.sharpusa.com.
Featured Product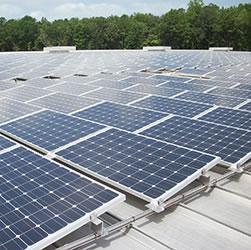 The Power Rail™ Commercial Mounting System is designed with the professional PV solar installer in mind. Both the XD/UD and LD/MD rails feature single tool assembly with the revolutionary patented RAD™ Lock-in-Place bolt for fast and secure module clamping. The high strength marine-grade aluminum rails include an integral wiring channel for securing cables and providing a professional finish.