Nearly 90MW of projects for Evergreen Solar customers in varying stages of loan application process
MARLBORO, Mass.--(BUSINESS WIRE)--Jul. 28, 2009-- Evergreen Solar, Inc. (Nasdaq: ESLR), a manufacturer of STRING RIBBON' solar power products with its proprietary, low-cost silicon wafer manufacturing technology, today announced it is working with the Export-Import Bank of the United States (Ex-Im Bank) to provide attractive low-interest financing for solar projects using Evergreen Solar panels outside of the United States. The program is intended to spur the export of U.S.-made renewable energy products and is part of a mandate in Ex-Im Bank's Congressional Charter. Currently, Evergreen Solar customers have almost 90MW of projects in varying stages of the loan application process with Ex-Im Bank.

The Ex-Im Bank will offer U.S. Dollar denominated loans directly to project developers or project owners that will cover 85% of the U.S. made product cost and up to an additional 30% of the cost of the product to be applied to local installation costs. Remaining project costs can be financed with separate bank loans as needed. For example, a solar project using $10 million of Evergreen Solar panels would receive up to $8.5 million in financing for the purchase of the solar panels and up to $3 million to cover installation, design, engineering, inverting, racking and other installation-related expenses. Ex-Im Bank currently offers a 4.9% fixed interest rate over an 18-year period for solar installations outside of the United States.
"At a time when many companies are struggling to attain credit for capital expenditures in a difficult financial market, the Ex-Im Bank's office of renewable energy has been extremely helpful in offering a significant financing tool for our international partners which greatly assists us in our continued business success outside of the U.S.," said Terry Bailey, Evergreen Solar's senior vice president of sales and marketing. "Our international customers have been very enthusiastic about this added benefit we can offer them as a U.S. manufacturer."
The Ex-Im Bank will also provide guarantees for loans which can be issued in any currency. Ex-Im Bank's Loan Guarantee Program provides Loan Guarantees that carry the full faith and credit of the U.S. Government to banks participating under its Master Guarantee Program. Participating banks may be located anywhere in the world where Ex-Im Bank is open to do business. Ex-Im Bank's Loan Guarantee covers 100% of principal and accrued interest on any amount. The Guaranteed Loans can either be a fixed interest rate or floating rates typically based on a small spread over the 6-month U.S. dollar LIBOR rate. Currently the 6-month LIBOR rate is 1%.
To apply for a loan as part of the Ex-Im Bank program, customers should work directly with Evergreen Solar's Ex-Im Bank support specialist. The final approval process can range from a few weeks to three months depending on the loan type.
About Evergreen Solar, Inc.
Evergreen Solar, Inc. develops, manufactures and markets String Ribbon' solar power products using its proprietary, low-cost silicon wafer technology. The Company's patented wafer manufacturing technology uses significantly less polysilicon than conventional processes. Evergreen Solar's products provide reliable and environmentally clean electric power for residential and commercial applications globally. For more information about the Company, please visit www.evergreensolar.com. Evergreen Solar® and String Ribbon' are trademarks of Evergreen Solar, Inc.
Safe Harbor Statement
This press release contains forward-looking statements made pursuant to the safe harbor provisions of Section 21E of the Securities Exchange Act of 1934. These statements are based on management's current expectations or beliefs. Such forward-looking statements include, but are not limited to, those related to expectations regarding up to 90 MW of projects now in varying stages of the loan process with Ex-Im Bank and the benefits to the company's sales generally from the Ex-Im Bank loan program. These statements are neither promises nor guarantees, and involve risks and uncertainties that could cause actual results to differ materially from such forward-looking statements, including the uncertainty regarding pending loan applications, risks associated with the company's ability to successfully market and sell its products, uncertainties related to government regulations, subsidies and incentives; risks from various economic factors such as credit market conditions, fluctuations in currency exchange rates and other risks and uncertainties identified in the company's filings with the Securities and Exchange Commission. Evergreen Solar disclaims any obligation to update or revise such statements for any reason.
Featured Product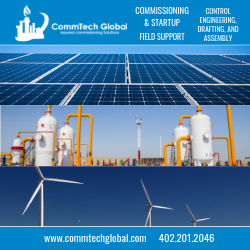 CommTech Global Solutions, LLC, provides professional and reliable commissioning services to customers in all realms of the energy industry. We blend our skills in engineering and technology with innovative business models, offering a complete range of services to assist you for a successful and in compliance operational startup. Consolidation of all our service domains gives our clients a comprehensive set of expertise and far-reaching experience on each project.