Solar News - GWS Technologies (OTCBB:GWSC) Announces Initial Development of Lubbock, Texas Solar Farm
Solar News - GWS Technologies (OTCBB:GWSC) Announces Initial Development of Lubbock, Texas Solar Farm

SCOTTSDALE, Ariz. -- GWS Technologies, Inc. (OTCBB: GWSC), an alternative energy company developing renewable energy solutions, announced today that it has partnered with Dominion Real Estate Investments LLC, (DREI) to begin development of a 118 acre solar farm in Lubbock Texas.
The project could provide power to a planned housing development and federal facilities contiguous to Lubbock Airport. The initial project was designed in conjunction with Texas Tech University. The estimated cost of the entire project is approximately $250 million.
"This is another great opportunity for us to take advantage of the many federal and state incentives offered for alternative energy projects," said Michael Coskun, Vice President of GWS Technologies Inc. "We are very pleased to have the opportunity to team up with Dominion Real Estate Partners again."
"One of our priorities this year is to incorporate as much "Green" technology as possible into our real estate investment strategies. We are fortunate to have found a great partner in GWS Technologies to help us achieve our goals. Their knowledge and intellectual capital is on the cutting edge of the renewable energy industry, said Robert Dwyer, Managing Partner, and Dominion Real Estate Partners.
About GWS Technologies, Inc.
GWS stands for GreenWindSolar. We are a renewable energy technology company developing and marketing solar and wind-powered renewable energy products and solutions. Our products and solutions are part of the new microgeneration movement that is transforming the way businesses and consumers provide for their energy needs. The company was founded in 2005 and is headquartered in Scottsdale, Arizona. Website: www.greenwindsolar.com.
About Dominion Real Estate Investments Inc.
DREI is a real estate and development holding company with projects in Arizona and Texas. The Principals of DREI, Robert Dwyer and Raymond L. "Skip" Graham, have over fifty years of combined experience. They are also the Managing Partners and founders of Dominion Real Estate Partners LLC, a full service residential and commercial real estate company with over 180 associates in 11 offices in Arizona and Texas. Website: www.dominionrealestate.com.
Safe Harbor Statement:
Certain statements in this press release constitute "forward-looking statements" within the meaning of the Private Securities Litigation Reform Act of 1995. Such forward-looking statements involve known and unknown risks, uncertainties and other factors which may cause the actual results, performance or achievements of the company to be materially different from any future results, performances or achievements express or implied by such forward-looking statements. The forward-looking statements are subject to risks and uncertainties including, without limitation, changes in levels of competition, possible loss of customers, and the company's ability to attract and retain key personnel.
Contact:
For GWS Technologies, Inc.
Stuart T. Smith, 512-267-2430
Fax: 512-267-2530
SSmith@SmallCapVoice.com
www.SmallCapVoice.com
Source: GWS Technologies, Inc.
GWS Technologies, Inc. is a featured Company on Green Investor Portal RenewableEnergyStocks.com and Investorideas.com
For Company Showcase Click Here : http://www.RenewableEnergyStocks.com/co/gwsc/
Disclaimer : http://www.investorideas.com/About/Disclaimer.asp
Investorideas.com Membership - Renewable Energy Stocks
With markets and investor sentiment changing daily- it is more important than ever to stay on top of key trends! Gain Exclusive Insight on Leading Sectors, Global Trends, and Insider Trading Ideas, News, Articles and Investor Ideas Members only Renewable Energy and Water Stock Directories. Learn more: - http://www.investorideas.com/membership/
Featured Product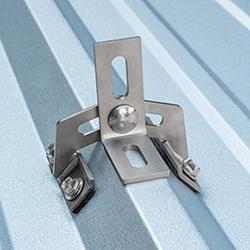 QuickBOLT Low Profile QuickBOLT with Microflashing™ is the industry's affordable, UL Certified Asphalt Shingle mounting system. The Microflashing™ is compressed by the collar on the bolt to create a water-tight seal. With an installation time of less than one minute, the Low Profile QuickBOLT allows installers to complete more jobs.