Focus on Bioenergy, Fuel Cells, Energy Efficiency and Recycling
Pennsylvania has a long-standing tradition of supporting green technologies. Of the 16 billion US dollars allocated to renewables and energy efficiency by the American Recovery and Reinvestment Act some 450 million dollars will be spent on projects in the Keystone State. Pennsylvania is the host of the "Energy and Environment Week" (EEW), held on April 12 'Ä" 16, 2010 in Pittsburgh. EEW will bring together stakeholders from North American and Europe to talk business and new ventures.

EEW means five days of site tours, conference sessions, interactive workshops and exhibits. The focus is on energy and materials recovery from waste and biomass, the commercialization of hydrogen and fuel cells, and the potential of energy efficiency technologies for climate protection and cost cutting. One highlight of the event is the alternative fuel vehicle ride and drive. EEW co-locates with two established events, "Energy from Biomass and Waste" and "Hydrogen Expo", both of which have become leading industry gatherings. Organizer Freesen & Partner GmbH is a specialist in connecting people in growth markets.
More than 150 exhibitors and 2,000 delegates are expected to attend EEW 2010. Exhibiting companies can contribute to the conference program with a presentation on their technologies and projects. "This formula has proven to be very effective for our exhibitors", says Dr. Ines Freesen, Managing Director of Freesen & Partner. "It also adds value for the attendees who get the chance to learn more about the technologies on several levels."
Featured Product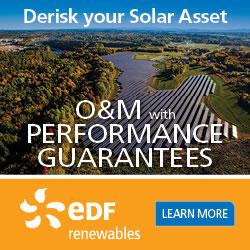 EDF Renewables offers the same innovative solutions that maximize the performance of our own 5.2 GW of installed projects. Because we're not an equipment manufacturer, our recommendations are transparent and data-driven. We cover the entire project lifecycle: from pre-commissioning support, through warranty and post warranty operation, to late stage and decommissioning.