Konarka Technologies says its Power Plastic material is going where solar has not gone before, addressing applications that require lightweight, flexible, inexpensive forms of power
Konarka Technologies says its Power Plastic material is going where solar has not gone before, addressing applications that require lightweight, flexible, inexpensive forms of power

By Charu Malik
There is a wide family of solar cell technologies that are collectively known as "next generation".
The core promise of next-generation solar cells is an additional step in reducing the cost beyond what's possible with silicon thin-film, cadmium telluride or CIGS. This cost reduction comes from a combination of roll to roll processing and the use of organic materials within photovoltaics.
Organic photovoltaics includes an active layer that is made of a mixture of compounds based on carbon. They are sometimes referred to as "plastic PV" because they can be deposited from solution by high volume coating techniques like conventional plastic films.
A company like Konarka Technologies believes that OPV has many advantages, including differentiated features, such as colours, form factor flexibility, translucency for BIPV and low-energy consumed in manufacture at low temperature and no vacuum deposition.
Although the efficiencies of organic solar cells are still low at 5-7%, they have improved rapidly during this decade and efficiencies over 10% are expected, says Eitan Zeira, VP of printed photovoltaics for Konarka.
"However, the relatively low efficiency and durability mean that the first applications are likely to be in light-duty systems, such as integrated chargers for backpacks or tents. To get to the next level, Konarka will continue to improve efficiency, investigate lifetime and maximise its OPV material, Power Plastic, for appropriate applications," says Zeira, who is scheduled to speak at the forthcoming OPV Summit 2009, to be held in Boston (October 15-16).
Progress
At the heart of Konarka's technology is a photo-reactive polymer material. This proprietary material can be printed or coated inexpensively onto flexible substrates using roll-to-roll manufacturing, similar to the way newspaper is printed on large rolls of paper.
Konarka continues to make significant progress with its technology for organic photovoltaic solar cell. Its organic based photovoltaic solar cells have demonstrated 6.4% efficiency. This year Konarka has been in news for $5 million loan for manufacturing, and work with the likes of SkyShades and Arch Aluminium & Glass.
Konarka has made rapid progress in 2009 and expects to see the initial commercialisation of products by its partners by year's end, Zeira told OPV Today.
Initial applications will include the following:
• Portable power - battery chargers for cell phones, electronics, etc. (Noon Solar is a current partner using Konarka's material for their messenger bags)
• Indoor applications - sensors, labels
• Outdoor environments - awnings, tents, umbrellas (SKYshades is a current umbrella partner using Konarka's material to provide power to their café umbrellas)
Konarka continues to work to increase efficiency in its Power Plastic material, consistently achieving the highest rates of efficiency for OPV as certified by the NREL.
"Konarka's Power Plastic is going where solar has not gone before, meeting an unmet need, addressing applications that require lightweight, flexible, inexpensive forms of power," said Zeira.
Roll‐to‐roll manufacturing
Organic materials can be applied to any surface using a low‐temperature method akin to spray painting. Production methods of this sort are easily adaptable to continuous and so called "roll‐to‐roll" manufacturing processes and hold the promise of dramatically reduced production costs.
Konarka has brought proven printing know-how from the chemical, photographic film and flexible electronics industries to energy via a new class of nano-structured materials.
The company's Power Plastic material is produced in a continuous roll-to-roll process that is significantly less expensive and capital intensive than the multi-step assembly of traditional solar cells.
"This process is simple, energy efficient, environmentally friendly, replicable to multiple plants, and scalable to high volumes. Konarka's material's paradigm-changing form factor allows power generation capabilities to be integrated directly into a device, system or structure," said Zeira.
He added that with Power Plastic, solar no longer needs to be a separate aftermarket system constrained by weight, size, rigidity, or installation concerns.
In addition to the manufacturing process itself, Konarka's Power Plastic is less expensive than traditional silicon solar for the following three reasons:
1. Capital equipment costs - much less expensive to "ramp up", using traditional printing processes and equipment,
2. Energy usage - the energy required to produce Konarka's solar cells are negligible compared to what silicon providers need to do,
3. Cost per watt - because of the low capital costs, energy use and material costs, it's an overall less expensive venture.
"When you use a deposition technique, like others do, you are throwing material in the air and may lose some, whereas a direct print like Konarka is more effective. They have material waste in that case, but Konarka puts printing where they want….so it's more efficient…no waste," explained Zeira.
Organic Photovoltaics Summit 2009
OPV Today is to conduct its Organic Photovoltaics Summit 2009, to be held in Boston (October 15-16) this year.
For more information, click here:
http://www.opvtoday.com/usa/index.shtml
or Contact:
Joshua Bull - Event Director
UK Tel: +44 (0) 207 375 7227
E-mail josh@opvtoday.com
Featured Product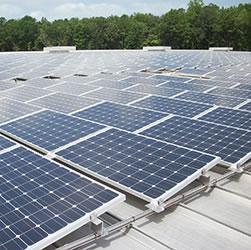 The Power Railâ"¢ Commercial Mounting System is designed with the professional PV solar installer in mind. Both the XD/UD and LD/MD rails feature single tool assembly with the revolutionary patented RADâ"¢ Lock-in-Place bolt for fast and secure module clamping. The high strength marine-grade aluminum rails include an integral wiring channel for securing cables and providing a professional finish.