OPEL Solar, Inc. Announces USA Manufacturing for Two of Its Solar Tracker Products Firm Contributes to Green Job Growth
Shelton, CT, and Toronto, ON, September 9, 2009 - OPEL International Inc. (TSX-V: OPL)("OPEL"), a leading global developer and supplier of high concentration photovoltaic ("HCPV")and other solar products, including ground-based and rooftop tracker systems, today formally announced USA manufacturing for two of its utility scale high performance solar trackers developed in conjunction with its tracker partner, FEiNA, in Spain. These products were

announced by OPEL Solar, Inc., a wholly-owned subsidiary of OPEL, Inc.
The first single axis tracker, the SF-70 H1, is designed for ground-mounted, utility scale applications and is capable of delivering more than 10,000 watts of power when equipped with
conventional silicon flat plate panels. The second single axis tracker, the SF-40 H1, is designed
for both ground mount and roof top applications, and it is capable of delivering more than 6,000 watts of power when equipped with conventional silicon flat panels.
Both trackers can be easily assembled and equipped with solar panels in less than four hours by a
crew of three individuals without the need for special tooling, cranes or welding. In addition to
their light weight and ease of installation, the SF-70 and SF-40 trackers are capable of reversing
tracking direction during the beginning and end periods of the day. This eliminates mutual
shadowing between trackers and increases the amount of power that can be deployed.
"The major benefit of these trackers in the OPEL product line to the end user is the possibility of
increasing the amount of kilowatt-hours that can be produced per unit of area. This is particularly
attractive when dealing with limited real estate availability such as in roof top applications," said
Frank Middleton, Vice President of Marketing for OPEL Solar.
Each OPEL tracker can increase the power production of a photovoltaic (PV) array by as much as 30 percent, depending on the location. "The ease of installation, combined with the increase in power production, makes the SF-70 H1 and the SF-40 H1 very attractive alternatives to fixed mounting installations because they can reduce the payback time of a solar power investment significantly," Middleton added.
Both trackers will now be manufactured in the United States, utilizing OPEL Solar's existing
manufacturing infrastructure. Local production will result in reduced delivery times to the end
markets as well as more attractive pricing. According to Robert Pico, CEO of OPEL International Inc., "Even more vital, manufacturing the SF-70 H1 and the SF-40 H1 in the USA allows OPEL Solar, Inc. to continue to bring life to the 'green economy' and to create jobs for Americans as promoted by President Obama with his support of the pending clean energy and
climate change legislation."
###
About OPEL International
With operations headquartered in Shelton, Connecticut and Toronto, Ontario, Canada, OPEL
designs, manufactures and markets high performance concentrating photovoltaic ("HCPV")
panels to transform solar energy into electricity for worldwide application. OPEL's high performance photovoltaic concentrating panels generate up to 40 percent more kilowatt-hours than conventional flat plate silicon solar panels, resulting in more cost-effective electricity generated from the sun. OPEL markets a complete line of dual and single axis solar trackers to mount solar panels for optimum power output. OPEL also designs infrared sensor type products for military and industrial applications.
A leader in gallium arsenide and solar photovoltaic technology, OPEL has been awarded 39 patents and has eight more patents pending. OPEL's common shares trade on the TSX Venture Exchange under the symbol "OPL". OPEL Solar, Inc. is a fully owned subsidiary of OPEL, Inc.
For more information about OPEL, please visit the Company's website at www.opelinc.com.
Dated: September 9, 2009
ON BEHALF OF THE BOARD OF DIRECTORS
Michel Lafrance, Secretary
For further information:
Pat V. Agudow, Vice President, Administration
OPEL International Inc.
Tel. (203) 612-2366 Ext 2612
Email: p.agudow@opelinc.com
OR
Bill Blase, Cathy Loos or Stephanie Kuffner
Media Relations, W.T. Blase & Associates, Inc.
Tel: (212) 221-1079 Email: solar@wtblase.com
The TSXV has not reviewed and does not accept responsibility
for the adequacy or accuracy of this release
Featured Product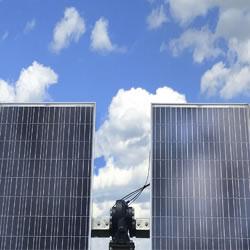 Solar FlexRack's latest solar tracker technology bundles an advanced tracker design with a full team of seasoned engineering and installation experts at your service. The next-generation solar tracker delivers a package of features that both enable increased energy yields for commercial and utility-scale solar installations, and significantly reduce project risks. That translates to smart installation cost-savings across your project budget.