With passage of the 'Wind Energy Research and Development Act of 2009'
Today the Sustainable Energy and Environment Coalition (S.E.E.C.) announced passage of legislation to greatly improve American production of wind energy technologies and to maintain American competitiveness in this burgeoning global industry.

H.R. 3165, the Wind Energy Research and Development Act of 2009, was sponsored by Rep. Paul Tonko (D-N.Y), and authorizes the Department of Energy to establish a program to examine and implement improvements to every aspect of wind turbine technology- from blade weight and material composition to gearbox reliability and reduced manufacturing costs. The goal of the program is to then bring these advances to market to increase the use and output of American wind energy installations. The program is authorized to be funded at $200 million per year from fiscal years 2010 through 2014.
This bill is a chief legislative priority for S.E.E.C., and Coalition leaders anticipate that the program created by the legislation will lead to greater U.S. production and implementation of one of the nation's most promising and cost effective clean energy resources. According to a S.E.E.C. statement issued last month, released in support for H.R. 3165, the Wind Energy Research and Development Act "will ensure the investments in the research and development necessary to increase the efficiency, reliability and capacity of wind turbines, optimize the design and adaptability of wind systems, and reduce the costs of construction, generation and maintenance of wind power systems."
"This legislation invests in a robust and cost effective wind energy industry that will lead the world in the twenty-first century. I commend Congressman Tonko for his leadership on this bill," said S.E.E.C. co-chair Rep. Steve Israel, a member of the House Appropriations Subcommittee on Energy and Water.
"Investments in improved wind energy technology will move the United States in the direction of more clean, domestic energy production, which is a necessity for our economy, our national security, and our climate" said Rep. Jay Inslee, a S.E.E.C co-chair and a member of the House Energy and Commerce Committee. "I want to thank Congressman Tonko for his continued work to promote a new American energy economy."
"This bill will take us in the right direction in terms of creating clean energy jobs and a renewable energy infrastructure that will help power our future energy needs and wean us off of our gluttonous dependence on fossil fuels," said Tonko, a first term congressman and a S.E.E.C. Vice Chair. "We need to make sure that we develop renewable technologies that are as safe, reliable, and energy efficient as possible. The program created by this bill will do just that."
A 2008 report published by the U.S. Department of Energy found that domestically-produced wind energy has the potential to supply power for one-fifth of America's electricity demand by the year 2030. The report concluded that in order to reach this level of power generation, the U.S. must realize improvements in the reliability and operability of wind systems, and an increase in the American capacity to manufacture wind turbines.
Other S.E.E.C. co-sponsors of H.R. 3165 were Reps. Inslee, Israel, Gerry Connolly (D-Va.), Gabrielle Giffords (D-Ariz.), Ben Ray Luján (D-N.M.), Lloyd Doggett (D-Tex.) and Joe Courtney (D-Conn.).
The Sustainable Energy and Environment Coalition is a caucus of forty eight Democratic members of the House of Representatives that was founded in January, 2009. S.E.E.C. is co-chaired by Reps. Steve Israel (D-N.Y.) and Jay Inslee (D-Wash.), and supports "policies that promote clean energy technology innovation and domestic manufacturing, develop renewable energy resources, and create green collar jobs throughout the product supply-chain, (and) polices to help arrest global warming and protect our nation's clean air, water and natural environment."
Featured Product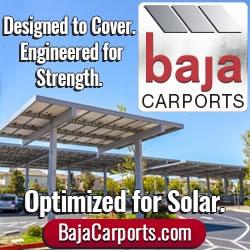 Baja Carports offers an extensive solar support system product line customized to customers' site specifications by in-house engineers, meeting their parking lot coverage, plus optimal PV production needs. Baja's Full Cantilever Tee is often paired with its Semi and Full Cantilever carports to meet live/loads up to 60psf and wind speeds to 160mph. All Baja products are pre-fabricated, bolted connections, pre-galvanized structural steel for fast on-site installation and project aesthetic requirements."