Remke Energy is a single source for high performance electrical products for the renewable energy market. With over 15,000 products in-stock at our online warehouse, the brands of Remke Energy bring you decades of electrical product experience.
With over 15,000 electrical products in stock, Remke Energy is committed to helping developers, builders & installers, and utilities harness the power of the earth's renewable energy and deliver it to the electrical grid.

Powered by a suite of brands that have decades of experience serving the industrial OEM/MRO and contractor markets, Remke Energy offers a diverse selection of Electrical Connectivity and Wire & Cable Management products.
Remke Energy's position as the electrical product expert is proven by our high quality products with brand names that have been serving customers for 80 years. The diverse product offering enables Remke Energy to support product needs throughout the renewable energy market including:
• Electrical products for Wind Energy used to support mechanical train-power generation-pitch & yaw control in the nacelle, wire mesh support grips for cables in the tower, and power or grounding connectors in the base and/or substation
• Electrical products used in Hydroelectric Power plants to support the pump/turbine/generator system, governors, excitation and hydraulic systems and all critical balance of plant electro-mechanical components
• Electrical products used in Photovoltaic & Solar Thermal Power Plants to support solar energy collection, power conversion, energy storage and balance of plant.
At Remke Energy Delivery is On Time - Anytime- Anywhere with low minimums & competitive terms, live help & technical support, quick quotations and project pricing. Remke Energy products are in-stock at our online warehouse - elecDirect.com - including all services and technical support.
For more information please contact Remke Energy toll free at 1-888-910-3990. Or visit us online at www.RemkeEnergy.com.
Featured Product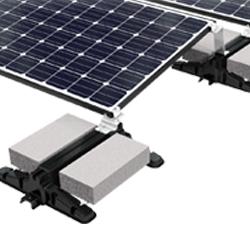 The Power Rail™ Commercial Mounting System is designed with the professional PV solar installer in mind. Both the XD/UD and LD/MD rails feature single tool assembly with the revolutionary patented RAD™ Lock-in-Place bolt for fast and secure module clamping. The high strength marine-grade aluminum rails include an integral wiring channel for securing cables and providing a professional finish.